Xiaomi tablet received FCC approval; Xiaomi Pad 6?!
Read Time:
2 Minute, 0 Second
Xiaomi had a good success in the market last year with the tablet pad 5 series, and this could be a good motivation to launch a very powerful version of the Xiaomi tablet.
It used to be difficult to find a cheap tablet, but now we have moved away from that era and thanks to the extensive activity of Chinese brands such as Honor, Oppo and Realme in this field, there are a large number of affordable tablets suitable for different tastes in the market.

Now, the latest reports indicate that Xiaomi is planning to release an inexpensive tablet like the Pad 5 series. The name of the tablet is still unknown at the moment, but it is likely to be the Redmi Pad 6 instead of the Xiaomi Pad 6. Apart from this, recently and thanks to the sharp whistleblowers of the tech world, this tablet has been spotted on the FCC database with the model number 22081283G.
Read more: The best tablets of 2022
Xiaomi tablet received FCC approval
Based on a tweet from the famous leakster, Simranpal Singh, we can have a look at some of the specifications of the device. Accordingly, the new Xiaomi tablet comes with MIUI 13 and also has a 7,800 mAh battery, which is slightly larger than the 7,100 mAh battery of the OPPO Pad Air.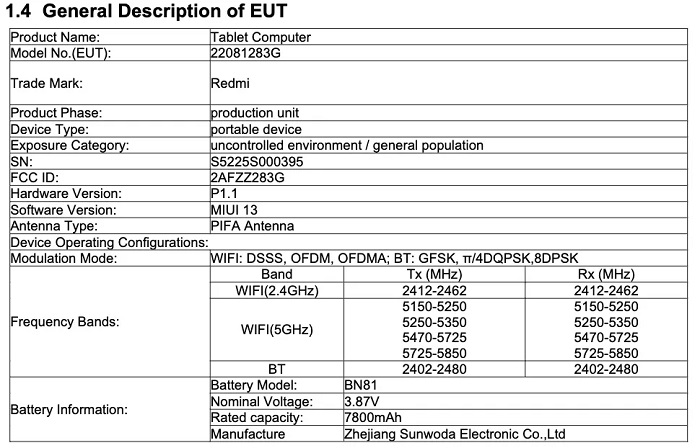 In addition, support for 5G and Wi-Fi 802.11ac is one of the things we expect for this tablet. The tablet was previously spotted on CMIIT's certification website, where it was listed to support Wi-Fi 802.11ac and 5G.
Of course, the exact technical specifications of the Redmi Pad are not known, but assuming that the model number 22081281AC, which was seen in the CMIIT and 3C certification databases in June, belongs to the Redmi Pad, this product will have dual-band Wi-Fi, 67W fast charging and 5G connectivity. Was.
Unfortunately, more information about the specifications of the Redmi Pad 5G is not available, but it should be said that the gadget may come with MIUI Lite, a simplified version of MIUI for budget devices. But according to the current listing, the Redmi tablet will use MIUI 13.
Read more:
What is your opinion about receiving the FCC approval of the Xiaomi tablet? He shared his opinions with Tekrato in the comments section technology news Follow with us.
Source: gizmochina