What is a smart guitar? Introducing the Lava May 3 guitar
Read Time:
3 Minute, 48 Second
In this article, we will tell you that one What is a smart guitar? what are its characteristics and gLava Me 3 smart guitar We will introduce you.
We are slowly approaching the age of smart guitars and the company Lava musicdisplays attractive ideas.
Read more: Microsoft immortalizes musical works with laser engraving on quartz wafers!
What is a smart guitar? Introducing the Lava May 3 guitar
The body of this guitar is made of carbon fiber, which does not replace the real wood used in normal acoustic guitars, but it exhibits good resonance and acoustics.
This model of HIlava operating system (Lava human interface system) is used, which is a revolutionary system in the music industry and 6-string guitar instrument.
The system includes many programs, from internal effects (no need for an amplifier) ​​to a daily practice program and recording and looping capabilities, which are accessible via a touch screen on the top of the guitar body.
Also feature Connecting the operating system on the guitar to smartphones is already provided. With this connection, you will also have access to many other songwriting software features.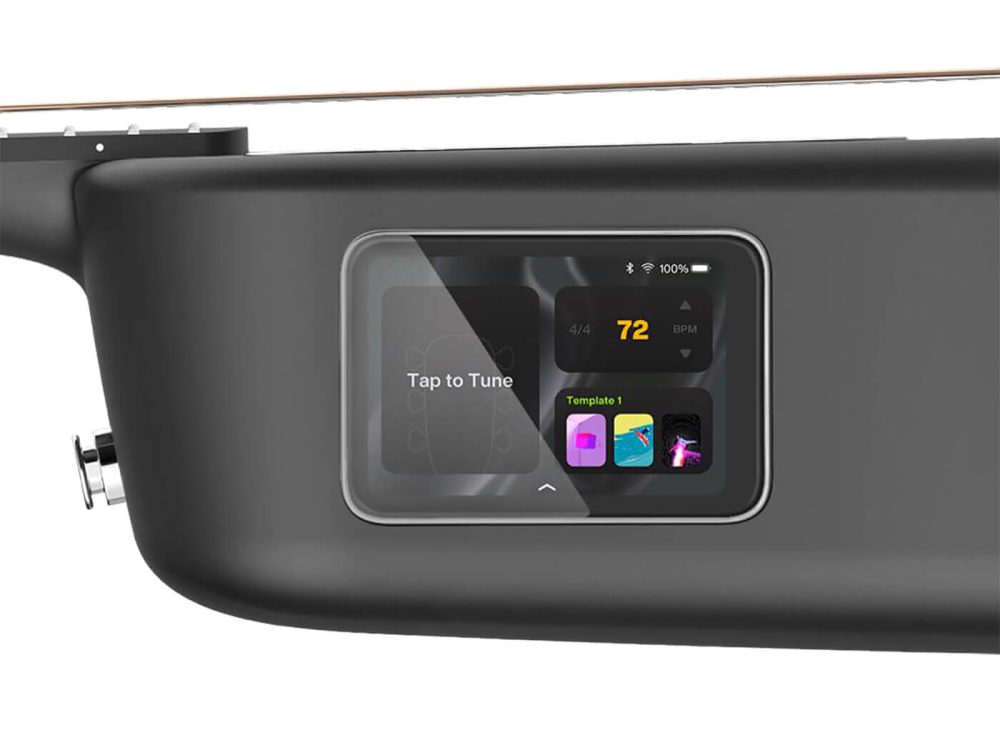 These changes may not be to the taste of more experienced musicians and artists, but the procedure cannot be changed. Guitar music industry ignored with the entry of these new instruments in the market.
Lava Music Company Founded in 2013, it released its first solid body guitar model under the ME brand in 2017. In the following years, newer models such as ME 2 and ME pro were introduced.
ME 3 model which is the latest introduced model of this series of smart guitars, it has revolutionary features. Its 4-layer carbon body is reinforced to better transmit bass frequencies and have a longer sound extension.
Various effects will be of no use without a basic organic sound tone. So we must first take a look at the acoustic sound produced by this guitar. At first glance, we notice that the volume of sound produced by this guitar is much bigger and its bass frequencies officially vibrate the body of the guitar. Note extension is excellent and the midrange frequencies are boosted with a multi-channel equalizer.
Disadvantages can be seen in the structure of this guitar. Including the fact that the action (the distance of the strings from the body of the guitar) is relatively high and there is no mechanism to change this parameter except for basic physical repairs.
The only physical controller on the device is the volume knob on the guitar, with which you can increase and decrease the volume of the guitar. You can record up to 4 different tracks on the looper of this guitar and use them as background tracks in your performances. Also, the possibility of directly uploading your pieces to Lava cloud system you will have
The various sampled effects on this guitar sound fantastic. You can play for hours with effects such as reverb, delay and reverse. Emotional pieces in the dark nights can be played with Black Hole and Moonwalk effects, and musical creations can be implemented with tremolo, phaser, and flanger effects.
When you connect this guitar to an amplifier, the story takes on a different color. Sounds will be more emphasized and bass frequencies will fill your surroundings.
Specifications:
Spinner: Fiber composite, 1.73 inches
Category: Carbon Fiber AirSonic 2
Fretboard: pressed laminate, 23.94 inches
Tuning screws: Lava design ultralight aluminum
Body: AirSonic 2 carbon fiber
Vault: fiber composite
Electronic parts: Lava user interface system, 4 GB of RAM, 32 GB of internal memory
Controllers: volume control screw, 3.5 inch touch screen
Installed software: tune, metronome, recorder, looper, practice, effects
Effects: more than 50 effects including: reverb, delay, reversal, chorus, tremolo, phasing, flanger, octave, stutter, wah, shift, distortion, etc.
Lava+ software: Connect to the Lava cloud system to sync effects and personal settings and save recordings.
Connections: Wi-Fi, Bluetooth, output jack, USB C port for charging
Factory wires: 2.24 kg
Made in China
Strengths:
Deep acoustic sound
Beautiful and exceptional industry
Excellent category
Innovative guitar strap fastening system
weak points:
Stability and health of electronic guitar components
The high action (string distance from the handle) of the guitar and the absence of a truss rod to adjust it
Amplified and exaggerated sound compared to a normal acoustic guitar
Read more:
What do you think about the smart guitar? Can these guitars make a big change in music? Share your thoughts with Tikrato in the comments section Technology News Follow with us.
Source: guitar.com