After a long wait for smart watch fans, the popular company Huawei announced the time of introducing Huawei Watch 3 Pro, which will be the most advanced Smart Watch of the company.

This Huawei brand smart watch will be officially introduced on July 27, 2022 at an event organized by Huawei. It should be noted that in this event, in addition to the Watch 3 Pro (2022), from Harmony OS 3 And The new 11-inch Matepad Pro tablet will also be unveiled.

Over the past few days, Huawei has released a video of the new smartwatch on its official Weibo account, which hints at some of the features of the Watch 3 (2022) Pro.
Read more: The best smart watches of 2022
Time to introduce Huawei Watch 3 Pro (Huawei WATCH 3 Pro)
This smart watch will have the latest features and capabilities that Huawei company offers for its smart watches; However, during the introduction of Huawei Watch 3 Pro, a new name will not be chosen for this product, and Watch 3 Pro will be introduced with the same name as Huawei's smart watch last year.
Of course, it is possible that the Watch 3 Pro (2022) is actually a sub-version and this similar naming is not without reason. According to the information released about the Huawei Watch 3 Pro (2022) smart watch, this product supports Huawei's exclusive positioning system. Such a feature allows runners and cyclists to see their exact position and the place they are moving towards on the watch display.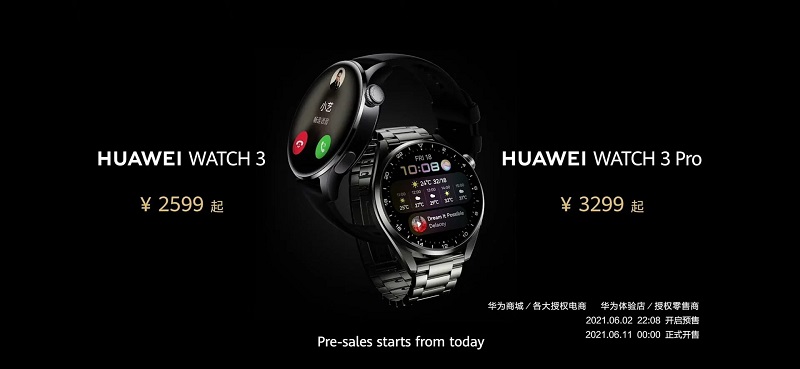 According to the details released from the Huawei Watch 3 Pro smart watch, this product supports the ECG function. Thanks to this feature, users can be aware of their heart rate and blood pressure at any time and be sure of their health.
Huawei's new watch will follow the previous generation of this watch and an advanced version of the Watch 3 Pro (2021) and it is likely that it will have many similarities to this version; For this reason, we will describe some features of Watch 3 Pro (2021) in the following.
This product was released to global markets on June 2, 2021. We must mention that Huawei Watch 3 Pro (2021) presented its users with a beautiful and unique design. The back part of this product is made of ceramic and its front panel includes a titanium frame and a glass display.
Its very low weight, which is only 63 grams, is one of the advantages of this watch compared to its competitors. Also, the product's waterproof body can withstand water penetration up to a depth of 50 meters.
The Watch 3 Pro (2021) has a 1.43-inch circular AMOLED display. This screen can display images with a quality of 466 x 466 pixels. Watch 3 Pro offers 2 GB of RAM and 16 GB of internal memory to its users, and this watch supports Harmony OS 2.0 operating system.
Read more:
What is your opinion about the time of introduction of Huawei Watch 3 Pro (Huawei WATCH 3 Pro)? Share your thoughts in the comments section duplicate share
Source: gizmochina