Car managers almost simultaneously with the introduction of Chery Omuda 5 in China, this product with the name Phoenix FX car It has been unveiled in the Iranian market. Be with us to check this car.
Car managers, who launched their own luxury brand last year by introducing the Phoenix brand instead of Chery, have introduced one of the newest Chery products in the market of our country at the same time as its global launch.
This model is called Phoenix FX in Iran and due to its lower weight and technical specifications similar to Tigo 8 Pro, it can be considered as the fastest assembly car in the country with its zero to hundred percent record of 8.2 seconds. Before this, the record belonged to cars like Peugeot 2008, Citroen C3 and Nissan Maxima automatic.
Read more: The import of Kia Cerato 2022 to Iran was approved by SAIPA
Phoenix FX car
Phoenix FX It is marketed in Iran with an emphasis on its futuristic design, which of course describes the beauty of this sophisticated and tasteful work model. This model is more suited to the taste of the young generation, who like the modern patterns of lights and huge grilles.
This product has the same technical specifications and safety and comfort options as the Tigo 8 Pro, but at a lower price. The sporty design of the body with two-color painting and black rims with red color are also used in order to target the young generation.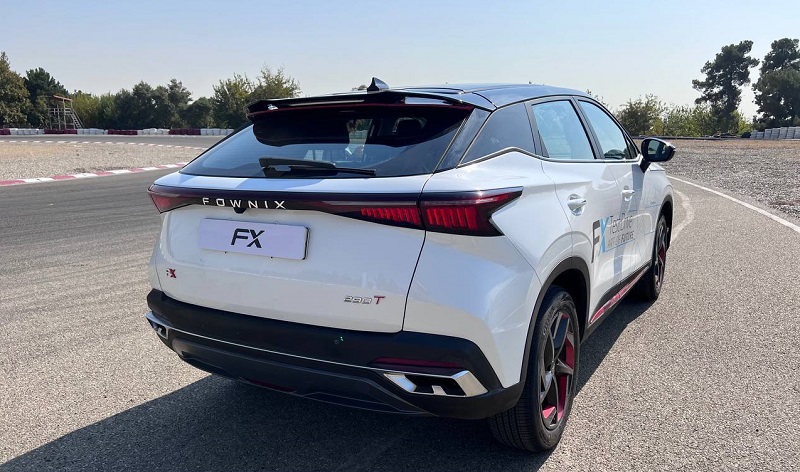 The dimensions of Phoenix FX in length, width, height and wheelbase are 4.4, 1.83, 1.585 and 2.63 meters respectively, which is comparable to the previous generation Chery Tigo 5 and is considered a mid-size four or five-seater crossover with a coupe-like design. will be
cabin Phoenix FX From the point of view of design, it is different from other Chery products and shows the plastic and relatively economical interior trim. Designers have spent a lot of effort to improve the messy state of buttons and convenience options to make the cabin look more beautiful. In general, the quality of the cabin of this product is average and does not match its price of 1.6 billion.
The Chery or Phoenix FX is powered by a 1.6-liter TGDI turbocharged engine, which it shares with the Tigo 8 Pro. This engine produces 197 horsepower and 291 newton meters of torque. The driving force is transferred to the front axle through a seven-speed dual-clutch automatic gearbox.
Of course, a cheaper model of this product is also available with a limited number of 1.5-liter turbo engine and CVT gearbox, which has a weaker performance than this model, and despite the similarity in appearance, it also comes with integrated suspension on the rear axle.
Phoenix FX In the mass production version, it uses McPherson suspension system and cooling disc brakes on the front axle, and multi-link suspension system and disc brakes on the rear axle. Systems such as ABS and EBD, which have now become a necessity in the automotive industry, will also be included with this car.
In the Iranian market, Phoenix FX can be a direct competitor to Lamari Emma, ​​Dignity Prestige and Jack K7 Kerman Motor, a car that is more expensive than all of them with its price of 1.6 billion, but instead it is more equipped and faster.
Read more:
What is your opinion about the Phoenix FX car? Share your thoughts in the comments section duplicate share