New Hyundai Azera Granger It has been recently introduced as a beautiful Korean sedan. Due to its price tag of more than 20,000 dollars, this model is prohibited to be imported into Iran.
Although the luxury brand of Hyundai originally Genesis and this car manufacturer markets its luxury products under this brand, but the Hyundai brand itself sometimes produces luxury cars. That's why recently Hyundai Azera Granger New, a popular Korean sedan developed with a modern design language, priced at approx 35 thousand to 45 thousand dollars It has been introduced and due to the high price of 20 thousand dollars, it is not possible to import it to Iran according to the regulations of car import to Iran.
New Hyundai Azera It is supposed to be launched in the seventh generation in South Korea in 2023. It seems that this car will only be assembled in South Korea and the company has specifically targeted this car for the country's market. This beautiful and luxurious sedan from a common platform with Hyundai Santa Fe And Sonata Uses.
Read more: Dodge's entry into the world of electric cars; The glorious end of V8 Hell!
Technical specifications of the new Hyundai Azera Granger
Technically, the new Hyundai Azera Granger has not changed much compared to the previous generation. This car is equipped with a 2.5-liter engine with 200 horsepower and 250 Nm torque in the basic model. The most expensive version of this car model also uses a 3.5-liter V6 engine that has the ability to create a power equal to 290 horsepower and a torque of 340 Nm. The power generated from these engines will be transferred to the wheels by an 8-speed automatic transmission.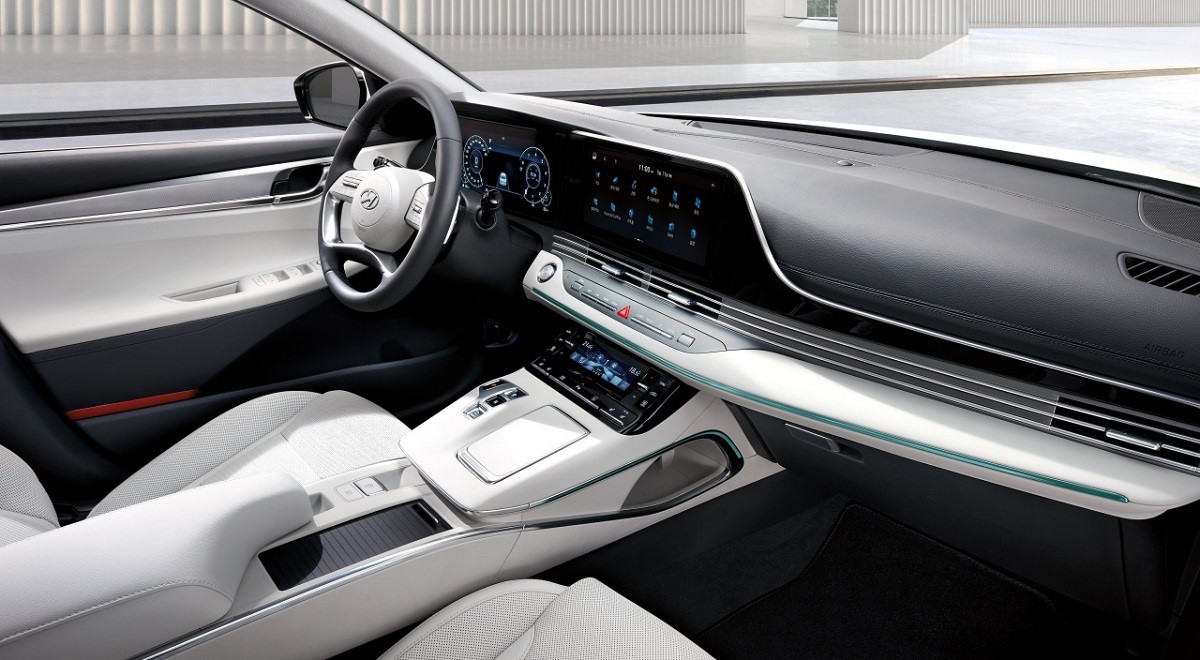 Hyundai Azera Granger It will also use the Azera plug-in hybrid, which will probably see the production of this car in electric form from next year. This model will be equipped with a 1.6-liter turbocharged engine and an electric drive that will be able to produce 265 horsepower and 350 Nm of torque. Also, this model of the car has benefited from 13.8 kWh batteries so that it consumes about 1.5 to 2 liters of gasoline per 100 kilometers on average.
New Hyundai Azera Granger design
This car uses a minimal design language in the front, which makes it look very similar to the Hyundai Staria van. The designers installed a narrow LED strip in a transverse shape in front of this car, which will be responsible for the daytime lighting. The main lights are also placed on both sides of the front window of this car.
Designers have also used the same narrow LED strip design as the front daytime running lights for the rear view. Designers have extended the roof with a gentle slope to the end of the body, which has resulted in the appearance of this part being similar to fastback cars. It should also be noted that the rear view of the Hyundai Azera Granger style design Genesis G90 It is also very similar.
Designers in the side view also took inspiration from classic American cars and used the two-pillar style for the end of the body. Also, the side view of this car is very similar to Granger 2023 and Ionic 5. In general, in recent years, Hyundai has tried to design some of its products with a classic and retro style, inspired by the classic cars of the 80s.
This car is very similar to Genesis cars in the cabin, especially in the dashboard. In this part, two 20-inch connected screens are placed in front of the driver, which extends to the middle of the dashboard. A small touch screen is also installed at the bottom of them so that it can be used to control comfort and entertainment equipment. Among the other features of this car in the cabin, we should mention receiving voice command, special display for rear passengers, soft lighting inside the cabin and electric seats.
The full list of technical specifications and prices of all models of the new Hyundai Azera Granger model has not been published yet, but this car will probably be launched at a price of 35-40 thousand dollars.
Read more:
What do you think about the new Hyundai Azera Granger? Share your thoughts in the comments section duplicate share