The gift of 350 thousand Tomans for the first mobile may be one of the interesting actions of this operator. Such credits, however, are more for attracting subscribers; But sometimes it also suits the subscribers.

Operators offer various incentive schemes to their subscribers on different occasions. Therefore, with the beginning of summer, Hamrah-e-Awal intends to offer a special package of 350,000 Tomans for active subscribers and individuals who have recently obtained student and permanent credit cards for young people. To receive a gift of 350 thousand Tomans, Hamrah Aval is enough, refer to the website of Hamrah Aval Academy.
Read more: The possibility of filtering WhatsApp and Instagram has increased
350,000 Tomans gift for the first companion for students
Dear ones who have recently obtained a student credit SIM card with a permanent youth SIM card, after receiving the SMS activation SMS within 4 days from the purchase of the SIM card, you can refer to the Hamami website at www.hamrah.academy and get 350 thousand credit. Receive tomans to participate in various training courses.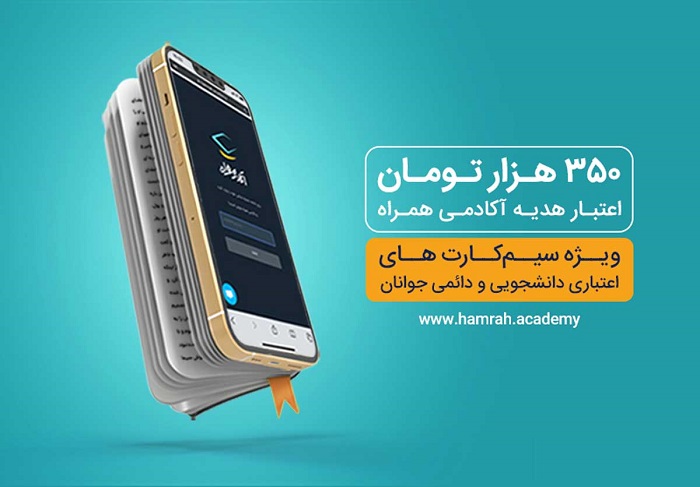 Subscribers who have a student and permanent youth credit SIM card can visit the website of Hamrah Aval Academy and register to receive a gift of 350 thousand Tomans from Hamrah Aval Academy.
Applicants for the purchase of these SIM cards can also refer to the sales and service centers of the first mobile or online stores of the first mobile. The current subscribers of these two SIM card grandchildren will automatically receive a credit of 350,000 Tomans after registering on the Academy website.
Using the gift credit of youth and student SIM cards will allow new Hamrah Aval customers to have more access to their desired content during the summer days, as well as to communicate with this SIM card.
Read more:
What is your opinion about the campaign to protest against internet disruptions in Iran? Leave your comments with us and other users Repetition Share.