Around Tehran, there are many spectacular areas and attractions that are full of domestic and foreign tourists in all seasons, especially in summer. During the summer holidays, the demand for visits to the coolest areas around Tehran increases to a considerable extent, and most tourists are looking for places with good weather to have fun there.
If you want to visit the sights around the capital that have a pleasant and cool weather and have a memorable trip, it is better to stay with us until the end of the article because we have some special offers for you.

If you are reading this, then you are definitely a traveler. Each of the cities of Iran has special attractions that are worth visiting. Shiraz and Yazd are among the most beautiful cities in our country, which are visited by many tourists every year. If you are planning to travel to these cities, you can easily experience a memorable trip by traveling by land and getting a bus ticket from Yazd to Shiraz through the terminals website.
The most beautiful and cool areas around Tehran
Most of the areas around Tehran province have a pleasant climate in summer and visitors can visit them whenever they want. Of course, for an easier choice, in this part of the article, we want to introduce you to some of the sights around Tehran so that you can enjoy seeing them in the summer.
Abnik village
Abnik village can be mentioned among the villages of Tehran which are located in Shemiranat. This is one of the coolest areas around Tehran and is one of the functions of Rudbar Qasran, and tourists can visit it 10 km northeast of Fasham. Abnik village with its spectacular views and lush nature, has been able to attract many tourists.
The village is located at an altitude of 2400 meters above sea level and therefore has a very cool climate in summer. In the village of Abnik, there is a spectacular river called Clarod, which dazzles the eyes of every visitor.
The mountains and plains around the village of Abnik are also incredibly beautiful in summer, and tourists who visit there can also visit the Abnik Ice Waterfall and the unique Ab Nik Valley and be amazed.
The peak of the resort
The resort is one of the most beautiful and attractive peaks of Alborz that you can access on the southern slope. This mountain is considered as one of the most unique and cool places in Tehran in summer.
Note that the temperature around the peak of the resort is close to 0 degrees, and for this reason, to go there, you must have warm clothes with you to avoid catching a cold. This beautiful peak has a high altitude and hosts Iranian and foreign tourists in all seasons.
Zarina Dasht village
In 40 km of Firoozkooh, you can easily visit Zarrin Dasht village. This village is not very popular among tourists, but it is a unique option for summer tourism around Tehran, and people who visit it can have a dreamy and amazing trip.
In the village of Zarrineh Dasht, you can visit the Hableh River, lush plains, towering mountains, mineral springs, orchards and many small and large waterfalls. It is also good to know that this village has hospitable and warm-hearted people who welcome visitors and tourists in the best possible way.
Flies Chal Falls
Chal Mags waterfall is one of the coolest areas around Tehran, where there are many rivers and mountains. This waterfall is located in Darabad region and is not very far from Tochal mountain range. The beautiful waterfall of Chal Mags with its clear water has been able to attract many visitors.
People who visit this spectacular waterfall can enjoy activities such as water games, hiking in the heart of nature, visiting natural attractions, group and friendly games, and have the best time.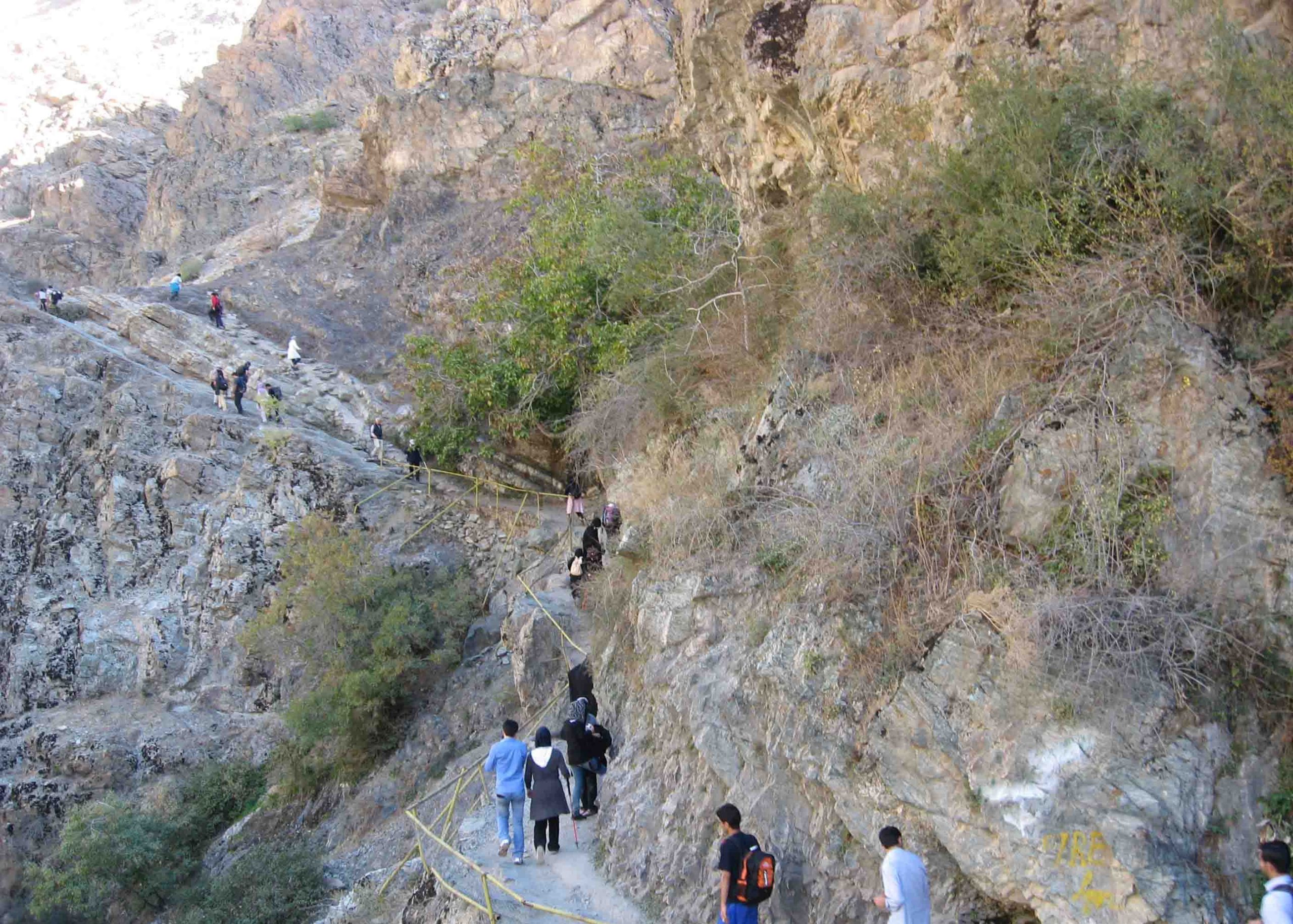 دره اوین درکه
Evin Darkeh valley is located in a pleasant village with clear water and flowing rivers in it. The roaring river has created a pool and stairway in its path, which the locals call the Week of the Pond.
Visitors can take a dip in the Evin Valley, which is one of the most popular cool areas around Tehran for day trips in the summer, and experience an exciting journey.
Let Mall Waterfall
The spectacular Let Mall waterfall is located near Tehran province, and to reach it, you have to cross mountain roads, which are surrounded by many rivers and valleys. This waterfall is a very short distance from the villages of Varish and Verdij, and people who are interested in mountaineering can easily climb the peaks of Liche and Hesar in these villages.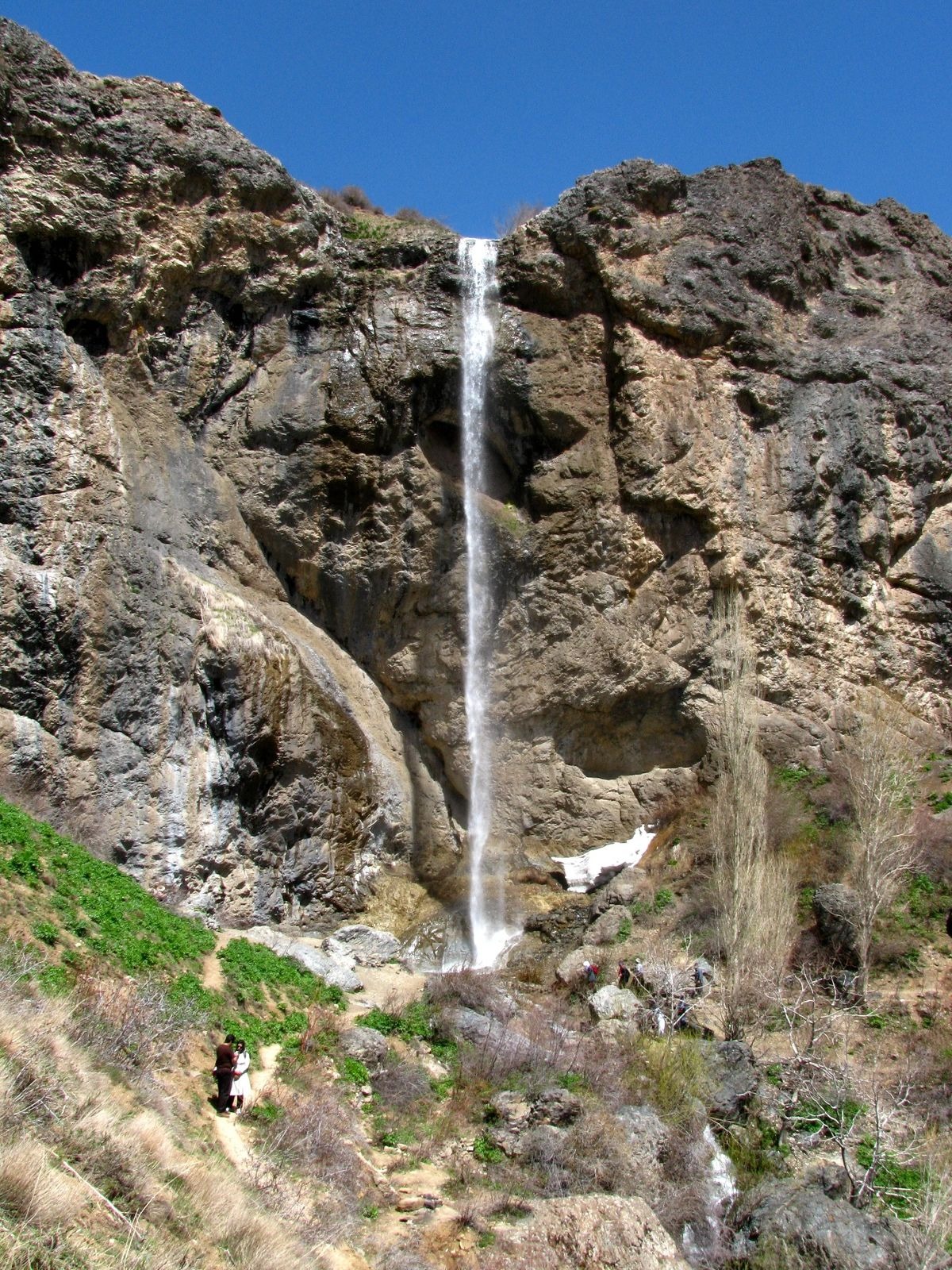 Sangan Waterfall
In the northwest of Sangan village and on the slopes of Hesar peak, you can see Sangan waterfall. This waterfall is also known as one of the coolest areas around Tehran and has many fans. The height of the beautiful Sangan waterfall is about 2575 meters above sea level and near it there are high peaks, various waterfalls, shrines and many forests.
Mount Kalka Chal
One of the mountains located in the north of Tehran and can be accessed from 3 routes: Gulab Darreh, Bustan Jamshidieh and Darreh Vazbad, is called Kalak Chal Mountain. The highest point of Kalke Chal mountain is about 3350 meters above sea level and it is known as one of the snowy mountains of Iran. In summer, many climbers go to this area and go mountaineering there. If you are also interested in visiting attractive mountains and mountaineering, it is better to visit Kalak Chal Mountain for once.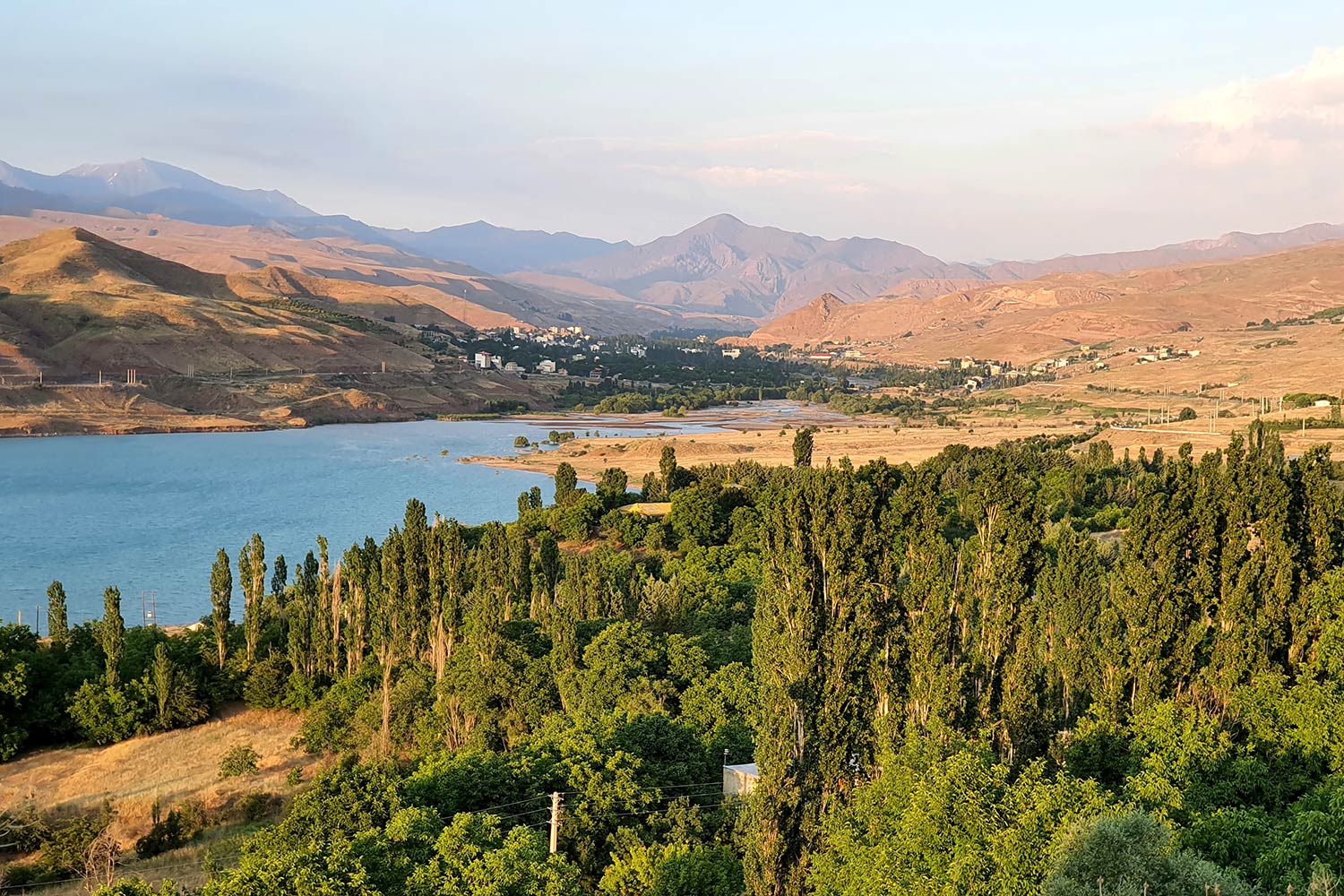 Taleghan region
Another of the coolest places in Tehran in summer is the Taleghan region, 120 km northwest of Tehran. This region has many tourist and natural attractions such as green plains, beautiful dams, numerous waterfalls, hot springs, permanent and seasonal springs, lush gardens and roaring rivers, and people who travel there can enjoy the weather. Clean also benefit.
Duke Swamp
This unique lagoon is very attractive and is known as a cool area around Tehran. To reach the Duke Lagoon, you must first go from Chalous Road to Kelardasht and then take the forest road to the marsh. The lagoon is located among the beautiful trees and dense forests, and its surroundings are considered a very pristine and suitable area for hiking.
The beauty of Duke Lake is many times more beautiful in summer than in other seasons. Note that there is no hotel to stay near this option, one of the coolest areas around Tehran. Therefore, if you want to stay there for more than 1 day, you must book one of the hotels in Kelardasht for yourself and your companions.
Chelav village
Other cool tourist destinations around Tehran include the village of Chelav. This famous village is located 30 km south of Amol and you can easily find it in the east of Haraz road. The village of Chelav has a long history of rainfall throughout the year, and these frequent rains have led to the emergence of lush and scenic nature.
It is good to know that some locals in the area also know the village of Chelav as Shalaw. In this village, there are various historical and natural attractions that you can spend your time with your friends and have a very memorable moment.
Leopard River Valley
Another cool area around Tehran for day trips in summer that is very popular among tourists is the Leopard Valley. This river is located in the middle of a lush forest, which has a very special tranquility. To reach the valley leopard, just move from Firooz Kooh road to Shirgah.
The Leopard River valley is very clear and attracts many tourists every day. If you want to have fun in rare areas, it is better to plan your trip in such a way that there is a visit to the Leopard Valley.
Strait cap
The cap of the gorge is located in Mazandaran province and due to its proximity to Tehran, many people visit it daily. Tourists who visit this gorge can visit various forests and rivers and set up tents there. The gorge cap has many unique features that you will definitely be amazed to see.
دشت لار
Lar plain is one of the coolest places in Tehran in summer, which has been known as a national park since 1954. This plain has a very cool climate and in the past, it was a place for kings to stay in the warm seasons. This unique plain is located 70 km east of Tehran and you can visit it whenever you want.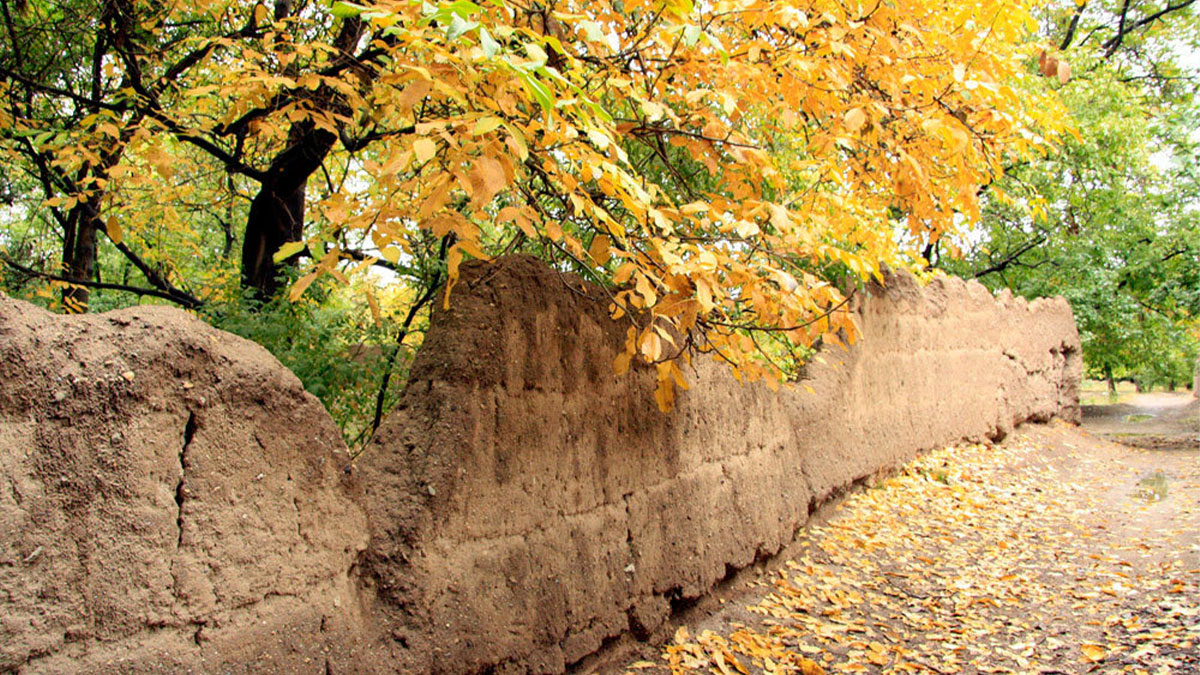 Kurdish village
The next place that can be suitable for a day trip in hot summer weather is the village of Kordan. This village is located in Savojbolagh city and is about 65 km west of Tehran. There are many orchards and rivers in the village of Kordan, each of which attracts travelers and tourists in some way.
Philband Summer
For tourists who are interested in mountaineering, visiting Philband summer resorts can be very attractive. To go to Philband summer resorts, you must first move from Roodehen road to Alimestan to reach your destination after traveling a certain distance. These summers have a very cool climate and many people go there for fun on all days of the week, especially on weekends.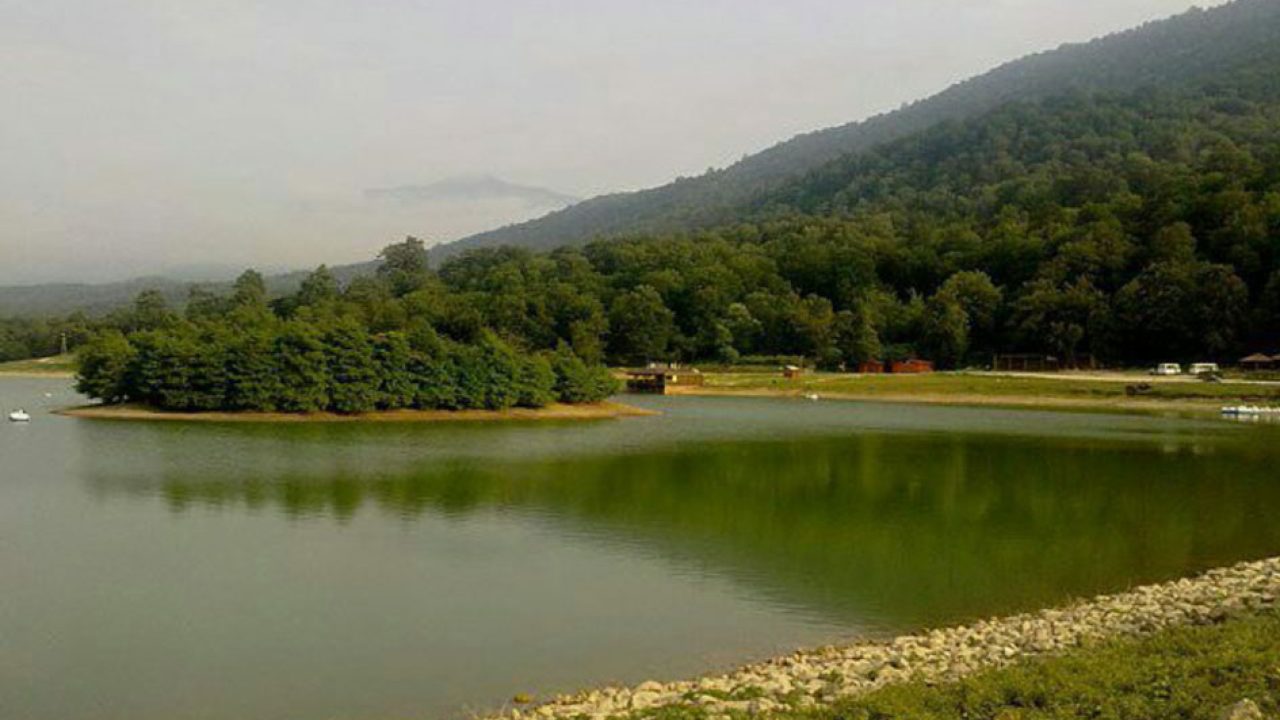 Lake Avidar
Lake Avidar is one of the coolest areas around Tehran for day trips in summer and to visit it you have to go to Salahuddin Kola village in the east of Nowshahr. This popular lake has unique amenities around it and families who visit it can enjoy a wonderful tour of the pristine areas.
Terminals; Provides the best service and the safest way to buy tickets online
Terminals are the most reliable system for preparing and buying online bus tickets, taxi fares or sending cargo all over the country with the best conditions. The process of buying tickets from terminals is very simple and this is why the terminals are one of the most used online ticketing systems.
The bazaar team, as a subset of terminals, is one of the main hubs for buying and selling tickets in Iran. One of the attractive services offered by the bazaars and terminals is that for family and group travel, you can easily use the bus rental option and have a comfortable, economical and of course exclusive experience.
Concluding remarks
Tehran province is an excellent choice for summer and short-term trips due to its excellent location and relatively short distance from northern Iran. Therefore, most tourists on weekends for fun and relaxation are looking for the coolest areas around Tehran to visit them to spend their time in a special way and gain special experiences. If you are planning to travel to a region with a pleasant and cool climate in the hot summer season, it is better to choose a suitable place from the options we introduced in this article.
What is your opinion about the coolest areas around Tehran? Please leave your comments in the comments section.