What are the best smartphones that are worth buying at the time of discount? In today's era, buying a smartphone with different capabilities is essential for everyone. Even students need smartphones for many tasks related to their studies.
Many people in today's society cannot afford to buy expensive phones, and on the other hand, the need for these phones is increasing every day among people in the society. Be with us to buy a smartphone at a reasonable price and learn about different phone models.
Honor X9 5G mobile phone
this Smart mobile phone It is among the mid-range phones of the Honor brand. The unique and beautiful design of this smartphone is one of its strengths. The circular design of the Honor camera with a resolution of 48 megapixels and 2 depth-of-field detection lenses and a macro lens has given this mobile phone a beautiful effect. Octa-core processor, 4800 mAh battery, density of 285 pixels/inch, ability to support 16 million colors / 1080 * 2388 pixels, 1080 quality video recording and 5G internet network support are only part of the features of this smartphone. You can buy the Honor X9 5G phone online and from reliable sites to buy at the current price. You can order the Honor X9 5G mobile phone with a discount from the Digikala site.
Samsung Galaxy A52s mobile phone
Samsung mobile phone model Galaxy A52s It was released to the market in 2021. This smartphone with 128 GB memory and 8 GB RAM is among mid-range phones. This phone has 2 SIM cards and the frame of this device is made of compressed plastic. The 64-bit 8-core processor makes this device a successful example of the A series. The screen of this device is Super AMOLED and has a resolution of 1080 x 2400 pixels. The green and lilac color of this device is one of the most popular colors of this smartphone. The resolution of the main camera is 64 megapixels and it is of the wide type, and one 12 lens and two 5 sensors make up the set of camera lenses of this phone. In addition to the powerful rear cameras, the 32-megapixel selfie camera is another highlight of this smartphone. The 4500 mAh battery of this device is another positive point of this smartphone. You can in Digikala Black Friday or Black Friday Order this smartphone at a reasonable price.
Xiaomi Redmi Note 10 pro M2101K6G mobile phone
By offering the Redmi Note 10 pro phone at a very reasonable price, Xiaomi has launched a phone with camera features. The resolution of the main camera of this mobile phone is 108 megapixels. This alone is a revolution among affordable mid-range phones. The AMOLED display, 8 GB RAM and 128 GB memory of this device offer you something more than its price. The price of this smartphone is more affordable than you think compared to its features and performance. Another point about this mobile phone is the attractive design and colors of this device. This phone is an excellent example for those who are looking for a gaming phone due to its 8 GB of RAM and strong battery, as well as powerful hardware. High software capabilities and Android 11 are other strengths of this smartphone, which makes it worth buying.
Xiaomi mobile phone model POCO M4 Pro 2201117PG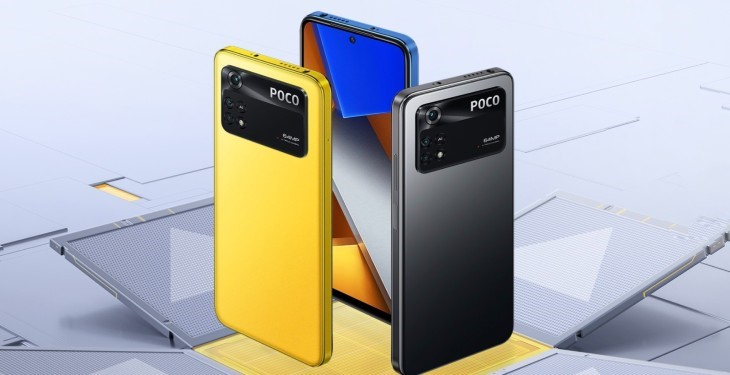 This model of Xiaomi products is one of the flagship phones that has all the positive features. This phone with 256GB memory and 8GB RAM has enough memory to store all kinds of games and software as well as all your photos and videos. The AMOLED screen and the main 64 megapixel camera make this phone a suitable option for photography and videography. The density of 409 pixels per inch makes the image clear and the colors bright on the display of this smartphone. The main camera sensor is 64 megapixel wide and an 8 megapixel ultra wide sensor as well as a 2 megapixel macro sensor make up the camera lenses of this phone. The affordable price of this device is another reason why this product is valuable compared to its price.
Xiaomi Poco F4 mobile phone
Another product of the Xiaomi brand that has been released as a mid-range smartphone is the Xiaomi Poco F4 mobile phone. This phone has nothing less than an A-class phone and can easily compete with a high-end phone. Old screen with dimensions of 6.67 inches and a resolution of 1080 x 2400 pixels and the main camera with 64 megapixels are the key features of this smartphone. This phone with powerful hardware and strong processors is suitable for fans of various games. The selfie lens of this phone is located at the top of the screen with a circular notch. Among the features that distinguish this phone from other similar devices in the market, we can mention its fingerprint sensor next to the phone's power button, which is placed on the side of the phone instead of the screen, unlike other models of the same category. The thickness and rectangular edges of this phone make its design somewhat similar to iPhone models.
Samsung mobile phone model Galaxy S20 FE 5G SM-G781B/DS
Samsung S series is a variety of models with strong hardware. Im model is not exempt from these features. Samsung Galaxy s20 mobile phone with a beautiful and light design and super old screen, this device has high quality in color support and provides a lot of beauty to your eyes. The powerful graphics processor of this phone causes high battery consumption and over time, there is a possibility of weakening the phone's battery. Due to the powerful processor and strong hardware of this phone, you will be able to install and run all kinds of graphic games on this device.
There are various models of smartphones that are more expensive than their features and performance. Only a few of them were discussed in this article. To view other models and enjoy Black Friday gifts, you can visit the Digikala site.
.
End of advertisement report