In this article we want to The best drones in the world to introduce to you from the perspective of Army Technology magazine. These drones are classified based on their cargo capacity and the weapons they carry.
Four of the top ten drones in the world are made by General Atomics Aviation Systems. the list The best drones in the world as follows:
TAI Anka
MQ-5B Hunter
CAIG Wing Loong II
MQ-1C Gray Eagle
Yabhon United 40
CH-5
Predator B (MQ-9 Reaper)
MQ-9B SkyGuardian
Heron TP
Predator C Avenger
Read more:
The best drones in the world
In this article, by introducing the best drones in the world, from Predator C Avenger to TAI Anka, be with us.
Number 10: TAI Anka
In this section, join us by introducing the tenth item from the list of the ten best drones in the world. The Anka drone has been used by the Turkish Air Force since 2017. This UAV, produced by Turkish Air Industries, is used in the Turkish Air Force for purposes such as reconnaissance, surveillance, target detection, and other purposes.
The total weight that this UAV can carry is 200 kg, which can include an Identification Friend and Enemy (IFF) system, laser detection and weapons such as Rokstan Smart low-caliber weapon, air-to-ground missile launcher and CIRIT 2.75in laser remote-guided rocket. be
The necessary power for this drone is provided by a 150 HP Turboprobe PD170 engine, which is made by Turkish Motor Industries. 1.6 tons of weight at the time of take-off, a height of 30,000 feet and a durability of more than 24 hours are other features of this drone.
#9: MQ-5B Hunter
The U.S. Air Force has been using the MQ-5B Hunter drone, developed by Schuckert Northrop Grumman, for more than two decades. The MQ-5B Hunter is one of the The best military drones in the world It is considered that it has received the approval of all the necessary standards set by the US Department of Defense.
This drone has the ability to carry 226.8 kg of cargo. It can have various sensors such as electro-optical and infrared sensor and communication system simultaneously with external weapons, for example Northrop Grumman's Viper attack laser guided munitions.
This bird, powered by a heavy engine, can weigh about 884.5 kg at takeoff and climb up to 18,000 feet. The final speed of this drone is 148 km/h and it can stay in the air for up to 21 hours. The MQ-5C e-Hunter, the larger version of this aircraft, can fly for up to 30 hours.
Read more:
#8: CAIG Wing Loong II
CAIG Wing Loong II (CAIG Wing Loong II), developed by Aviation Industry Corporation of China (AViC), is another one of the best drones in the world. This drone is a more advanced version of the Wing Lung 1 drone and is in the service of the Air Force of the People's Liberation Army of China.
Designed for surveillance, reconnaissance, and air strike, the UAV can carry up to 480 kg of payload, including 12 laser-guided bombs or missiles (such as the FT-9/50 bomb, the 250 kg GB3 laser bomb, and the TL- 10) becomes
CAIG Wing Loong II is designed for medium altitude and long endurance and can stay in the sky for up to 32 hours and travel at a speed of 200 km/h. The maximum weight loaded on this drone should be 4200 kg. The maximum flight altitude is 32,480 feet.
#7: MQ-1C Gray Eagle
In this section, join us by introducing the seventh item from the list of ten best drones in the world. MQ-1C Gray Eagle drone by part of US Air Development Program was developed. By General Atomics Air Systems Company It is designed for purposes Target identification, monitoring and detection is used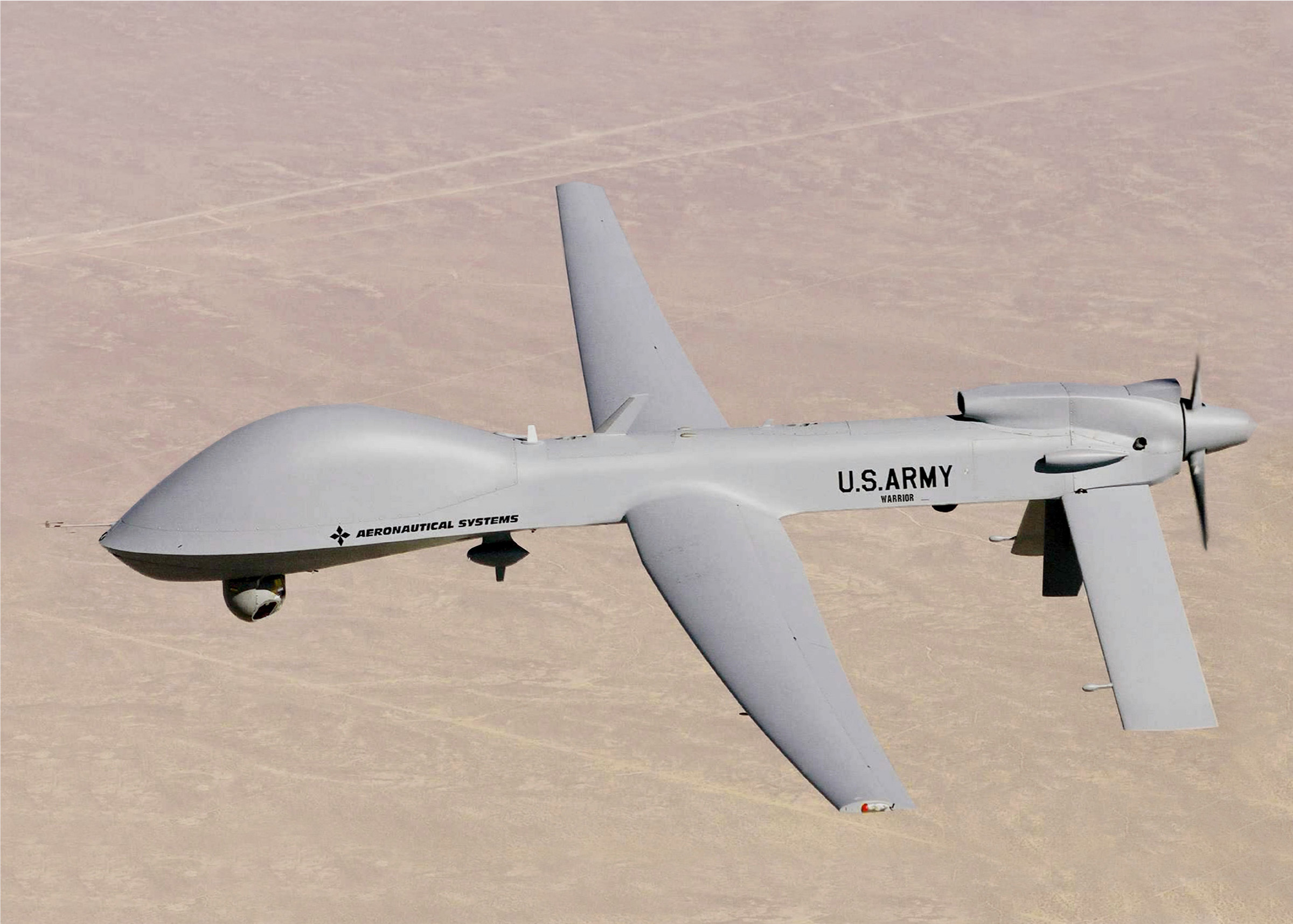 This aircraft is designed to have an equivalent weight 488 kg with full fuel and other external capabilities that respectively Weight of 261 and 227 km He is carrying with him. The Gray Eagle UAV can reach up to 4 Hellfire missiles carry with you Electro-optical sensors, synthetic aperture radar and communication sensors have
The necessary energy of the Gray Eagle UAV by one 165 horsepower engine Heavy fuel is provided that the ability to carry 1633 kg gives to this drone. The maximum height and speed of this drone respectively 29 thousand feet and 167 kilometers per hour is and can be up to 25 hours To last in the air, of course, in the low consumption conditions of this time 40 hours increases.
Read more:
Number 6: Yabhon United 40
Yabhon United 40 holds the sixth place in the list of the best military drones in the world. Yabhon United 40 UAV for medium height and high durability, which is also called Smart Eye 2, was designed and produced by the Emirati company Adcom Systems. This drone is widely used by the Algerian forces.
The multipurpose Yabhon United 40 is capable of carrying a ton of weight, which includes sensors and surveillance systems such as camera platforms, synthetic aperture radar, and an acoustic sensor. This military drone has four special platforms for carrying weapons and ammunition up to 400 kg under its wings.
The final speed of this drone is 118 kilometers per hour and it can continue to fly continuously for up to 120 hours. The final allowable weight for taking off this drone is one and a half tons. All these features have made Army Technology to include this drone in the list The best drones in the world put
Number 5: CH-5
The CH-5 UAV, also known as the Rainbow UAV, was developed by the China Aerospace Science and Technology Corporation. The drone was first introduced in November 2016, and at first glance, it resembles the American MQ-9 predator drone.
This military drone has capabilities such as carrying missiles, reconnaissance, surveillance, patrolling and target detection. The final weight of this UAV when taking off is 3300 kg, of which 1200 kg is its load. It is possible to install quadruple AR-2 anti-tank (anti-armor) self-guided missiles and dual AE-1 missiles in its wings.
Another reason why CH-5 is on the list The best military drones in the world is that with its 330 horsepower engine, it can reach a maximum speed of 118 km/h and stay in the air for up to 60 hours.
Number 4: Predator B (MQ-9 Reaper)
Another top drone in the world is the Predator B (MQ-9 Predator), which is in service with NASA, the US Air Force, the British Royal Air Force, and the Italian, Spanish, and French air forces. This UAV, manufactured by GA-ASI, complies with NATO STANAG 4671 standards.
The Predator B drone (MQ-9 Reaper) is twice as fast as the previous Predator and can carry up to 5 times more payload. It can reach a final height of 50,000 feet and fly at a speed of 240 kilometers per hour for up to 27 hours.
The power of this drone is supplied by a TPE331-10 turboprop engine from Honeywell company, which has a final weight of 1746 kg. Its 1,361 kg constitutes the UAV's external load, which can include electro-optical and infrared multi-missile systems, Lynx multi-mode radar, maritime surveillance radar, electronic support and laser detection. It can also carry a variety of weapon systems, including GM-114 Hellfire missiles, GBU-12 paveway 2 bombs, and the GBU-JDAM kit.
Read more:
#3: MQ-9B SkyGuardian
Another drone that can be included in the list of the best drones in the world is the MQ-9B sky protector, which was put into service by the British Royal Air Force in 2020. This UAV is manufactured by GA-ASI according to NATO STANAG 4671 UAV standards.
The maximum weight of this UAV when taking off can be 5670 kg, which includes the 1814 kg load. The drone is capable of carrying weapon systems such as 500lb GBU-12 Paveway II laser bombs and AGM114 Hellfire missiles.
The MQ-9B SkyGuardian UAV uses features such as detection and evasion by GA-ASI and can fly at a speed of 210 km/h for 40 hours at an altitude of 40,000 feet.
#2: Heron TP
The Hiran TP UAV, also known as Aytan, is an unmanned aerial vehicle with automatic taxi take-off and landing designed and manufactured by Israel Aerospace Industries and serving the Israel Air Defense Force.
This UAV is capable of carrying 2,700 kg of payload, which can include various systems such as synthetic aperture radar, global wireless communication system, intelligent communication sensors, and weapon systems such as guided bombs and air-to-ground missiles.
This drone, which uses a Pratt & Whitney PT-6A engine with a power of 1200 horsepower, can fly for more than 30 hours at a speed of 220 km/h.
#1: Predator C Avenger
Predator C Avenger can be considered the best combat drone in the world. Predator C Avenger is a remote control drone designed and manufactured by GA-ASI. The first flight of this drone was recorded in 2009. This drone can lift a weight of 8255 kg during take off.
This drone can carry a variety of sensors on its wing, in addition to internal weapon systems, with a total weight of up to 1,588 kilometers. The weight of the load that can be carried with Hunter C Unger is 2948 kg. The weapon system of this drone can include Hellfire missiles, laser bomb (GBU-12/49), GBU-31 GBU-32, GBU-38 complex direct attack ammunition and GBU-39 and GBU-16/48 bombs.
Frequently Asked Questions
Which country produces the best drones?
The United States remains the world leader in drone technology. A decade of extensive operational work with UAVs in the US military has given this country tremendous experience in the field of architecture, design and use of UAV technology.
What fuel do military drones use?
Hydrogen is the most common fuel, and air oxygen is the most common oxidizer. There are several fuel cell technologies, including proton exchange membrane (PEM), solid acid, and solid oxide. PEM is the most widely used electrochemical cell used in drones; Because it has the highest power density.
Read more:
Source: army-technology
What do you think about introducing the best drones in the world? Can any other bird be on this list? Leave your comment with duplicate share