IQOO unveils IQOO 10 Pro 200 watt fast charger. It is said that this charger can charge a smartphone in just 12 minutes.

Weibo, a popular tech blogger, recently revealed that Vivo will introduce 200W / 20V / 10A chargers. This means that 200-watt fast charge will soon be available in global markets. According to previous reports published on the same blog, the iQOO 10 Pro smartphone will be introduced next month and it seems that this phone will have a 200 watt charger.
Read more: The best Vivo phones
Do not worry about charging the device with the fast 200 watt IQOO 10 Pro charger
According to a recent news release on tech blogs, the iQOO 10 Pro's fast 200-watt fast charge greatly reduces mobile charging time. This charger can accurately charge the battery from 0 to 100% in just 12 minutes. And this is currently the fastest time imaginable to charge a battery.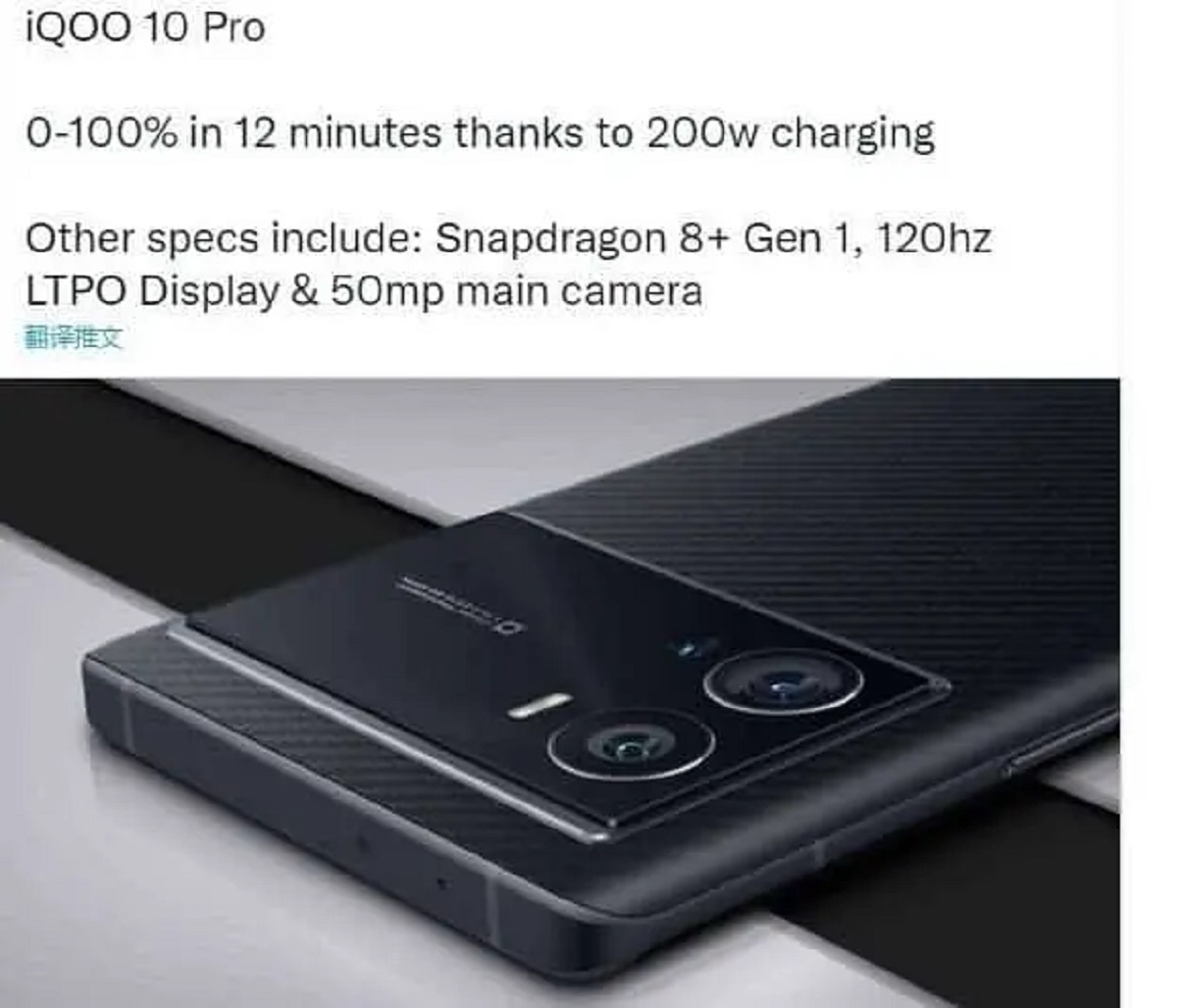 This will be the first smartphone to ship with the flagship Snapdragon 8 Generation 1 Plus processor in the world. The maximum Cortex-X2 core frequency of this processor has been increased to 3.2 GHz. This means that the overall performance of this smartphone is much stronger. Due to the replacement of the TSMC process and special optimization for energy consumption and heat generation, it is expected that the performance of this smartphone will be better than the phones equipped with Snapdragon 8 generation 1.
On the other hand, there are reports that the iQOO 10 series uses a flexible LTPO display with a frequency of 2K + 120Hz. This device will also have an ultrasonic fingerprint with a large area under the screen. In the camera section, the iQOO 10 series smartphone with good specifications is offered.
This device will be equipped with a 50-megapixel main camera and it seems to have high quality and resolution. It should be noted that Weibo reports also reveal that the iQOO 10 series comes with an ISP V1 chip. This is especially true for the camera, which can provide good quality at night and in low light, and capture quality images with night effects.
In addition to shooting at night, this camera can even provide the effect of black light at night. As a result, you can have a good photography experience. But don't forget that the most important upgrade of the iQOO 10 smartphone series is that it has the fastest charger on the market.
Read more:
What do you think about the 200 watt IQOO 10 Pro fast charger? Leave your comments in the comments section Repetition Share.