Tesla's soon-to-be-named electric trucks may herald a very different future for the world of moving cargo.
For the first time in 2017, Tesla unveiled the first example of semi electric trucks (Semi). Elon Musk, the CEO of this electric car manufacturer, entered the stage while riding in the seat of one of the electric Semi trucks to get the audience excited about Tesla's new product. In this event, he disclosed some of the specifications of this truck and said that its production will begin in 2019. Now, nearly 5 years have passed since that date, Tesla's electric trucks have not yet been produced.

However, there was a recent report of receiving orders for these electric trucks, and it seems that mass production of the Semi will begin soon.
Read more: Cadillac's 300,000 dollar electric car was unveiled
Tesla electric trucks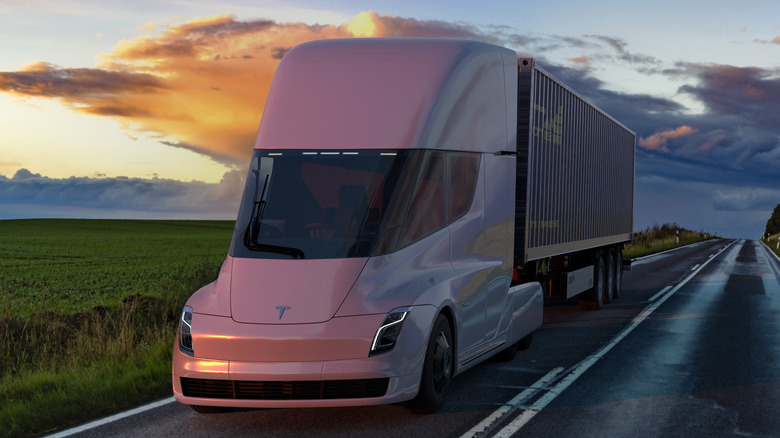 It is believed that Tesla will soon begin the process of producing toxic electric trucks, which could lead to a revolution in the world of transportation. One of the advantages of these trucks is their very high speed. Musk announced at the 2017 conference that this electric truck will accelerate to 100 km in just 5 seconds. To compare with diesel trucks, Musk said that most of these trucks go from 0 to 100 in 15 seconds.
With what Musk said, Tesla's electric trucks are as fast as the Volvo Iron Knight, which can accelerate from 0 to 100 km/h in just 4.6 seconds. Of course, this Volvo truck was announced as the fastest diesel truck in the world in 2016.
The remarkable thing about Tesla's electric trucks is that they can maintain their speed of 105 km on a 5-degree incline. This is important thanks to Tesla's special aerodynamics and electric motors.
In fact, the acceleration of the Tesla electric truck is the same as that of the Volvo Iron Knight, which can go from 0 to 100 km/h in just 4.6 seconds, and in 2016, it won the title of the world's fastest commercial diesel truck. It should also be noted that Tesla Semi can maintain a speed of 105 km/h on a 5-degree incline. This truck also has 4 separate motors on each of its rear wheels.
Another important point is related to the movement radius of these products. Musk has confirmed that Semi electric trucks can travel 800 kilometers on a single charge, even if they are filled to their maximum capacity of 36 tons. He later said in another interview that the radius of movement of these products reaches 1000 km.
This is in the context that if Musk's claim turns out to be true, the Tesla Semi truck will hold the record for the longest range of all electric vehicles. This record is currently held by Lucid Air Grand Touring with a range of 830 km.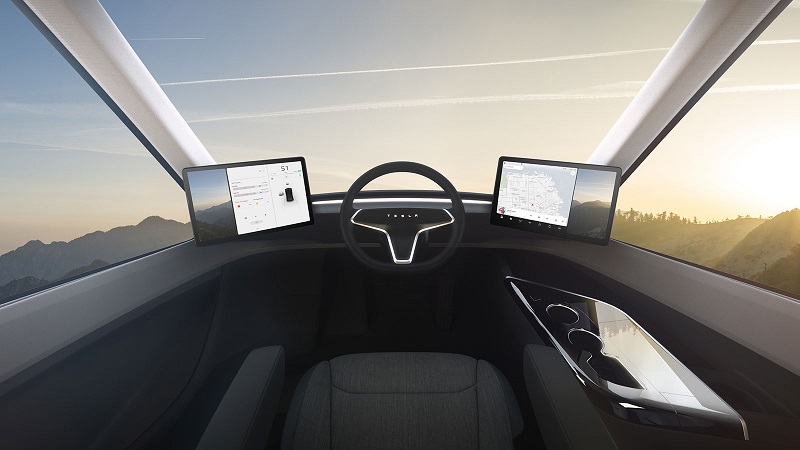 The battery of this truck is probably composed of 4680 electric cells, which provides a huge source of energy to the truck, and the time required to charge it is about 30 minutes.
Another interesting thing to note about this product is that unlike many trucks that have at least 10 or 18 gears, Tesla's Sami truck only puts 1 gear in front of the driver. Musk said that driving this truck is so simple that it can be compared with models like Tesla 3, Tesla S or Tesla X.
Another interesting point is that in the event of an emergency situation or an acute critical problem for the driver inside the truck, the truck will automatically stay in its lane and gradually stop. Further, if the truck does not receive an answer from the driver, it calls the emergency service centers. This product is also designed to prevent shearing by automatically adjusting the wheels.
The CEO of Tesla announced on the sidelines of the opening ceremony of the Tesla Gigafactory in Texas that the Tesla Semi will be produced in 2023 along with the Cybertruck and Roadster. In fact, Tesla is one of the most important reasons for establishing the Texas Gigafactory. A base model of this truck with a range of 480 km is expected to sell for $150,000 and a higher model with a range of 800 to 1,000 km for $180,000.
Read more:
What is your opinion about Tesla electric trucks? Share your thoughts in the comments section duplicate share