Apple has managed to sell its old products at auctions at high prices. This time Steve Jobs sandals It was sold at auction.
Steve Jobs The founder of new technology in the world, once again his name reached the headlines of the media. Steve Jobs sandals were sold at an auction with a very high and unbelievable price.
The global entrepreneur's sandals were sold at an auction for $218,750 along with one NFT. Over the years, Apple has sold many of its old products at auctions.
Read more: Steve Jobs came alive for an interview thanks to artificial intelligence!
Steve Jobs sandals
These are famous sandals from the Birkenstock brand. Jobs wore them during the 1970s and 1980s. Mark Sheff, who was a chef at one of Steve Jobs' estates in Albany in the 1980s, found them in the trash.
Steve Jobs' sandals, which sold for $218,750,000, tripled the expected price at the Jullins auction.
It was said before, those who buy these sandals, one NFT They get it for free. The sold price of these sandals is the highest selling price for a pair of sandals so far.
It should also be noted that the name of the person who bought Steve Jobs sandals has not been announced. Before the sale of the Apple founder's sandals, they were expected to sell for $80,000, but now they have sold for about three times the amount expected.
company Apple In the past, he had succeeded in selling the prototype Apple One belonging to Steve Jobs for half a million dollars and also selling a $9 Apple check signed by Steve Jobs in auctions.
The Steve Jobs sandals, which were sold with a free NFT, were estimated to sell for $60,000 or $80,000 before the last auction.
Steve Jobs sandals auction
The Breckenstock company, which is a German shoe manufacturer, was the manufacturer of these Steve Jobs sandals. These brown suede sandals have accompanied Jobs for almost 10 years.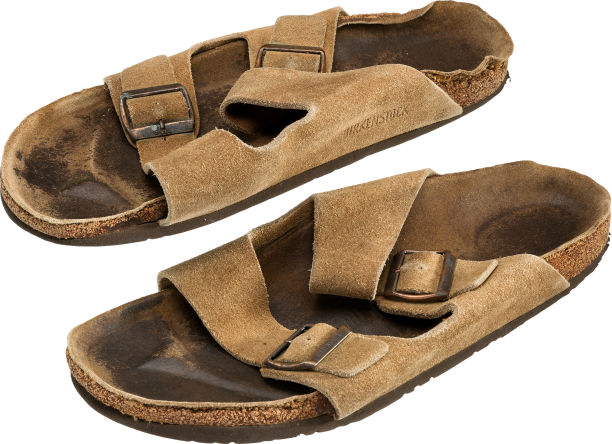 In a 2018 interview, Steve Jobs' daughter Chrisann Brennan said about her father's sandals:
Sandals were part of the simple side of her life. They looked like his uniform.
Also, the Julien's Auctions website has mentioned regarding Steve Jobs sandals that:
Steve Jobs wore these sandals during many important moments in Apple's history. In 1976, he started working on Apple computers in a Los Altos garage with Apple co-founder Steve Wozniak, and he usually wore these sandals.
After the auction, the buyer was able to receive a free NFT of these sandals and this sandal Famous to buy at a price about three times the estimates.
Read more:
What do you think about Steve Jobs sandals? Share your thoughts in the comments section duplicate let me know