Sightseeing places in Sanandaj; Get to know the tourist attractions of Sanandaj
Read Time:
11 Minute, 9 Second
Sanandaj is one of the most pleasant and beautiful cities located in the northwest of Iran and has unique sights. This foothill city has a very ancient history and for this reason it has been able to attract the attention of many people. There are many places of interest in Sanandaj and each of them has managed to attract domestic and foreign tourists in a way.
Therefore, if you are planning to travel to Sanandaj, it is better to familiarize yourself with some of its best natural and historical attractions before anything, and then do the necessary planning to enjoy your trip more and also to choose during the trip. An ideal option, don't get into trouble.

The tourist attractions of Sanandaj and their importance are not hidden from anyone. If you are planning to travel to beautiful Sanandaj and enjoy land travel by bus, one of the easy ways to get tickets is through the terminals website. Through this website, you can easily purchase a Tehran-Sanandaj bus ticket with just a few clicks and benefit from the bus services of reputable companies. Of course, keep in mind that passenger services and terminal ticketing are not only limited to Tehran and Sanandaj; Rather, you can get the desired ticket from any origin to any destination you want with a simple search.
The most famous and most beautiful places to visit in Sanandaj
The sights of Sanandaj are very popular among tourists, and for this reason, many people go to this attractive city every day for fun and sightseeing. Those who are familiar with the features and specifications of the tourist attractions of this city can have an exciting trip and save their time. So stay with us in the rest of the article to introduce you to the most popular and best tourist attractions in Sanandaj.
Salar Saeed mansion
Salar Saeed Mansion or the Sanandaj Museum is one of the oldest and most important historical buildings in Sanandaj, which dates back to the Qajar era. At first, this mansion consisted of different parts and had a large area, but several years ago, its outer part was sold to a person named Salar Saeed.
Currently, the Salar Said mansion is used as a museum and people who visit it can see many ancient and anthropological works.
Abider Park
Another tourist attraction of Sanandaj, which is located at the foot of Abider Mountain, is the beautiful Abider Park. In addition to various entertainment, this famous park also contains natural attractions such as springs, mountains and forests.
In Abider Forest Park, you can use the cable car, open-air cinema, large pavilions, green space and various sports equipment and spend happy moments with your loved ones. In this attractive park, you can enjoy sightseeing among dense forests and climbing and have a memorable trip.
Khosrowabadi mansion
Khosrowabadi Mansion is another sight-seeing place in Sanandaj that was left from the Qajar era and has a long history. According to the opinion of archaeologists and historians, it can be said that this mansion was built by Amanullah Khan Ardalan about 100 years ago, and it was the seat of Ardalan rule for many years.
Khosrovabadi mansion in Sanandaj is located in the middle of a wonderful garden and many towering trees can be seen around it. The architecture of this building is also very eye-catching and has a special charm.
The beautiful sashes, unique carvings, tall columns and attractive plasterwork of Khosrowabadi mansion dazzle the eyes of every viewer. On the third floor of the building, there is a spectacular fountain and pond, which has multiplied the charm of the building. Khosroabadi Mansion is located near Khosro Abad Boulevard, and you can have very easy access to it.
Sanandaj Grand Mosque
Jame Mosque can be mentioned among other places of interest in Sanandaj. Another name of this old mosque is Dar al-Ahsan, and its construction dates back to the Qajar era. This historic mosque was built by Amanullah Khan Ardalan near the government castle and it was also used as a school in the past.
The architecture of Sanandaj Jame Mosque is very beautiful and it has displayed the peak of art of architects and artists of that time. The exterior and interior of the mosque are also completely decorated with Quranic verses, and other parts of it are completely covered with moqrans or tiles.
Qashlaq Bridge
Another sight-seeing place in Sanandaj, which was built by the order of Shah Safi Safavi, is Qeshlaq Bridge. Beside the spectacular Qeshlaq river, in addition to the dam lake, you can also visit the historical Qeshlaq bridge. This historical bridge is located exactly on the Qeshlaq river and has several foundations and spans. Qeshlaq Bridge's resistance against destructive environmental factors is very high and it has been able to remain intact for a long time.
Of course, note that it is not possible to cross this bridge, but people who go to see it can enjoy watching the river, green nature, and unique mountains next to a historical bridge.
Hamam Khan
Historical Khan Bath is one of the old baths in Sanandaj, which was built by Amanullah Khan Ardalan in the Qajar period. This historical bath has different parts such as hot bath, cold bath, water storage, khulti, treasury and vestibule. Hamam Khan is one of the most important sightseeing places in Sanandaj and has a very spectacular effect.
The interior walls of this famous bathroom are covered with seven-colored tiles that are particularly attractive and present an amazing view. Visiting this tourist attraction is possible on all days of the week and you can visit it at any time of the day or night.
Qeshlaq Dam Lake
Qashlaq River is a unique phenomenon in the heart of nature that has unparalleled beauty. A dam called Qeshlaq was built on this river and the water collected behind it created a small lake. People who go to see the Qeshlaq Dam lake can enjoy activities such as boating, fishing and sightseeing in the heart of nature.
Therefore, if you are looking for the best places to visit in Sanandaj to spend your holidays, it is better to go to Sanandaj with your friends or family and visit the Qeshlaq Dam lake.
Vakil al-Mulk's mansion and bathroom
The main building of this mansion dates back to the Zandiya period, but several years later, during the period of Amanullah Khan, it was expanded and more parts were added to the mansion. This mansion belongs to the Vakil family and has an incomparable beauty.
The main building consists of three parts, Vakil al-Sultan, Vakil al-Mulak, and Vakil al-Mamalk, and each of these parts has its own characteristics. You can also visit Vakil al-Maluk's bath in the Vakil al-Maluk mansion. The construction of this bath also goes back to the Zandiyeh era, and unique tiling and plastering can be seen in it.
Sanandaj market
Another sight-seeing place in Sanandaj, which has an ancient history, is the Sanandaj market. This market is a souvenir from the reign of Suleiman Khan Ardalan and the Safavid era and has an eye-catching design. In addition to watching different parts of the market, travelers can also buy unique souvenirs for themselves and their loved ones.
Therefore, if you are interested in shopping, it is better to visit the Sanandaj bazaar during your trip. This market has about 12 openings, but currently only 3 openings are active. In the Sanandaj market, you can buy all kinds of traditional clothes and handicrafts at a great price and have a memorable trip.
Asif mansion
The historic Asif mansion was built in the Safavid era; But during the Pahlavi and Qajar periods, it was restored. The architecture of this mansion is completely Iranian and its different parts have a very attractive design. Asif Mansion is one of the most famous sights in Sanandaj and many tourists from all over the world visit it every year.
According to Iranian architecture, this mansion has a vestibule, an interior, a kitchen, an exterior, an entrance hall, and a crew section. It goes without saying that Asif mansion is currently used as an anthropology museum and tourists who go there can get to know the customs of Kurdish people better.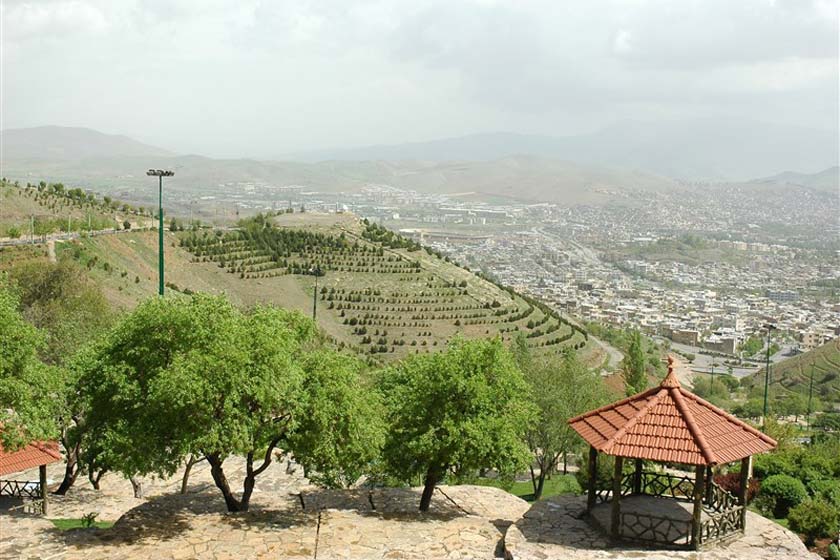 Farmer Park
Keshavarz Jungle Park is a green and refreshing park in the east of Sanandaj city and it is very large. This beautiful park is actually a great place for activities such as hiking, climbing, camping with family or friends, cycling and group games.
In Keshavarz Forest Park, there are amenities such as parking, toilets, gazebos, chairs and benches that you can use. This is one of Sanandaj's tourist attractions, which is known as a suitable destination for half-day entertainment, and many people go there on all days of the week, especially on holidays.
Ahmadzadeh house
Among the important sights of Sanandaj city and its eye-catching mansions, the name of Ahmadzadeh house should not be forgotten! This amazing historical building has many attractions and dates back to the period of Pahlavi rule. Ahmadzadeh house has a very neat square yard and is built on 2 floors.
This historical building is designed with very delicate brickwork that attracts the attention of most viewers. Ahmadzadeh House has a high value in terms of architecture and antiquity, and for this reason, the Ministry of Cultural Heritage and Tourism registered it in the list of national monuments in 1379.
Sepidar garden
Another example of the most beautiful sights in Sanandaj, which is unique in its kind, is Sepidar Garden. This garden is located near the mansion of Vakil al-Mulk and dates back to the Qajar period. Sepidar Garden used to be the courtyard of the Sanandaj mill, but now it is considered one of the most spectacular attractions of Sanandaj city.
In this green date garden, there are many tall trees that have created a clean atmosphere in the heart of the city. Therefore, if you are interested in visiting natural spaces and unique gardens, it is better not to miss the Sepidar Garden in Sanandaj.
Be an architect's house
Memar Bashi's house is one of the valuable historical and scenic attractions in Sanandaj city, whose history dates back to the late Qajar period. This house is built on 3 floors and includes different parts such as interior, king's room, exterior, kitchen, different rooms and yard.
In the middle of the yard of Mimar Bashi's house, there is a very neat pond, which has been decorated with brickwork. Beautiful carvings can be seen on the door and walls of this building, which you will surely be surprised to see. It goes without saying that the construction of Mimar Bashi's house was done by an Iranian architect.
Imamzade Pir Mohammad
Imamzade Pir Mohammad Sanandaj is actually the tomb of Mohammad Bin Yahya, the son of Pir Omar. This mausoleum is located on top of a hill which is located in Prophethood Square. This is one of the famous places of Sanandaj, it has a green octagonal dome that stands out even from a distance.
The beautiful dome of Imamzadeh Pir Mohammad was inspired by the Seljuk style of architecture and decorated with tiles. On the dome of this mausoleum, phrases from the Holy Prophet (PBUH) and some verses from the Holy Quran are engraved by the art of tile work, which has a very spectacular effect.
Museum of Natural History
The Museum of Natural History is another tourist attraction in Sanandaj, where more than 470 different and rare animal species are exhibited. The species in this museum include 27 samples of mammals, 150 samples of insects, 10 samples of aquatic animals, 31 samples of invertebrates, 5 samples of amphibians, 212 samples of birds and 14 samples of reptiles.
In Sanandaj Natural History Museum, in addition to these animals, there are about 18 different mineral and stone samples, 3 samples of bird skeletons, taxidermied samples, 1 sample of fish skeleton and also 1 sample of turtle skeleton.
terminals; The provider of the best service and the most reliable way to buy tickets online
Terminals is the most reliable system for preparing and buying online bus tickets, taxi fares or shipping goods all over the country with the best conditions. The process of buying tickets from the terminals is very simple, and this is the reason why the terminals are one of the most used online ticketing systems.
Bazargah team, as a subset of terminals, is one of the main hubs for buying and selling tickets in Iran. One of the attractive services offered by the bazaar and terminals is that you can easily use the bus rental option for family and group travel and have a comfortable, economical and of course exclusive experience.
final word
By reading this article, you realized that Sanandaj's sightseeing places have a lot of variety and travelers or tourists who go to this city can spend happy moments there. Be careful, the pleasure of traveling is complete when, in addition to choosing the right attractions, you also prepare to travel at the right time. Therefore, it is better to know that the best time to travel to Sanandaj is spring.
What do you think about Sanandaj sightseeing places? Share your views in the comments section duplicate share it.