Samsung Galaxy M32 review; Scrutiny of system, performance, camera and battery
Read Time:
9 Minute, 28 Second
The Samsung Galaxy M32 review follows. Tekrato plans to examine and scrutinize the Galaxy M32 phone so that you can get to know more about the capabilities of this popular model.
Samsung is always known for its innovative and high-end devices, but on the other hand, this Korean company is not unfamiliar with affordable mobile phones.

In fact, the company's Galaxy M series phones have been keeping pace with popular Chinese manufacturers for a long time, and sometimes they have even performed better.
Now, Samsung has released another member of the Galaxy M series, the Galaxy M32. It is expected that this mobile phone will attract the attention of customers due to its reasonable price and tempting technical specifications.
The Galaxy M32 review follows. Stay with us to learn more about the features and capabilities of this popular phone.
Read more:
Samsung Galaxy A23 review (Galaxy A23); Scrutiny of system, performance, camera and battery
Samsung Galaxy M32 review
If you are looking to buy a new and affordable mobile phone, the Galaxy M32 phone can be one of the purchase options in front of you. But before buying, you need to learn more about the strengths and weaknesses of this product. So stay with us by reviewing the Galaxy M32 phone.
Review of the Galaxy M32 phone in terms of build quality and design
The Galaxy M32 has an all-plastic body, but there's no way you'll think it's out of shape or feel bad when you hold it. On the contrary, this mobile phone is considered one of the most beautiful affordable mobile phones, and its attractive and eye-catching appearance is mostly due to its unique and gradient back cover.
The upper part of the back frame has shiny lines that run from top to bottom. Interestingly, when the light shines on this part from one of the angles, a beautiful colored aura is created. Of course, don't worry because Samsung didn't overdo it to create a geometric pattern, but there is a good balance between the modern parts and the bright parts.
One of the strengths of the Galaxy M32 is that it has no protruding parts. The same thing applies to the rear camera module or the flat screen. Accordingly, everything is placed in the same frame or body.
Due to the distributed and acceptable weight of 196 grams, once you hold the Galaxy M32 in your hand, you will not want to put it down because you will lose the unique feeling of working with it.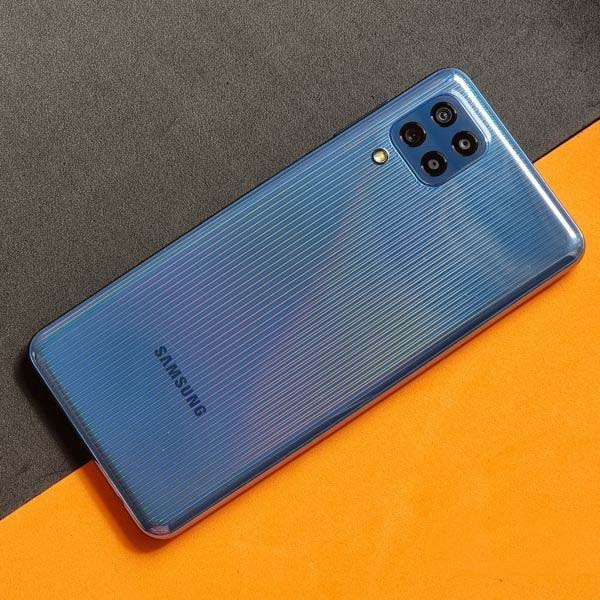 This mobile also has a fingerprint scanner sensor on its right side that you can easily touch with your thumb. Of course, the facial recognition system also works very well during the day, but its accuracy will drop drastically in situations where there is not enough light.
Galaxy M32 has placed volume up and down buttons above the power button equipped with a fingerprint sensor. In addition, there is a USB-C port at the bottom, surrounded by a 3.5 mm headphone jack and a single speaker cutout.
Read more:
Samsung Galaxy A73 review (Galaxy A73); Scrutiny of system, performance, camera and battery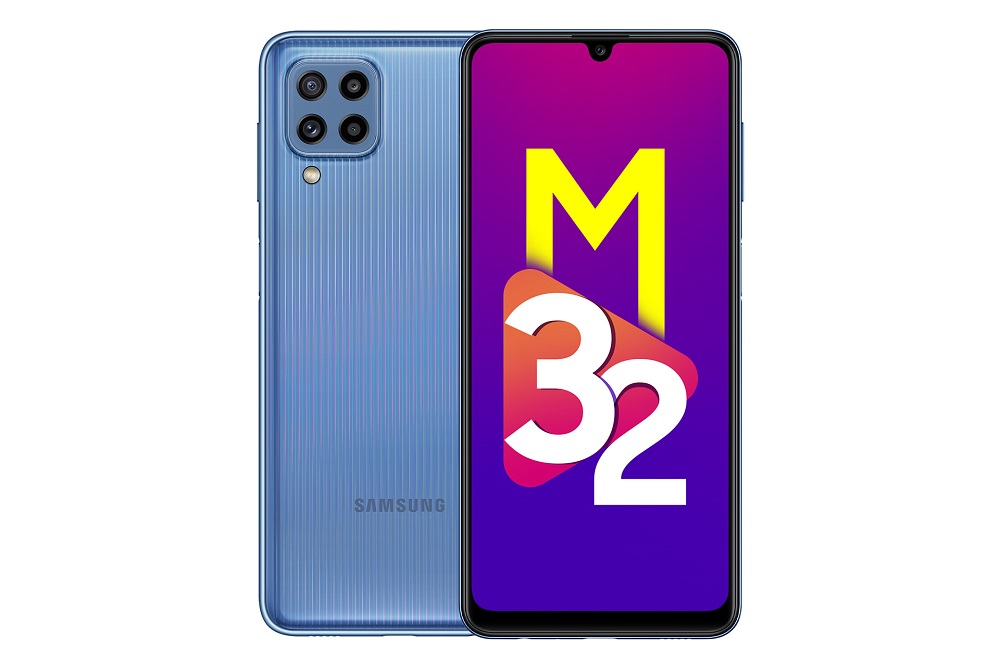 Samsung sells a gel case with this mobile phone and has placed Gorilla Glass 5 protective cover on its screen. As a result, if this mobile falls on the ground unintentionally, you will not have to worry about damaging it.
Samsung Galaxy M32 review in terms of display
Do not think that because the phone is not in a high price range, Samsung has forgotten the screen; On the contrary, this phone has a very high-quality screen. Samsung has used a 6.4-inch Super AMOLED screen with Full HD resolution.
This screen performs really well and exemplary in displaying colors. In addition to being very clear, it also displays images very cleanly.
Undoubtedly, one of the lovely parts of this phone in terms of the screen, in addition to the very good quality, is its refresh rate. The refresh rate of the Galaxy M32 screen is 90 Hz, and it seems that we should forget about phones with 60 Hz screens.
The Galaxy M32's screen brightness is really good; This good brightness helps you to see and read the content of the screen completely and without problems under the sun. Of course, if the brightness is too high, it creates a little problem, but overall it performs well in the open environment.
Read more:
Review of Oppo Reno 8 Pro Plus (Oppo Reno 8 Pro Plus); Scrutiny of system, performance, camera and battery
Samsung Galaxy M13 review; Scrutiny of system, performance, camera and battery
Galaxy M32 camera review
Samsung has released the Galaxy M32 with a 64-megapixel main camera, which is accompanied by an 8-megapixel ultra-wide lens, a 2-megapixel macro sensor, and a 2-megapixel depth sensor.
The main 64-megapixel camera of the Samsung Galaxy M32 provides high-quality images during the day. Vibrant colors are well displayed with the screen optimizer enabled and scene details are clear. Of course, the final image processing could have been better, as the images look too sharp in the final cut.
The Galaxy M32's camera is noise-enhanced to show more detail in shadows. Also, this phone does not automatically adjust the exposure and this item must be adjusted manually.
Chances are, buyers of the Galaxy M32 won't complain too much about its primary camera capabilities during the day. In fact, unlike some similar products, the Galaxy M32 does not remove the red color. On the other hand, the 64 megapixel lens in this phone can benefit from some software tricks.
The selfies taken with the Galaxy M32's front-facing camera are stunning. However, the Galaxy M32 is not recommended for those who shoot a lot with the selfie camera, as the main and selfie cameras of this phone only support 1080P video recording at a frame rate of 30/s.
Samsung Galaxy M32 battery review
In the continuation of the Samsung Galaxy M32 review, we will review the battery. Battery is one of the important components of a smartphone that users usually pay special attention to when buying a phone. Samsung company usually uses suitable batteries for its manufactured phones and you can count on them well.
Samsung Galaxy M32 uses a 5000 mAh battery. This battery lasts up to a day due to the phone's AMOLED display. But the most important problem is the extremely low battery charging speed. Although this phone supports 25W charging, Samsung is offering it with a 15W charger. This charger takes approximately two hours and twenty minutes to charge the device from 0 to 100%.
Regarding the Galaxy M32 communication network, this device supports 2.4 GHz and 5 GHz Wi-Fi networks. The performance of this phone in terms of download and upload speed on the 4G internet platform as well as the quality of calls is completely acceptable and satisfactory.
Read more:
Review of Poco F4 GT (Xiaomi POCO F4 GT); Scrutiny of system, performance, camera and battery
Comparison of Galaxy A11 with Samsung Galaxy M11; Two low-end efficient
Galaxy M32 phone review in terms of software
Android version 11 and One UI version 3.1 user interface are installed on this phone to make it one of the most up-to-date and modern Samsung phones in this segment.
Thanks to the use of the AMOLED panel on this phone, we also have the always on display feature, which is very nice. When we see this feature on a phone with this reasonable price, it seems that the phone has a very special feature and of course it has a high personalization feature.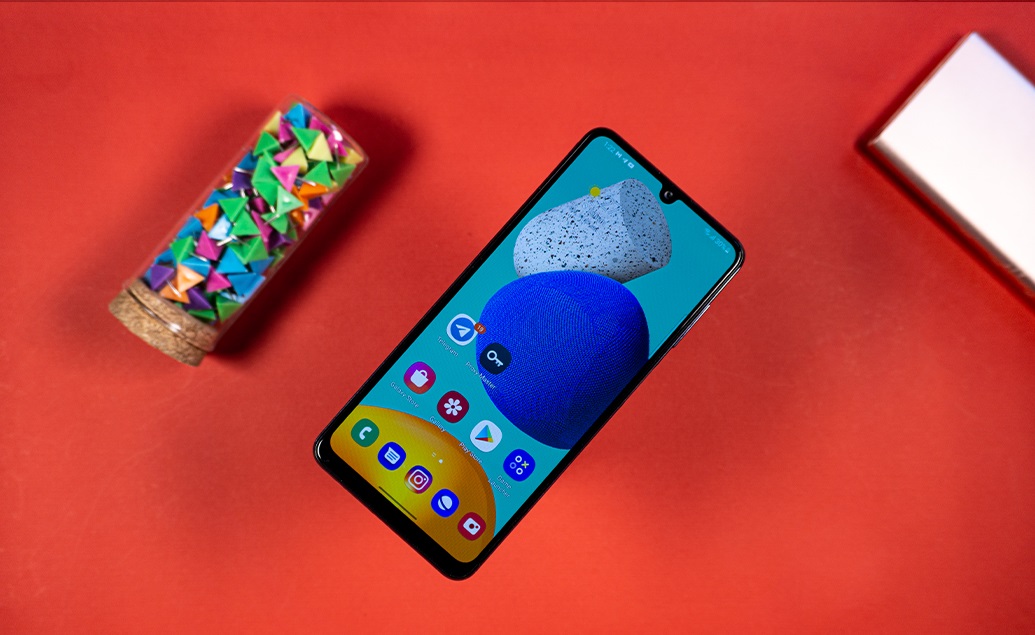 Among the other software parts of the device, we should mention that you can use the power key for other purposes in addition to the fingerprint sensor. It is possible to use the fingerprint sensor to open and close the notification bar. In addition, there are movements such as turning off and turning on the screen by double tapping on it.
Samsung Galaxy M32 hardware review
Regarding the Samsung M32, in terms of hardware, it should be said that the processing power of the M32 phone will be provided by the MediaTek Helio G80 chip, which is produced based on the 12 nm architecture.
The chip used in the M32 has an octa-core processor consisting of two A75 cores clocked at 2.0 GHz and six low-power A55 cores clocked at 1.8 GHz. This chipset is used as a mid-range gaming chip and is placed between the G90 and G70 chips in terms of performance.
Among the features of Helio G80, we can mention the reduction of energy consumption, helping to provide a smoother and more stable gaming experience. In addition, this device uses the Mali-G52 MC2 processor to analyze graphic data.
Samsung's M32 GPU has a 30% improvement in performance over its predecessor. In addition, although this chip is cheaper than its generation, it still consumes about 15% less energy than the previous generation.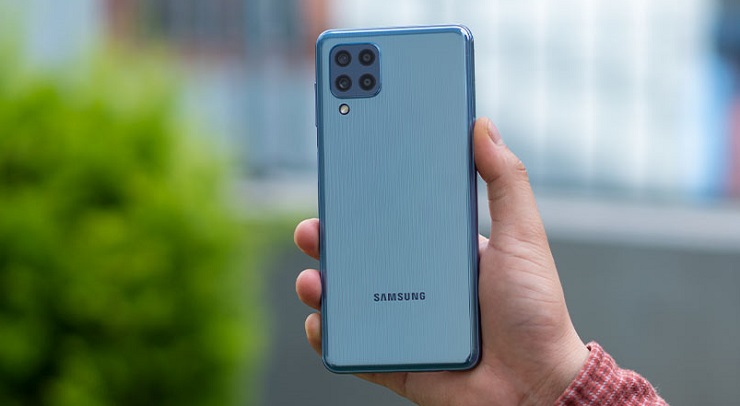 The Samsung M32 phone copes well with daily functions and fully meets the needs of a normal user. In fact, it could even be said that the M32 is priced lower than the performance it offers.
The M32 phone is available in 64/64 and 128/6 GB versions in the market, which can be expanded using a microSD card.
Read more:
Review of Xiaomi Redmi 10 Power (Redmi 10 Power); Scrutiny of system, performance, camera and battery
Comparison of Xiaomi Note 10 Pro with Poco x3 Pro (Xiaomi Note 10 Pro Vs. POCO X3 Pro)
Samsung Galaxy M32 review in terms of sound quality
We see only one speaker on this phone. Of course, it cannot be said that the presence of a speaker is normal for this phone in this price range, because Xiaomi has messed up the rules of the game and has used two speakers on many of its phones in this price range.
However, the Galaxy M32 has only one speaker located at the bottom. The speaker of this phone has a loud sound, although not so loud that it is the best, and in terms of quality, it is the same, and it is not very attractive, and its quality is quite average.
In this article, we introduced and reviewed the Samsung Galaxy M32. A professional, beautiful and popular phone that has a reasonable price. In this article, various capabilities and features of this product were reviewed and you can buy it safely.
Frequently Asked Questions
Is the Galaxy M32 phone worth buying?
The mid-range market is always home to new budget releases, as many users are constantly looking for new phones at affordable prices. The new member of this market is the Samsung M32 phone, which has a high purchase value and according to reports, has improved compared to its previous version. By purchasing the M32 phone, you can aim at two goals with one arrow; You can spend less money than the price of other Samsung phones, and you can also benefit from a well-made model that meets the needs of daily users.
Read more:
.
What do you think of the Samsung Galaxy M32 review? Please share your thoughts with Tekrato and other users in the comment section.