Samsung Galaxy A42 review; Scrutiny of system, performance, camera and battery
Read Time:
10 Minute, 35 Second
The review of the Samsung Galaxy A42 is a topic that Tekrato has discussed further. Stay with us to find out the strengths and positive features of this product.
The Galaxy A42 phone is a new version of the mid-range A series phones, which, in addition to the reasonable price, has interesting features and acceptable build quality that also supports the fifth generation 5G internet.

The Samsung Galaxy A42 phone is one of the most affordable phones that, along with the advantages of the mid-range Samsung A series phones, also supports the fifth generation internet.
The Galaxy A42 review is below. If you want to know more about the Galaxy A42 phone and find out its capabilities, stay with us.
Read more:
Samsung Galaxy A23 review (Galaxy A23); Scrutiny of system, performance, camera and battery
Samsung Galaxy A73 review (Galaxy A73); Scrutiny of system, performance, camera and battery
Samsung Galaxy A42 review
With the success of the A series in the mid-range market, Samsung decided to expand this series even more. Today, users are looking for powerful hardware at a reasonable price, and the Samsung A series has fulfilled this need to a large extent.
The mid-range Galaxy A42 5G phone is also among these popular products, which has all the features of a good and efficient phone. Galaxy A42 review gives us complete information.
Review of the Galaxy A42 phone in terms of build quality and design
The glossy design of the Galaxy A42 5G gives it an eye-catching and prismatic appearance. Curves on the body make it comfortable to hold and allow for easy screen navigation. A holographic pattern and superior luminance create a dynamic look from any angle and features black, white and gray Prism Dot art overlays.
This is a very different and eye-catching design from Samsung, which can pave the way for this style of design in the future products of this brand.
The back frame is made of durable shiny plastic, which conveys a good feeling when holding it. The body frame is made of aluminum, which adds to the strength of this phone. Galaxy A42 5G measures 164.4 x 75.9 x 8.6 mm and weighs 193 grams.
On the side edge of the frame, there is a power button and a volume up and down button, and on the other side there is a SIM card slot. In the frame below the phone, there is a Type-C charging port, a 3.5 mm headphone jack, a speaker and a microphone.
In general, the construction and design of Galaxy a42 5g is very special and different from other A series models in a mid-range position, which has managed to attract the attention of many users.
Read more:
Review of Oppo Reno 8 Pro Plus (Oppo Reno 8 Pro Plus); Scrutiny of system, performance, camera and battery
Samsung Galaxy M13 review; Scrutiny of system, performance, camera and battery
Samsung Galaxy A42 review in terms of screen
For this galaxy, Samsung has used a 6.6-inch Super AMOLED display with HD resolution and a density of 266 pixels per inch. The resolution of 720 x 1600 is very low and the density of 266 is disappointing for a phone of this size, which is also an OLED type.
This display covers 84.3% of the front panel and with a resolution of 1600 x 720 and a pixel density of 266 pixels, it has a lower resolution than its peers. However, the A42 display displays colors as beautifully as possible.
This panel has a minimum brightness of 1.8 nits for use at night and a maximum brightness of 400 nits, which increases up to 570 nits against high ambient light. Lighting that is sufficient for indoor and outdoor use. Contrast is also very good thanks to OLED technology with deep black color.
The colors are presented in two modes: natural and dynamic/live, and the warmth and coolness of the colors in the dynamic mode can be adjusted by the user. Another interesting point is the support for streaming video with full HD resolution, even when the phone's display cannot display more pixels.
The hardware of the phone is powerful and thanks to the low screen resolution, it shows smooth performance and high frame rates in video games. Battery consumption is also optimized to respond to 5G. The edges of the display are good compared to the body and provide the user with a good viewing space.
Read more:
Review of Poco F4 GT (Xiaomi POCO F4 GT); Scrutiny of system, performance, camera and battery
Review of Xiaomi Redmi 10 Power (Redmi 10 Power); Scrutiny of system, performance, camera and battery
Galaxy A42 phone review in terms of camera
The Galaxy A42 5G has done very well in terms of screen, processor and design, but not all the good points of this mid-range phone are there, and the Galaxy A42 has a very good camera with excellent night and daylight performance.
This camera is located in a square module in the back frame. Includes four 48 megapixel wide lens (0.8 micrometer pixel size, 1/2.0 inch sensor size, f/1.8, phase detection autofocus), 8 megapixel ultrawide lens (f/2.2), 2 megapixel macro camera (f/2.4) ) and a 2-megapixel depth sensor (f/2.4) lens.
The main camera works very well. Don't worry about light by activating the photography mode in the dark, you can capture professional portrait photos with the depth detection lens, capture the smallest details with the macro camera, and include more space in your images with the ultra-wide lens.
Colors are shown so vividly and clearly that with 4K quality at 30 frames per second and electronic image stabilization and gyroscopic technology, you can shoot videos and record your good moments with friends and family.
The quality of the selfie camera is also very acceptable and it records high quality photos with good sharpness in good lighting conditions. The camera consists of a 20-megapixel (f/2.2) wide-angle lens capable of shooting 1080p video at 30 fps and is housed in a very small teardrop notch.
Read more:
Comparison of Poco F4 GT and Poco X4 Pro (POCO F4 GT Vs POCO X4 Pro)
Samsung Galaxy M51 review (Galaxy M51); Scrutiny of system, performance, camera and battery
Galaxy A42 phone review in terms of software
It is safe to say that Samsung has one of the best software environments, and its One UI is one of the user interfaces that has been widely welcomed, because in this engineered software environment, there are no common bugs in other user interfaces and the possibility of various customizations. It allows you to adjust the software environment of the phone according to your desire and taste.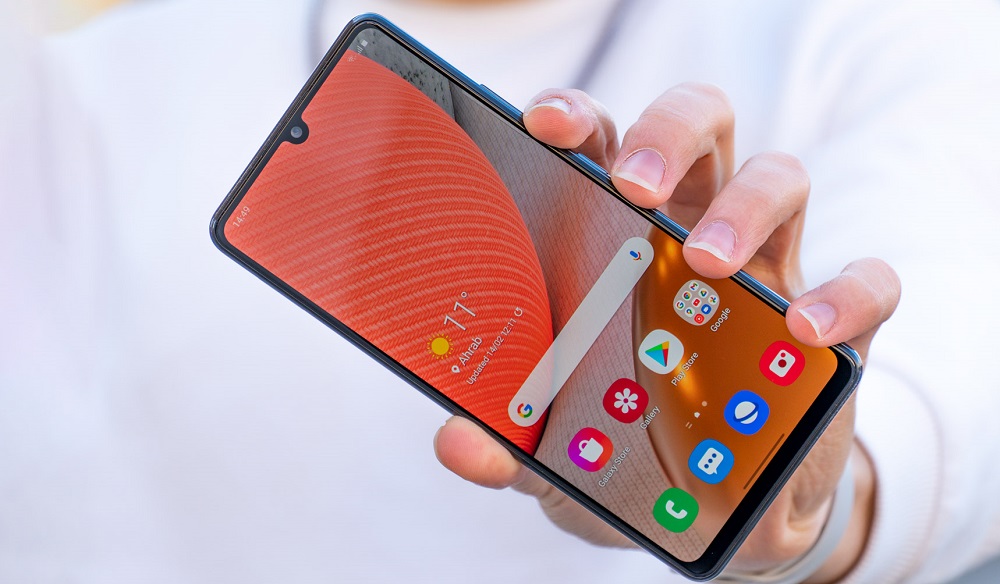 The specifications of a42 show that this phone has Android 10 operating system, upgradeable to Android 11 and One UI 3.1 user interface. So, Samsung has used Android version 10 for Galaxy A42. This user interface has brought good features to this phone and has many personalization features in addition to its good appearance.
Samsung has considered two ways of security: fingerprint and facial recognition to unlock the phone. The fingerprint sensor is located under the display and you will find its speed and accuracy sufficient. Face recognition is done through the camera and there is no 3D scanning, so you cannot expect high security and accuracy from it.
Read more:
Comparison of Xiaomi 11T Pro with Samsung S21 FE (Xiaomi 11T Pro vs. Samsung S21 FE)
Comparison of Poco F4 GT and Poco X3 Pro (POCO F4 GT Vs POCO X3 Pro)
Samsung Galaxy A42 review in terms of hardware
Hardware performance is one of the important things that people consider when buying a phone. The specifications of the a42 phone as a mid-range phone are significant in terms of hardware.
The processor used in this model is the Snapdragon 750 5G chip, which is paired with 4/6 or 8 GB of RAM, and in terms of internal memory, it also has a 128 GB version.
In addition to supporting 5G internet, this chip is considered one of the most powerful series chipsets in 2020. In general, the processor of the a42 phone is considered its strength and it works great in running the program quickly, and it is also a unique model for playing heavy and graphic games.
Don't forget that considering the price of the Samsung a42 5g phone and looking at the near future when 5G internet may be available to the public, choosing and buying this model is economical and completely smart.
The chip of this Galaxy has been upgraded from the 730G of the A41 phone to the Snapdragon 750G. This chip is still designed on the basis of 8nm architecture and its G suffix indicates that it is optimized for video games. Two high-power Kryo 570 Gold central processors with a frequency of 2.2 GHz and six low-power Kryo 570 Silver central processors with a frequency of 1.8 GHz are responsible for processing.
The GPU on this chip is the Adreno 619, which is up to 10% faster than the Adreno 618 of the older 730G chipset. With this phone, you will have the right to choose between three versions with 4 GB, 6 GB and 8 GB of RAM, and all three versions come with 128 GB of internal memory.
Read more:
Comparison of Xiaomi Note 10 Pro with Samsung Galaxy A72
Comparison of Poco X4 Pro with Samsung Galaxy A51 (POCO X4 Pro Vs. Galaxy A51)
Samsung Galaxy A42 battery review
Another obvious change compared to the previous models of the Galaxy A4x series is the increased battery capacity. The new phone packs a 5,000 mAh battery, which is a significant upgrade over the Galaxy A41 model.
In the Galaxy A42 5G phone, with the combination of a new battery, a low-resolution display and a powerful Qualcomm chipset, an exceptional score of 144 hours has been obtained in the battery test.
This phone has left great statistics in the areas of surfing the web with Wi-Fi, video playback, voice calls and even low battery charge in standby mode.
This phone supports 15W charging speed and such a powerful charger is included in its sales box. We don't expect a battery of this size to recharge very quickly, but the charging speed should be sufficient considering the class of the phone.
With the help of this charger, you can charge your phone's empty battery to 27% after 30 minutes, 78% within 90 minutes and 100% after 2 hours. These statistics are not great numbers, but we should not forget the large 5000 mAh battery of this beautiful mid-range.
Samsung Galaxy A42 review in terms of sound quality
Usually, we don't expect high quality or loudness of speaker from budget and mid-range phones. The A42 has a speaker on the bottom edge that has a relatively low volume.
On the other hand, the sound quality of the speaker has improved significantly compared to A41. Mid and high sounds have improved and even deeper bass can be heard. The speaker of the A42 gets good marks in practice.
In this article, we introduced and reviewed the Galaxy A42 phone. There are many reasons to love the Galaxy A42. Support for 5G, which is the main focus of the device, a large battery and unparalleled hardware power in this price range, and a good camera are some of the positive points of this galaxy. You can get complete information by reading this article.
Frequently Asked Questions
Is the Galaxy A42 phone worth buying?
Samsung has presented the a42 phone at a reasonable and economical price, which is really fair and reasonable considering the support of 5G technology. If you are looking for a mid-range 5G phone from Samsung, it is good to know that Samsung a42 is one of the first models of this brand that is equipped with this technology. Therefore, buying Samsung A42 can be reasonable and valuable. In addition, this model is completely acceptable in terms of battery and camera and offers very good performance. A powerful processor, 5G internet support and a large battery are the most important features of this phone.
Read more:
.
What do you think of Samsung Galaxy A42 review? Please share your thoughts with Tekrato and other users in the comment section.