Yesterday, in Tekrato, we wrote to you about the US sanctions on Sahab Pardaz data technology company. now Sahab Pardaz's statement regarding the accusation of playing a role in filtering It was sent by this company to Tekrato, which we will review below.
The Sahab Pardaz data technology company was placed on the US Treasury Department's sanctions list yesterday due to what was called "the role of this company in social network filtering services". With Sanction of Sahab Pardaz by Americathis company became one of the numerous companies and officials in the field of technology that was included in the US sanctions list.
Read more: The latest and most important news of internet filtering and restrictions! / From Instagram filtering to online games!
Sahab Pardaz's statement regarding the accusation of playing a role in filtering
Sahab Pardaz, but in response to Being on the US sanctions listhas published an official statement, the full text of which you can read below:
"Sahab's statement condemning the sanctions of the United States of America, the attacks on Sahab's colleagues and the unjust accusations these days
In the name of God of kindness
Placing Sahab Company (Samane Gostar Sahab Fardaz) on the list of US financial sanctions, despite being wrapped in a beautiful cover called freedom of expression, is actually an attempt to limit another company in the field of new technologies under false pretenses and False and baseless accusations And creating an obstacle for the growth of influential industries in Iran and reaching a strong Iran in various fields of technology, which has been pursued for some time by some limited societies with a strategy of maximum damage to the key technological industries and experts related to these fields.
Sahab Farakhor provides the best technologies in the field of "data management and analysis" for the needs of its customers. Sahab's customers, which include a significant number and a wide range of businesses and organizations, receive solutions tailored to their needs, relying on infrastructure and platform layer technologies. Therefore, the use of this company's products alongside the country's government infrastructure related to the Internet (as one of the customers of this company) was not in any way aimed at reducing people's access to the Internet, but what Sahab even tried for in the projects mentioned in the text of the sanction. It has helped in reducing internet access restrictions, increasing security and in particular, helping to increase the quality of the internet network used by Iranian people and businesses, as well as reducing annoying and unnecessary disturbances created in different periods.
Sahab also Rejecting all the claims made in relation to the imposed financial sanctions and stressing that they are baselessdeclares that although these sanctions may cause problems in the continuation of this company, but by relying on God Almighty and the company of experts who strive to serve their country and people and build a strong Iranian, It will continue its way with more strength and concentration without addressing the mentioned margins.
With firm support of all its employees, Sahab has condemned any threat and hate speech in the cyber space, which is caused by the dissemination of incorrect information, which is definitely unfair and immoral, and reserves the right to pursue them with internal and external authorities. And he asks all the experts and members of the information technology ecosystem of Iran not to pay attention to the rumors and inappropriate accusations raised on social networks about this company and its colleagues and not to fuel it.
Hoping for a day when, in an atmosphere away from the excitement of these days and existing legal restrictions, the possibility of a clear discussion and fair judgment regarding all the activities of this company and other members of the Iranian technology ecosystem will be provided, and all in a specialized atmosphere and away from ambiguity and annoying edges. These days, let's only take steps towards the elevation of dear Iran".
November 6, 1401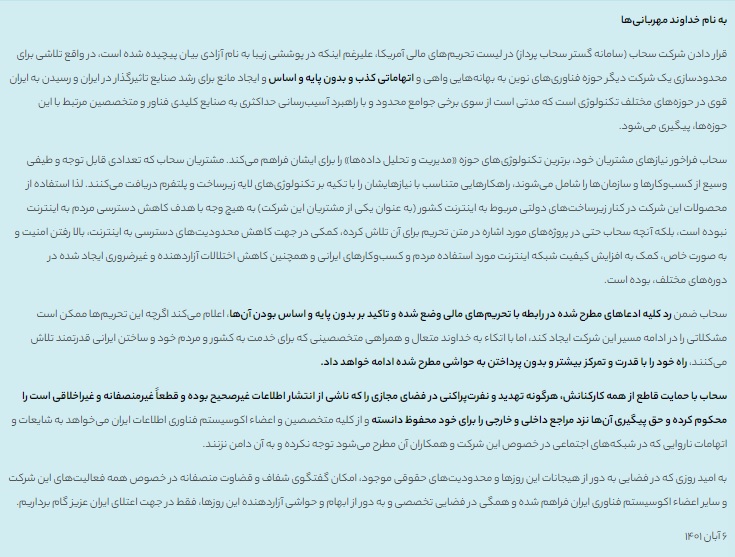 Read more:
What do you think about Sahab Pardaz's statement regarding the accusation of playing a role in Internet filtering and restrictions? Please share your thoughts with us in the comments section technology news Follow from Tikrato.