This is not the first time that Ronaldo's departure from Manchester United has been discussed, but it seems that the Portuguese star's intention to leave Manchester is more serious this time.
Cristiano Ronaldo has not had a happy time after leaving Real Madrid and despite shining in the shirt of Juventus and Manchester United, even when everyone said that he was finished, old and useless! The brilliance, the three-point goals and the direct impact on the results of the Juventus and Manchester United teams also did not prevent him from being unloved, and there are still sharp criticisms against this Portuguese superstar, which is far from fair to many of them.

Read more: Iran's schedule in the Volleyball League of Nations 2022
Ronaldo's departure from Manchester United
Ronaldo left Juventus for Manchester United last summer, probably with a thousand hopes and dreams. The team in which he appeared under the leadership of Seraleks won a golden ball and in a record-breaking transfer for his era, he went to Real to experience the peak of his career.
The poor performance of the crisis-stricken Manchester United this season, which has not been able to return to its good times since the departure of Seralex and with different coaches and stars, but this time, everyone sees it through Ronaldo's eyes. Although it seems that with the arrival of the Dutchman Eric Ten Hach, Man United will be able to have a better situation next season, but it seems that Ronaldo is very unhappy with the transfer performance of the club and because he has no hope for the future of Manchester United, he has decided to leave this team. .
In the last 48 hours, several Italian, Spanish and even English media have written news about Ronaldo's request to leave Manchester United and the possibility of him leaving this team. It is said that despite Ten Hach's interest in Ronaldo, the main reason for Ronaldo's departure from Manchester United is the special style of the Dutch coach in Ajax, which is likely to leave Manchester United as well.
Accordingly, Ronaldo, who is not very interested in this style, has decided to leave Manchester and even Sporting Lisbon is mentioned as Ronaldo's next destination in case of leaving. Of course, it must be said that it is unlikely that Ronaldo will return to Sporting because this ambitious star still prefers playing in the first level of European football and participating in tournaments such as the European Champions League, so it is likely that he will look for a team with a chance to play in the Champions League.
At the same time as the rumors of Ronaldo's departure from Manchester United, several reporters and reputable sports newspapers started speculating about Ronaldo's next destination. In the meantime, many names have been mentioned, from Bayern Munich and Arsenal to Rome and Real Madrid. Accordingly, during this article and while examining the issue of Chris Ronaldo's departure from Manchester United, we will discuss which option Ronaldo's next team may be.
Real Madrid
Four years have passed since Cristiano Ronaldo left Real Madrid after spending 9 glorious years and becoming the best scorer of this proud club. In these four years, at least, things haven't gone well for the Portuguese star, and he hasn't even managed to reach the semi-finals with Juventus and Manchester United in his favorite tournament, the Champions League.
On the other hand, Real's failure to attract Kylian Mbappe and the loss of Erling Holland in the transfer market have caused Real to still feel the need to strengthen the offensive line. Based on this, there have been rumors that if Ronaldo leaves Manchester United, his next destination may be Real Madrid.
Interestingly, at the same time as these rumors were launched, Real Madrid's official page also published videos of Ronaldo's historic goals and unforgettable moments in the Champions League with Real Madrid, and used the phrase "love story" to describe them to fuel the rumors even more. slow down
Arsenal
One of those who have commented on Ronaldo's next team since the start of rumors of Cristiano Ronaldo's departure from Manchester United is Piers Morgan, a prominent English football expert, who wrote in a tweet on his personal page:
Now is the time, Cristiano
At the end of this tweet, Mr. Morgan has used Arsenal's abbreviation hashing. This has caused some to think that Morgan knows something about the transfer of Ronaldo to Arsenal. But it seems that Morgan thought that the attack line of the gunners could be more attractive with the presence of Ronaldo next to Jesus.
An important point that reduces Arsenal's chances as Ronaldo's next destination is the Portuguese star's high salary, which Arsenal is unlikely to afford.
Read more: Qatar 2022 World Cup champion prediction; Which teams have more chances?
Bayern Munich
Although some time ago, when the discussion of Chris' transfer to Bayern became serious, the heads of the German club openly declared that they did not want to attract an expensive and 37-year-old player, it seems that now, despite Ronaldo's insistence on leaving Manchester, the situation has changed. Is.
Especially since Robert Lewandowski, the main key of the Bavarians for scoring, has recently been in disagreement with the club's leaders and set the instrument of separation to the New Camp.
In the event that Lewandowski's transfer to Barca is really implemented, it is likely that Bayern will go to the Portuguese superstar in a situation where they will not find a very ideal, suitable and cheap option to replace him in the market. Considering the presence of Sadio Mane in Bayern, probably with the recruitment of Ronaldo, he should play Lewandowski's place in the attack, and what combination is more attractive than this?
AS Rome
Roma, who these days have a more or less ups and downs situation with one of the greatest coaches in the history of football, with their limited budget is trying to somehow strengthen the team for a strong presence in the next Serie A season. So far, Mourinho has recruited a young goalkeeper to replace Roy Patricio, the Achilles heel of many critical games last season, and once again, for exactly the third time, he has gone to Nemanja Matic, the stout Serbian defensive midfielder who is spending his last days in football. .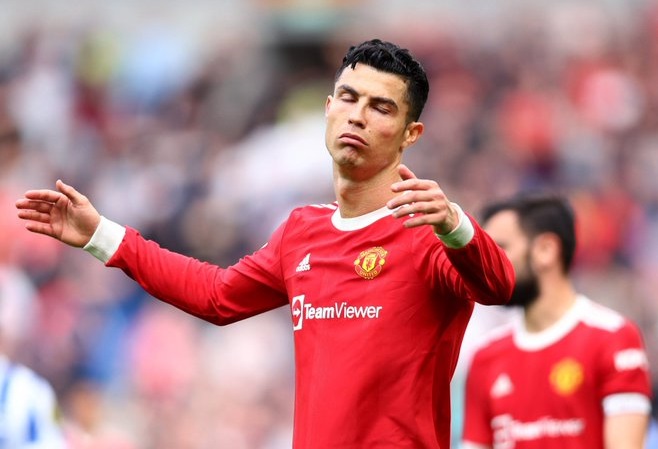 Now, with Ronaldo's special conditions, even Rome has been mentioned as Ronaldo's next team, and if Ronaldo leaves Manchester United, it is not unlikely that the Portuguese superstar will think about working with Mourinho again. But let's see how the situation should be for the transfer of Ronaldo to Rome.
You are probably in the process of renewing Mbappe's strange contract with PSG and its special conditions that affect the management of the club, the transfer of the coach and the transfer of players. It is said that one of Mbappe's important demands from the heads of the Parisian club for the extension of the contract was Neymar's departure from this team.
Now, it is said that if Ronaldo leaves Manchester United, the Red Devils leaders may go to Neymar as a possible replacement for him, and in this situation, it is unlikely that Rome would be the right choice for him. Of course, the important issue for Ronaldo's transfer to Rome is his big salary, which is very unlikely for a team like Rome to afford.
Napoli
The situation regarding Ronaldo's departure from Manchester United has become so serious that even Napoli has opened up as one of Ronaldo's possible buyers. According to Athletic magazine, although Napoli offers Ronaldo the opportunity to play in the Champions League, it actually has little chance of recruiting Ronaldo.
One of the most important reasons is again the issue of wages, something that does not fit in with the specific and new policy of the Napoli leaders. A policy to lower the salary cap for players, which led to the departure of Lorenzo Insigne and Dries Mertens, the stars of Napoli years ago, and may even cost the departure of Kalidou Koulibaly, the important defender of this team.
Of course, if Napoli's leaders agree to this salary cap and their new law, they may be able to pay Ronaldo's required salary from the income of Insigne and Mertens.
Read more:
What is your opinion about Iran's program in the Volleyball League of Nations 2022? Share your comments with duplicate share