Powerful gaming laptops from Asus company named ROG Zephyrus 16 and ROG Flow X16 were introduced with support for a new cooling system.

Recently, Asus introduced several ROG series laptops in the Indian market, which are sold as gaming laptops. In the meantime, we witnessed the unveiling of two powerful ROG laptops, Zephyrus 16 and Flow X16, which are the latest versions of this popular brand. In the following, we will have a look at the specifications and features of these two products.
Read more: The best gaming laptops of 2022
Specifications of ROG Zephyrus 16 and ROG Flow X16 gaming laptops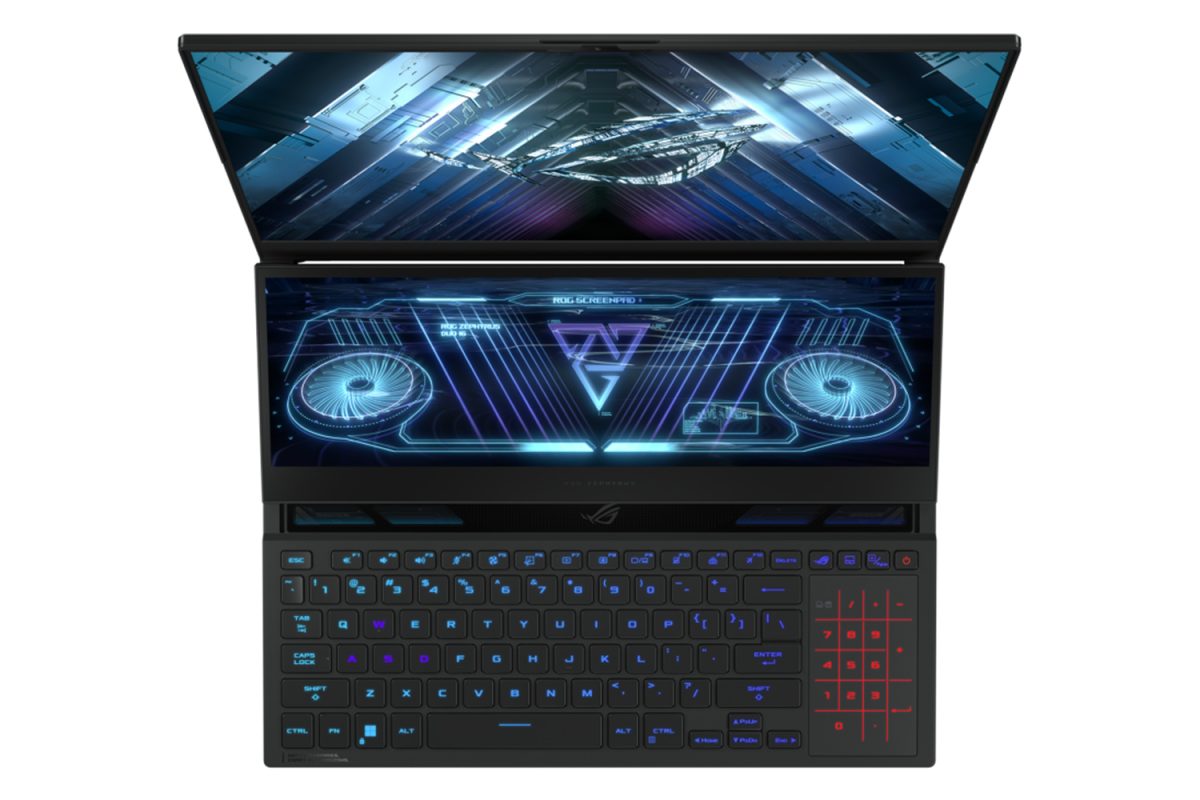 First of all, it should be said about the Zephyrus series that this laptop supports displays with a dual design. The dimensions of the main screen of this product will be 14.1 inches and provide users with images with 4k quality. This laptop is powered by an AMD Ryzen 9 6900HX CPU paired with an Nvidia Geforce RTX 3080 Ti graphics card.
Such powerful hardware causes the temperature of the laptop to increase significantly; For this reason, ASUS has used a new cooling system in ROG Zephyrus 16 and ROG Flow X16.
In this cooling system, 84 ARC Flow blades and Conductonaut Exteme liquid metal combination are used for the GPU. This system is able to reduce the temperature by 15 degrees Celsius compared to the traditional cooling system where thermal pastes were used.
Zephyrus 16 supports 100W fast charging with USB Type C port, thanks to this feature, its 90Wh battery is charged in the shortest possible time. In addition, the Zephyrus has two displays, called the ROG Nebula primary display and the Screen Pad Plus secondary display.
It should be said that both displays can display images with 4k resolution, and the main screen will have a maximum brightness of 500 nits, and features such as Dolby vision and Adaptive sync, and 100% coverage of the Dci P3 color spectrum. It should be noted that there is an IR camera on the front to use Windows Hello, and both panels support touch and pen input.

As mentioned, two ROG Zephyrus 16 and ROG Flow X16 laptops are in the list of the most powerful laptops introduced in the Indian market, and now after introducing the specifications of Zephyrus, we will check the specifications of Flow X16.
The Flow X16 will have a 16-inch display that will be compatible with XG Mobile. The hardware of this product includes an AMD Ryzen 9 6900HS CPU paired with a Geforce RTX 3070 Ti graphics card. We must mention that some new titles in the game world support ray tracing technology to increase the appeal of visual effects, which Flow X16 is fortunately equipped with.
This laptop, like the Zephyrus, uses the new Forest Force cooling system that comes with a Pulstar heatsink. The front panel of the Flow X16 is equipped with a Nebula HDR display that also supports AmoLED technology. In some displays that are equipped with HDR technology, we see a reflective effect that can reduce the quality of HDR images; But Flow X16 uses 512 darkening areas to solve this problem, which significantly reduces the reflective effect of HDR images.
As we mentioned, Asus recently launched ROG Zephyrus 16 and ROG Flow X16 in the Indian market. About the price of these products, it should be said that Zephyrus can be purchased at a price of $3122 and Flow X16 at a price of $2257.
Read more:
What do you think about ROG Zephyrus 16 and ROG Flow X16 gaming laptops? Share your opinions with us in the comments section and get technology news from duplicate follow.