Xiaomi unveiled the Xiaomi 12T and 12T Pro phones on October 4 (October 13); Phones that replace the series Xiaomi 11T be. In this article, to Review of Xiaomi 12T we pay In this hands-on review, we explain the paper specifications of these phones in more detail.
In the Xiaomi 12T phone, there is no news of the 200 megapixel lens of the Xiaomi 12T Pro; But in terms of 120 W charging speed, 120 Hz AMOLED display and 5000 mAh battery, it has nothing less than the Pro version. It can be said that this phone can be a good option for gamers.
The Dimension 8100 Ultra chip makes this phone one of the The best gaming phones has become Next, to Initial review of Xiaomi 12T technical specifications we pay
Read more:
Review of Xiaomi 12T
Xiaomi T series phones are considered high-end phones in terms of power and performance, and they are sold at a good price compared to their specifications. Xiaomi 12T is no exception to this rule.
Check the specifications of Xiaomi 12T It shows us that this phone with the MediaTek Dimension 8100 Ultra chip is suitable for users who are looking to run heavy programs and games. This smartphone has an AMOLED display and supports a 120 Hz refresh rate. 5000 mAh battery with 120 W charging speed is also one of the other good features of this phone.
Xiaomi has tried to reduce the price of this phone by placing a 108 megapixel camera (compared to the 200 megapixel camera in the Pro version). 12T and 12T Pro phones are completely similar in appearance. Both phones have a plastic frame and a flat screen; This is while the phones Xiaomi 12 And Xiaomi 12 Pro They use a metal frame and a curved screen.
The ultra wide camera of these two phones is also 8 megapixels and you cannot expect very high performance from them. But according to Xiaomi 12T price And with the high power of the chip, these problems can be ignored. Next, you will see the phone's specification table and then, to Xiaomi 12T review In terms of design and structure, we pay for display, camera, performance and battery.
Xiaomi 12T review
Xiaomi 112T

Design and structure

163.1 x 75.9 x 8.6 mm
Weight 202 grams
Glass front panel (Gorilla Glass 5), plastic frame
Two SIM cards (Nano SIM, dual stand by)
Black, silver, blue colors

Display

6.67 inches AMOLED, resolution 1220 x 2712 pixels
86.7% screen-to-body ratio
120 Hz refresh rate
Pixel density of 446 pixels per inch
Gorilla Glass 5
20:9 aspect ratio

Processor

Dimension 8100 Ultra
Octa-core CPU
Four 2.85 GHz Cortex-A78 cores and four 2.0 GHz Cortex-A55 cores
GPU Mali-G610 MC6

software
Android 12 with MIUI 13 UI
RAM and memory

RAM 8 with 128 GB memory
RAM 8 with 256 GB memory
Memory type UFS 3.1
No memory port support

Camera

Main camera 108 megapixel wide, aperture 1.7, support for autofocus with phase detection and OIS
8 megapixel ultra wide camera with 120 degree coverage, 2.2 aperture
2 megapixel macro camera with 2.4 aperture
Support LED flash, panorama and HDR
1080p video at 30, 60, 120 and 240 frames per second, 4K video at 30 frames per second, HDR support
20 megapixel selfie camera, aperture 2.2
HDR, panorama
1080p video at 30 and 60 frames per second

battery
Non-replaceable lithium polymer battery with a capacity of 5000 mAh with 120 W charging
speaker
Stereo speakers. Lack of support for 3.5 mm headphone jack
Network and connectivity features

Wi-Fi 802.11 a/b/g/n/ac/6, dual-band, Wi-Fi Direct
Bluetooth 5.3, A2DP and LE support
USB Type-C 2.0 supports OTG

Other features
Fingerprint sensor under the display

Accelerometer, gyroscope, proximity, compass, color spectrum
Review of Xiaomi 12T in terms of design and construction
As we said before, the appearance of Xiaomi 12T and Xiaomi 12T Pro phones is similar. The main difference in the appearance of these phones is that the camera module of the Pro version is more prominent. Both phones are better than the previous generation Xiaomi 11T Xiaomi 11T ProThey have a more elegant and stylish appearance. A slight bend in the edges of the back panel makes these phones more attractive. The polished back panel is designed in such a way that fingerprints cannot be easily seen on it.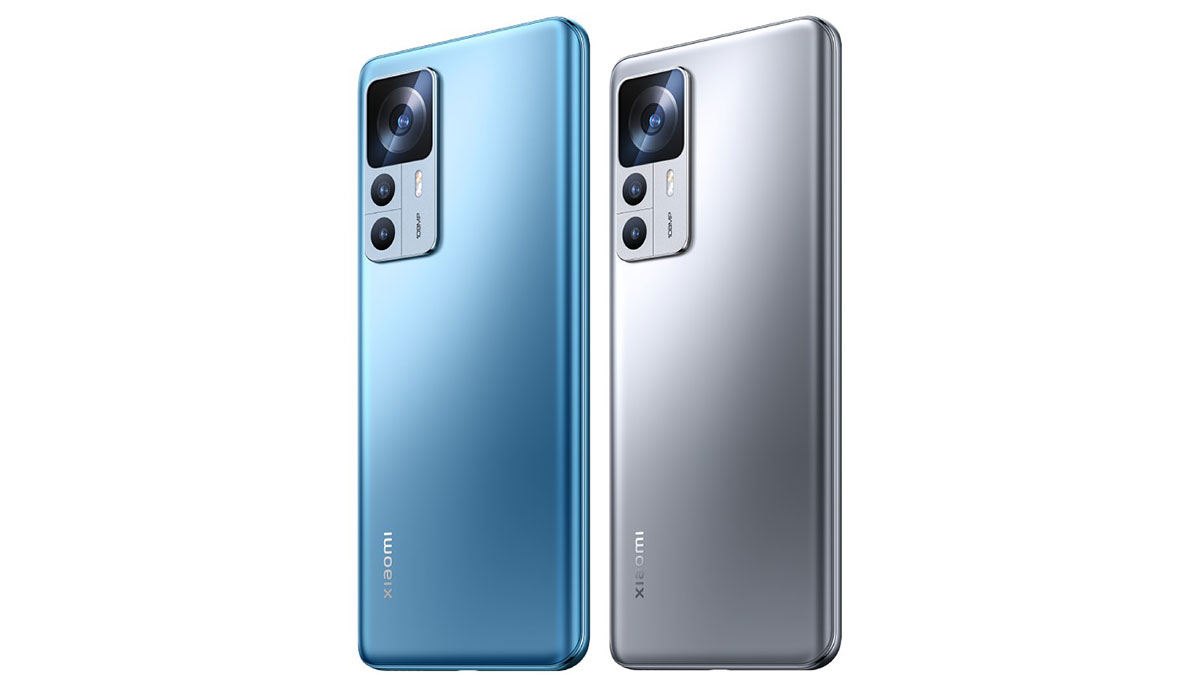 Xiaomi 12T with a 6.7-inch screen can be considered a relatively large phone. This phone weighs 202 grams and has dimensions of 163.1 x 75.9 x 8.6 mm. When you pick up this phone, by looking at its plastic frame and flat screen, you will notice its difference from flagship phones.
Checking the specifications of Xiaomi 12T shows that this phone does not support IP68 and is not resistant to dust and water. But the display of the phone is protected by Gorilla Glass 5. Inside the box, a protective frame is placed and the screen is also covered with a protective layer.
On the bottom edge of the phone, you can see the USB-C port and the SIM card tray that accommodates two SIM cards. All the buttons are located on the right edge of the phone and the infrared sensor is installed on the upper edge. The speakers of Xiaomi 12T are placed on the upper and lower edges and the camera module has a slight protrusion.
Read more:
Checking the technical specifications of Xiaomi 12T in terms of display
The screen of Xiaomi 12T is 6.7 inches. If you have small hands, it might not be easy for you to use the phone with one hand. The phone's selfie camera is located in the punch hole above and in the middle of the screen.
The review of Xiaomi 12T shows that at first glance, we cannot fault the phone's display. This smartphone uses AMOLED Dot display technology and due to the vivid colors and adaptive refresh rate that varies between 30, 60, 90 and 120 Hz, it can be said that it has optimal consumption. It is not bad to know that the touch sensitivity rate of the phone is also 480 Hz; Therefore, it has a good response speed and for this reason, it is considered a great option for gamers.
Display brightness in typ and maximum mode is 500 and 900 nits, respectively. The maximum brightness of 900 nits shows that this phone has less brightness than other mid-range competitors in the market.
Review of Xiaomi 12T in terms of camera
At the beginning of the Xiaomi 12T review, we pointed out that the main camera of this phone is 108 megapixels with a sensor size of 1.67 inches. This sensor size is equal to the size of the iPhone 14 Pro camera sensor, and it can be said that considering its price, it will have good quality and performance.
This smartphone is equipped with the Samsung ISOCELL HM6 sensor, which first started working with Realme 9, which does not have a good camera. But in Xiaomi 12T, features such as optical image stabilization (OIS), f/1.7 aperture and pixel combination technology (9 in 1) are used, which record standard 12 megapixel photos in standard mode. In the future, we will find out what it is capable of in practice by closely examining the performance of this camera.
This smartphone is also equipped with an 8-megapixel ultra-wide lens, which cannot be expected with a 1/4 sensor size and a 120-degree field of view. The 2 megapixel macro camera is probably only decorative; But everything will be determined by a closer examination of the phone in the future.
On the front of the Xiaomi 12T, there is a 20-megapixel selfie camera with an aperture of f/2.24, which can be hoped for.
Read more:
Xiaomi 12T review in terms of software and performance
By reviewing the Xiaomi 12T, we find that this phone runs Android 12 with the MIUI 13 user interface by default. People who have used Xiaomi, Redmi and Poco phones know what to expect from the Xiaomi 12T user interface.
This smartphone supports Google services. Android 12 in this phone means support for Android applications and security from Google, and there is a possibility that Android updates will be sent to this phone up to three years after the release of the phone.
Xiaomi's user interface has somewhat changed the atmosphere of the Android operating system and some of its elements are similar to iOS; Like Control Center. In addition, some features have been added to this user interface, including the virus scanner. Whenever you want to download and install an application, this scanner starts working.
Xiaomi usually installs many default applications on its phones and makes changes in the ecosystem; However, many users prefer the standard and simple versions of Android.
By reviewing Xiaomi 12T in terms of hardware, we find that this phone comes in two versions of 128 and 256 GB of internal memory, which provides you with a relatively suitable space for storing all kinds of photos and files. This phone does not support the installation of a memory card; So don't forget this important thing when buying.
Among other specifications of Xiaomi 12T, we should mention its 8 GB RAM, which is likely to have a good ability to run heavy programs. The good news is that Xiaomi's power saving feature does a good job of keeping apps open in the background under control.
Unlike the Pro version, which is equipped with the Snapdragon 8 generation 1 chip, Xiaomi 12T uses the Dimension 8100 Ultra chip. To a large extent, we can hope for the power of this chip. The Dimension 8100 and 8100 Max chips, which we have seen in the more expensive phones Realme GT Neo 3 and Oppo Reno 8 Pro, performed well and appeared beyond expectations in running games and heavy applications.
In the near future and with a detailed review of the Xiaomi 12T, it should be seen what capabilities the Dimension 8100 Ultra chip has.
Read more:
Review of Xiaomi 12T in terms of battery
Xiaomi has used a 5000 mAh battery in this phone, which according to previous experiences can be said to last for a full day. Especially if the brightness of the phone is low and you use the device for normal tasks.
This battery supports 120W fast charging system and according to Xiaomi, it can fully charge the phone in 19 minutes. Inside the phone box, there is also a charger that supports fast charging technology. It is not bad to know that there is no wireless charging in this phone.
Review of Xiaomi 12T in terms of sound quality and connectivity capabilities
Unlike the Pro version, Xiaomi 12T does not have Harman Kardon settings. This smartphone is equipped with stereo speakers located on the lower and upper edges. This phone supports 24bit/192kHz audio settings and is not equipped with a 3.5mm headphone jack.
On the bottom edge of the phone, there is a USB Type-C 2.0 port that supports OTG. Other connectivity features of this phone include Wi-Fi 6, Bluetooth 5.3, infrared, NFC (depending on the market) and GPS.
Xiaomi 12T price
The sale of this phone will start soon in global markets. In Iran, a limited number of stores have offered this phone; But it is not available in all stores yet. This phone will be available in two versions of 8.128 and 8.256 GB. The price of Xiaomi 12T for the 128GB version is around $500 in global markets.
Frequently Asked Questions
Is Xiaomi 12T worth buying?
In the initial review of the Xiaomi 12T, everything looks good. This phone is offered at a reasonable price compared to its specifications. Good display, high charging speed and powerful chip are among the good features of this phone. But the camera of this phone is doubtful, which we discussed in detail in the article. But if you need a good phone for gaming, this phone can meet your needs. Of course, it is better to wait for the results of the final examinations.
What is the price of Xiaomi 12T?
This smartphone comes in 128GB and 256GB variants with 8GB of RAM. The price of these two versions in the world markets is around 500 to 600 dollars.
Read more:
Source: techradar
What do you think about Xiaomi 12T review? Share your views in the comments section duplicate Share and Technology News Follow with us.