MacBook Pro 2022 is one of the most powerful laptops that Apple has introduced to date. Despite its small size, this Apple laptop is a real giant in terms of processing power and can perform the heaviest tasks in the shortest possible time. If you also want to know the introduction, review of the strengths and weaknesses of Apple's MacBook Pro 2022, be sure to stay with us until the end of this article.
MacBook Pro 2022 | Indomitable little giant
When news broke about Apple using its own chips in Macs, many people were skeptical and didn't think Apple could repeat its success in designing and making chips for smartphones. But the introduction of the M1 chip made the whole world realize the high potential of Apple chips.
Apple has used the fresh and powerful M2 chip in MacBook Pro 2022. This eight-core chip is equipped with a sixteen-core neural processing engine and has a new five-nanometer architecture. The graphics processor of this chip, which is integrated on the chip, has ten cores and can handle the heaviest graphics activities. Of course, remember that Apple laptops are usually not the first choice of professional gamers.
The RAM of this laptop is 8 GB and its internal memory is 256 GB. This memory is of SSD type and guarantees the highest speed. Of course, you can get the MacBook Pro 2022 with a higher internal memory, which of course will increase its price as the memory increases.
MacBook Pro M2 design
This Apple MacBook doesn't have a great design, but it uses the same lovely and usual design of Apple products. Although this laptop looks extremely slim, it is slightly heavier than some of its competitors of a similar size. The margins around the display are narrower and do not bother the user in any way.
It is better to know that this powerful laptop is available in silver and gray colors. Also, the weight of this model is about 1.4 kg.
The display of the new MacBook Pro M2
Apple's MacBook Pro 2022 is equipped with a 13.3-inch screen. This display has a resolution of WQXGA 2560 x 1600. This resolution allows you to view your favorite content in the highest possible quality. The retina screen of MacBook Pro M2 is of IPS LCD type, but compared to old screens, it is not inferior in quality. The maximum brightness of this display reaches 500 nits.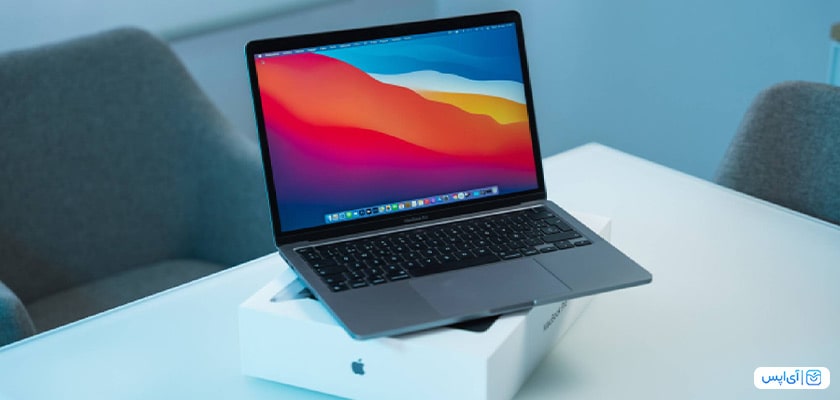 In addition to the main screen, there is also a touch bar in MacBook Pro 2022, which can increase the attractiveness of this laptop. Of course, if you are one of those who are used to the function keys on the laptop, you may need some time to get used to the touch bar.
MacBook Pro M2 2022 ports, connections and other features
Apple's MacBook Pro M2 laptop is equipped with only two USB 4 Type-C ports. Maybe the number and variety of ports on this laptop is weak, but according to the Thunderbolt 3 standard, you can now use the extraordinary bandwidth of 40 gigabits per second.
Another positive feature of this Apple laptop is its support for Wi-Fi 6 and Bluetooth version 5.0, which can provide users with high speed.
The speakers of this laptop are stereo. Apple's new MacBook also supports audio capabilities such as Dolby Atmos and Spatial Audio. If the quality of video calls and conferences is important to you, with the H (720p) webcam of this laptop, you will have peace of mind.
The trackpad of this MacBook uses the Force Touch function and you can use Touch ID to open the laptop for more security.
Apple MacBook M2 battery performance is amazing!
Apple's small but powerful laptop has a very good battery performance. This Cupertino product is equipped with a 67 watt battery. As stated in various tests and reviews, the battery of this laptop can last up to 18 hours and 20 minutes, which makes Macbook Pro 2022 one of the leaders in the field of battery. It is good to know that the time required to fully charge the battery of this model is about 85 minutes.
Strengths
Excellent processing performance
Powerful battery
Eye-catching design
Light weight of the device
Long-term software support
weak points
Relatively small screen
Limited ports
MacBook Pro 2022 price
This Apple laptop with its price of 1299 dollars is considered among the relatively expensive laptops in the market. At the time of writing this article, it is possible to buy MacBook Pro 2022 at a price of around 40 million Tomans.
the final conclusion
Apple's MacBook Pro M2 is one of the lightest high-quality laptops you can find on the market. If you don't need a large screen for your work and at the same time processing power and design are the first words for you, buying MacBook Pro 2022 is the best option for you.