PS Plus July 2022 free games are available today, but fans should make sure they have some space on their console.
Today's PS Plus free games (now known as the Essential Tier) will swap titles with last month's free games. Yesterday was the last chance to add God of War, Naruto to Boruto: Shinobi Striker and Nickelodeon All-Star Brawl to your PlayStation library and have access to it forever. Of course, it should be noted that God of War will still be available for PS Plus Extra and Premium subscribers.

But in July, three more games will replace the previous titles. Crash Bandicoot 4, The Dark Pictures Anthology: Man of Medan and Arcadegeddon are free PS Plus games for July 2022. In general, these games have better reviews than June's games (since God of War was the only game with a high score), so we should expect a better reception from players for this month's games. But the important thing for those struggling with the lack of space on their console is that the free PS Plus games of July 2022 will take up a lot of space.
Volume of free PS Plus games July 2022
The only game that has a small download size is Arcadegeddon, which can be downloaded for PlayStation 4 with a size between 6.5 and 13 GB. But the next two games have a relatively large volume. Man of Medan alone takes up 50.5 GB of the device's memory space, and Crash Bandicoot 4 takes up 45.3 GB. As a result, you should have approximately 100 GB of free space for just two games. Also, if someone downloads all three games, they will cross the 100GB limit.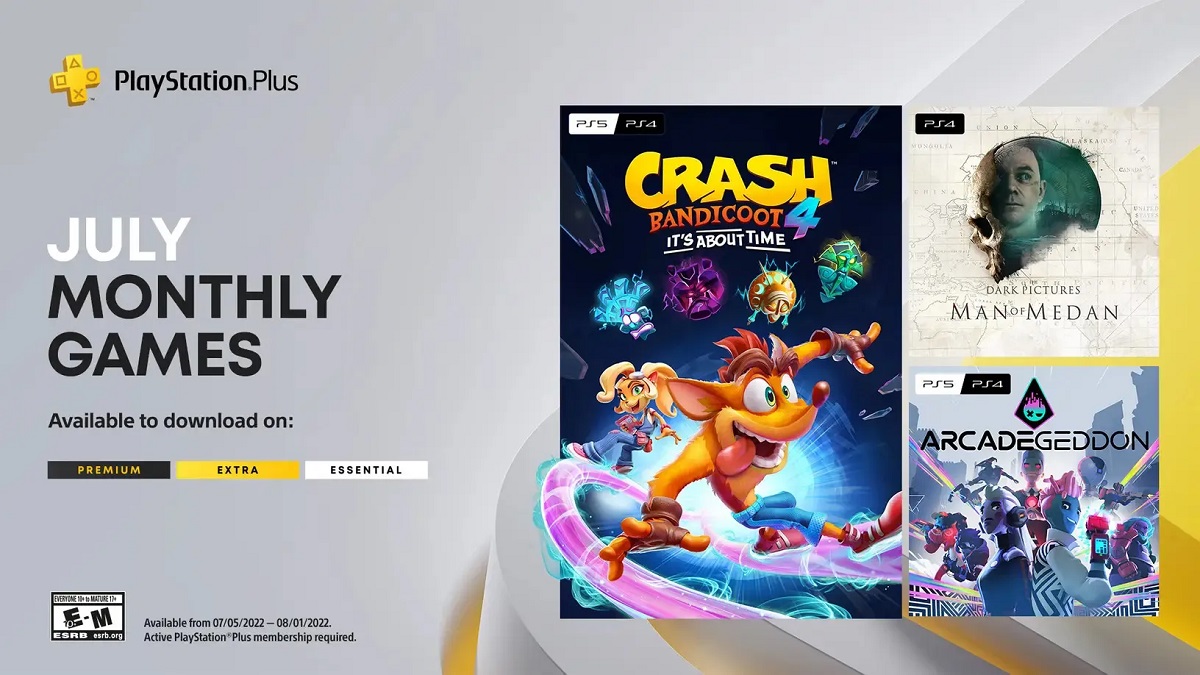 But those who download all three games on their PlayStation 5 console are relatively better off. Because Arcageddon takes up 7.1GB, Crash Bandicoot 20.05GB and Man of Medan (since only the PS4 version is available) 50.5GB for a total of 77.65GB compared to 100GB for PS4 users. .
Of course, as games get bigger and more graphically advanced, storage space can become a huge problem, even if consoles find better ways to use that storage space. Also, external SSD drives for PlayStation 5, Xbox Series X, and especially the S Series, which have little memory, are expensive. As a result, players are constantly forced to delete their previous game from the console in order to download a new game, and maybe in the future, download the deleted game again and continue it. Dealing with these challenges does not seem to be a big issue for those who have access to high-speed Internet, but there are many countries and cities (such as Iran) that face the problem of slow speed and have to wait hours and sometimes days to download a game. .
This issue is more visible due to the release of PS Plus Extra and Premium as well as Game Pass on Xbox consoles. The libraries of these services are huge and no one has ever downloaded every single game. Given this, it's understandable why some services are looking to cloud technology to run their games. Nevertheless, the issue of internet speed quality will be raised again.
In the list below, you can see the exact volume of PS Plus free games for July 2022.
PS Plus Essential July 2022 Games Size
Crash Bandicoot 4: It's About Time
PS4: 45,318 GB
PS5: 20.059 GB
Arcadegeddon
PS4: 6.5-13 GB
PS5: 7.132 GB
The Dark Pictures Anthology: Man of Medan
PS4 & PS5: 50,586 GB
Read more:
Are you satisfied with PS Plus free games July 2022? Please leave your comments in the comment section duplicate share
Source: gamer