Introducing the podcast program for iPhone
Living in crowded cities has made us spend a lot of time in high-traffic roads every day, and many hours of the day are easily wasted. If you like to use your time optimally, listening to podcasts can be the best choice. Podcasts are internet radios that are sometimes published in the form of audio books and sometimes as separate programs with different topics. It doesn't matter what topics you are interested in, there are podcasts on almost every topic from business to literature to art, and you can find and listen to your favorite channel with a simple search. But what are the best iOS podcast apps? If you also want to know the best podcast players, stay with us until the end of this article to get a variety of Podcast app for iPhone get to know
Listen to Iranian and foreign podcasts with Castbox
One of the most famous and popular podcast apps for iPhone is the Cassette Box app. This application will definitely bring you a good experience with its attractive and practical features. Castbox provides a wide platform for Iranian and foreign podcasts and it is safe to say that you can find all active podcasters in the world and become a member of their channel. The Castbox application has a very simple user interface and contains more than a million active channels, and you can listen to and follow a variety of songs and podcasts for free.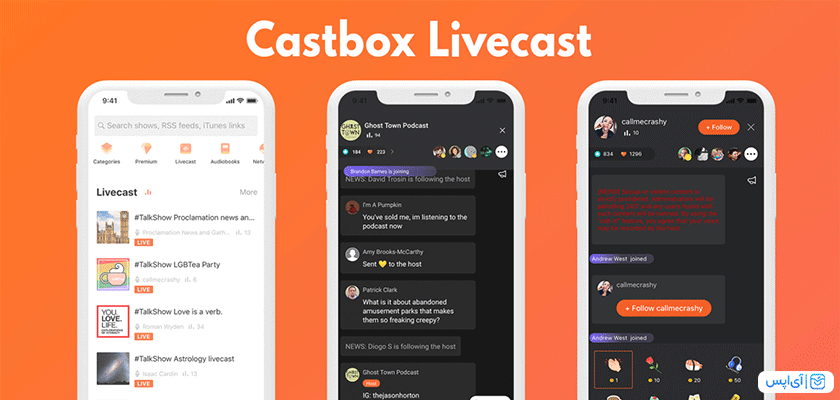 This program offers suggestions according to your taste, which can be very attractive and practical. Of course, it should be mentioned that one of the most important features of this software is the possibility of online and offline use. For offline use, just download the episodes you like so that you can listen to them at the right time without the need for the Internet. If you have never used this popular and popular application, you can have and enjoy one of the most popular podcast applications for iPhone on your iOS device by downloading the Castbox application for iPhone.
SoundCloud is an extensive source of music and podcasts
Soundcloud is a podcast app for iPhone that many users have on their phones. Most people use this app to stream songs, but SoundCloud is a powerful and extensive resource for listening to all kinds of podcasts. Of course, you have the possibility to use the web version of this application, but installing the program makes it easier. Because you will have a better user experience with this software and you can reach your desired result more easily. With SoundCloud, you can easily access channels and podcasts and listen to them online.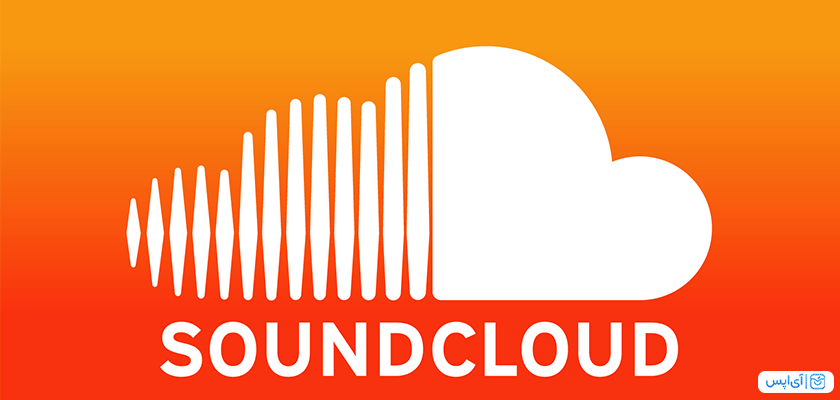 This software is considered one of the best and most important music and podcast players in the world, and by downloading the SoundCloud app for iPhone, you can use a wide and attractive platform to listen to different episodes.
Find your favorite podcasts with Google Podcasts
Google has always tried to provide quality services to users in all fields and media. In the field of Podcast, it has been able to provide a specialized platform for users to accompany them in this field.
Google Podcasts is a podcast app for iPhone that suggests channels and related programs based on your taste, and you can listen to all kinds of podcasts from around the world that are available to you for free.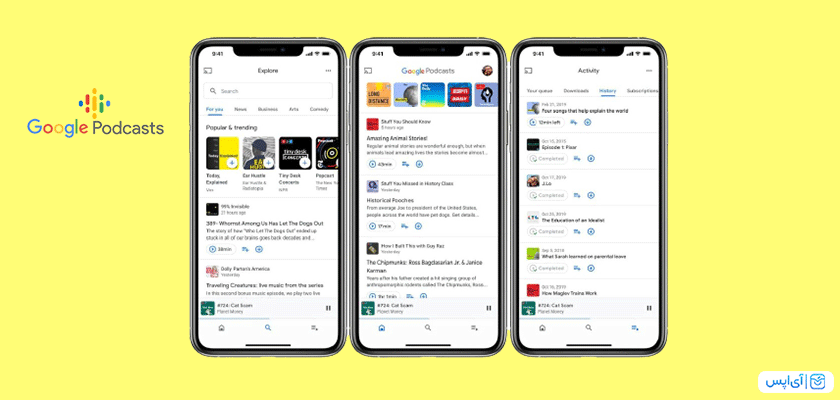 With the settings provided by this professional player, you can have a better experience of listening to podcasts. In this program, you can increase or decrease the playback speed of the episode. In addition, in Google Podcast you can search for channels with the help of voice assistant and play them.
Share your podcast with Podbean Podcast App & Player
Podbean Podcast App & Player is a podcast app for iPhone where you have access to thousands of channels and programs and by customizing its player, you will have a better experience listening to episodes. Of course, if you are also a content producer, you have the possibility to share your recorded episodes with others and attract audience on this platform. Now, by downloading Podbean app for iPhone, you can have and enjoy one of the best podcast apps.
Spotify, the best podcast app for iPhone
You probably know and use the Spotify app mostly for listening to music, but the app itself is one of the world's most complete sources of podcasts, and is often used by die-hard internet radio fans.
So, if you are a podcast producer, don't neglect this program, because you can find more audience in it, and the content you produced will definitely be seen more on Spotify, and this is a very positive point. So by downloading Spotify for iPhone right now, have a podcast app for iPhone on your iOS device and enjoy listening to them.
last word
We hope that by downloading the programs that we introduced above, you will be interested in listening to podcasts and be sure that with these programs you will have access to thousands of audio content and you can enter a fascinating and wonderful world that will definitely help you in various topics. did If you think of another podcast app that we didn't mention in this article, be sure to share it with us and other IPS users in the comment section.
Other suggested content: