New images published by Google news from Optimizing Play Store for tablets they give. Stay with us to get to know the details of these changes.
This year, Google has several opportunities to introduce Pixel tablet He had himself, including the I/O 2022 event a few months ago or the event Pixel hardware which was held earlier this month. This tablet is another Google product in line with the company's determination to change the design of the Android user interface in foldable phones and tablets.
Another strategy of Google in this field, Optimizing Play Store for tablets and devices with larger screens. Now more information about these changes has been obtained, and Google has published details of the options that are going to be implemented for tablets, flip phones and Chromebooks.
Read more: The details and release date of the Pixel tablet were officially announced by Google
Details of Play Store optimization plan for tablets
Google has published an image that shows the changes made in order to optimize the Play Store for tablets. It is supposed to change in 2023 for Folding phones And Tablets be implemented This change is a significant upgrade over the current Play Store design for tablets; Because currently the general format of Play Store for tablets is the same format used for smartphones.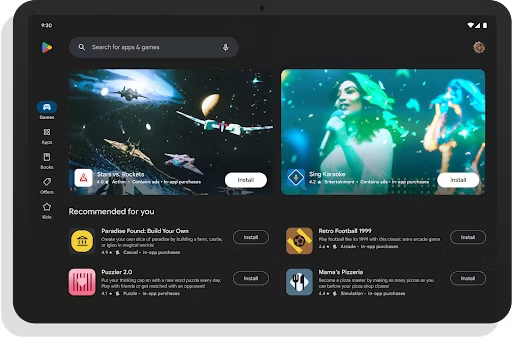 In this new design, app descriptions, screenshots, and videos are displayed directly from the Apps and Games home page. According to Google, this change is only a visual change and does not affect the ability to advertise applications. Screenshot published by Google A dedicated section for children shows in the left part of the sidebar of the screen.
for the operating system ChromeOS Changes have also been implemented in Play Store. Google has announced that app developers can upload Chromebook screenshots through the Google Play console. Developers are advised to use screenshots with an aspect ratio of 16:9 and a maximum resolution of 1080-7690 – this is probably indicative of the future capabilities of the displays. Chromebook Is. A total of 8 screenshots can be uploaded.
Google has also published tips and resources for application developers. The company advised developers to try to take screenshots of different dimensions and sizes and to avoid using images of devices in advertising apps or games. Also, advertising should be more Image oriented to be text-oriented. If the use of the text is necessary, its use should not require frequent updates.
It is possible that Playstore changes in line with the supply Pixel tablet In the next year or even Pixel Fold which will probably be launched at the end of the first quarter of 2023. More news about Google's foldable tablet and phone is likely to come in the next few months.
Of course, we should not forget that there are currently budget Android tablets in the market, for which these Play Store changes will be applied.
Read more:
Your opinion about Optimizing Play Store for tablets What is? Share your opinion with Tekrato in the comments section Technology News Follow with us.
Source: androidpolice