It may have happened to you that with The problem of not displaying notifications on iPhone faced and sometimes you cannot see the notifications of applications. This problem can be very annoying for you, because until you enter the program, you cannot see the notification of your WhatsApp or Instagram messages. This issue can have different reasons that we will discuss in this article. If you are also facing this challenge, stay with us in this article to learn the solution to solve this issue.
Disable Do not disturb mode
One of the reasons that causes this problem is being active Do not disturb Is. By activating this mode, you will not receive notifications and calls, and you can easily spend time without feeling any disturbance and do your work.
This mode is more useful for people who like to spend time without disturbing messages and calls without activating Airplane mode. In this case, your phone's antenna is connected and messages and calls are received, but your mobile phone does not ring and message notifications are not displayed.
So we conclude that if this mode is active, it will cause notifications to not be displayed on the iPhone, so it is better to disable it.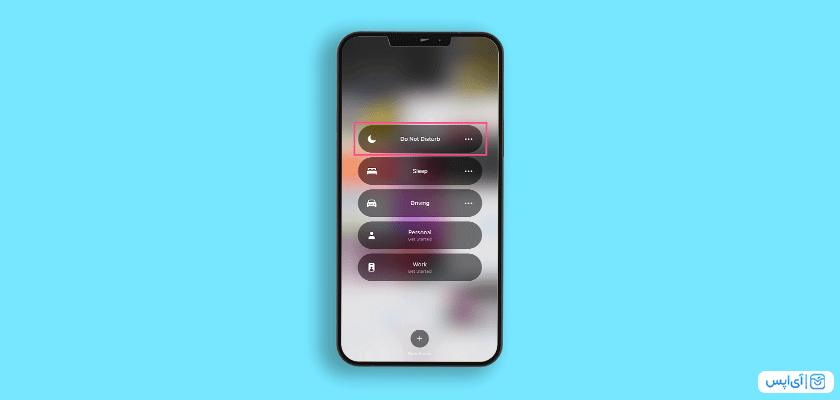 To disable the Do not disturb mode through the settings, do the following steps:
Enter Settings
Touch the Focus section
Select Do Not Disturb
Click the green Do Not Disturb button to disable it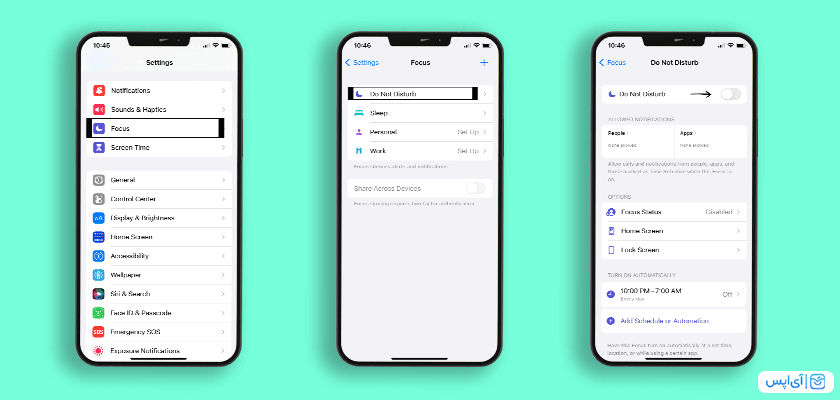 Of course, if you like to keep this mode active only while driving, make the following settings:
Go to Settings
Select Do not disturb option
He found the Do not disturb while driving option
Now click on Activate
One of the best ways to use this feature is while driving. Because it is better to use the phone less when you are focused on driving, to give all your attention to the road.
Check notification settings of applications
Sometimes, you may have disabled the app's notification settings by chance, so it's better to check them in Settings.
In the settings section, there is a section where you can see the list of applications that are installed on the phone and you can check whether their notification is active or not.
To check it, just enter the settings and go to the Notification section, in this section you can see which programs' notifications are active and activate the applications you want easily. Of course, any application that you do not like to receive notifications, you can easily disable it in this section.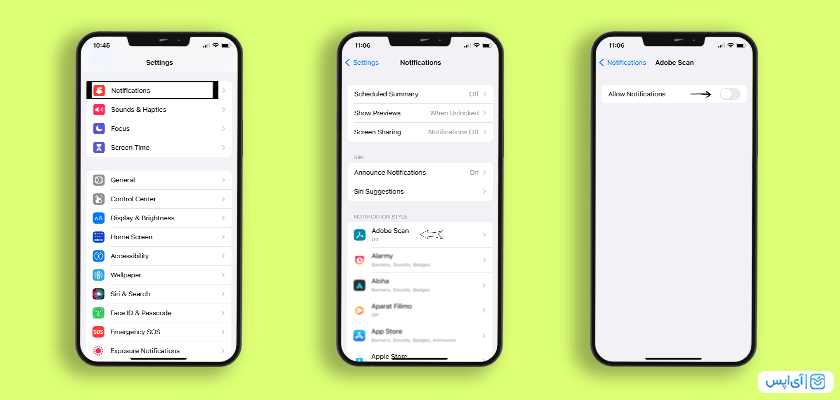 In the notification settings section, on any software you click, you will enter a page where there is an Allow notifications option at the top, and by clicking on it, you can turn its slider to green and activate it.
Steps in summary:
Go to Settings
Select the Notifications section
Activate the notification of the desired program
Notification settings sections
It is worth noting that you can choose how the notification of your desired program will be displayed:
By activating Banners, you will be able to see the notification banner
In the Sounds section, you can choose whether the notification of the program you want has a sound or not
By activating Badges, the number of notifications will be determined above the app icon
Announce is a new feature added in iOS 15, and by activating it, Siri will read and announce notifications for you, and you don't have to look at the screen of your ear anymore.
Suggested content: iOS 15 review
Turn off the phone
If this problem is only temporary, be sure to turn your phone off and on again, because running several programs at the same time may cause your iPhone problems, so you should reset your phone once. To do this, you only need to press the power button on the edge of your iPhone to restart the iPhone.
Conclusion
All in all, if you are facing this problem and you are sure that your phone has no technical problems, it is likely that the problem will be solved by performing the above methods. But if that doesn't fix it, you should take your iPhone to a professional to have it checked because it might have other issues that are causing notifications not to show up.
In this article, we tried to give you a simple and practical way to solve it Problem Not showing notifications on iPhone to introduce, but still if you have any question in this field, you can share it with us in the comments section so that we can guide you.
Other suggested content: