You are probably aware that Donald Trump launched an independent service called Truth in response to the ban on his social media activity. Now, the news has arrived that Trump's social network has not been approved for Google Play.
As you know, Donald Trump's social media ban started with the blocking of his account on Twitter, and then it was repeated on Facebook and other famous social networks. As a result of these conditions, Trump decided to establish Truth social network took

Currently, although Donald Trump's social network has been released in the Apple App Store, news indicates that Google Play has delayed and rejected the license of this service due to violations of the rules.
With the defeat of Donald Trump in the presidential election and the subsequent riots created by his supporters that led to the takeover of Congress, many social networks blocked Trump's user accounts. This incident was the point that convinced Trump to create his own social network instead of waiting for his Twitter and Facebook accounts to return.
Read more: The possibility of canceling Trump's social network project became stronger; The truth is on the verge of collapse!
Non-approval of Trump's social network for Google Play
After many rumors and expectations, finally the technical team affiliated with the Trump media group, officially Truth social network (Truth) were unveiled. This service was released for iOS, but its Android version was not yet available.
Now, while the Trump team has taken action to launch Truth in the reference Android app store, Google Play, according to a new report from Axios, the social network Truth from Google due to concerns about Modulation of content by moderators, has not been approved for public release in Play Store. In this context, Devin Nunes, the CEO of Truth Social, said in a meeting on September 2 in the right-wing media, Real America's Voice:
When are we going to be available on Android? Well, you see, it depends on the Google Play Store. I mean, we're waiting for them to approve us and… I don't know why it has to take so long.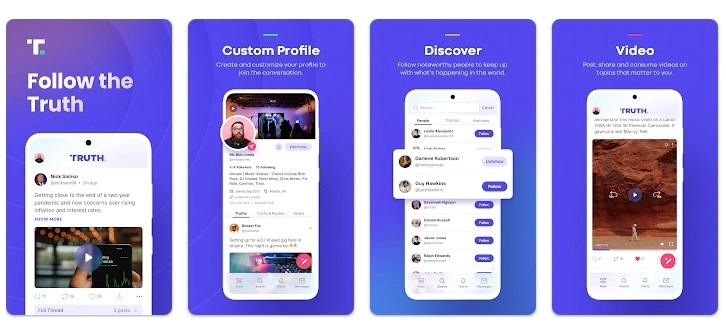 But following the news of Axios and this media's inquiry from Google, this company has given a clear answer as to why Truth is not approved for Google Play:
On August 19th, we notified Truth Social of several violations of our standard content submission policies and reiterated that having effective systems in place to moderate user-generated content is a condition of our service for publishing any app on Google Play.
Truth application It was released for iOS last February and entered the App Store. While the service's popularity on the App Store fluctuated throughout the year, downloads of the service on the App Store increased when the federal police raided Trump's home and seized some of his documents and property.
In the days following the FBI's investigation into the former president's classified documents, Trump's social network averaged 13,400 downloads on the App Store a day, according to data analytics firm Data.ai. This figure is more than five times higher than the average downloads of the previous week. Total downloads Truth From August 8 to 15, it was equal to 107,500.
The truth of the matter is that Donald Trump's social network without the Android version will not have access to half of the American people, because Android has allocated 44% of the mobile market share in America.
Of course, the non-approval of Trump's social network for Google Play is the biggest and at least the only problem of the social network Truth It is not, because since the beginning of this social network, it has faced many challenges, including many hacking and theft of information, separation of high-level managers, and even severe financial problems.
Web hosting platform RightForge also said that until now this social network owes something like 1.6 million dollars, and in case of non-payment, there is a risk of termination of services to this company.
Read more:
What do you think about Trump's social network not being approved for Google Play? Share your thoughts with us and with Technology News from duplicate follow.