Forced installation of spy tools It is one of the requests that Qatar asks you to watch the World Cup games. This issue has become a controversial issue.
Qatar is a small country in the east of the Arabian Peninsula in West Asia, and this country is responsible for hosting this year's World Cup. This event is scheduled to be held in this country from November 20 (November 29) to December 18 (December 27). The hosting of the World Cup by an Arab country is something that has happened for the first time, and the importance of this issue is doubled when we know that it is even the second time that it is held in Asia.
But you might hear the news right now and plan to destroy your dream of seeing the World Cup in Qatar next month or at least change your plans. this news Mandatory installation of spy tools on the phones of Qatar World Cup tourists Is. This country has made it mandatory for tourists to download and install two applications, both of which have the same function as spy software, and security experts consider the permissions granted to Qatari authorities through these applications to be suspicious.
Thousands of soccer fans are expected to travel to the region over the next few months to watch the World Cup live. However, the country has raised serious concerns for cybersecurity researchers by "forcing" tourists to download and install apps that would give the country's authorities extensive access to their phone data.
Read more: How serious is the elimination of the Iranian national team from the World Cup?
Mandatory installation of spy tools on the phones of Qatar World Cup tourists
According to this report, the applications that may be used for spying are called "Ithraz" and "Hiya". Onid Wasasen, head of NRK's ​​security department, and other researchers in this field, including Bruce Schneier, have considered the prevention program to be the same as spyware. Ehteraz is a covid-19 tracking app available for iOS and Android devices. The problem with this software is the far beyond normal permissions that it asks for. For example, one of these permissions is to access and track the exact location of users through Wi-Fi and Bluetooth, and all of these are mentioned under the title of tracking Covid.
Onid Vasassen says: "It is not my job to provide travel advice, but personally I will never take my mobile phone with me on a trip to Qatar."
However, after Mr. Vasassen did a more complete review of Prevention program did, he realized that this application is asking its users for much more than access to tracking capabilities. This program will be able to obtain all the contents of the user's phone and delete or change them. Also, among its other permissions is the ability to cancel the installation of any other installed software and prevent the phone from entering sleep mode. Other additional permissions that make this app highly suspicious of being a spy tool are the ability to make outgoing calls and disable the device's lock screen.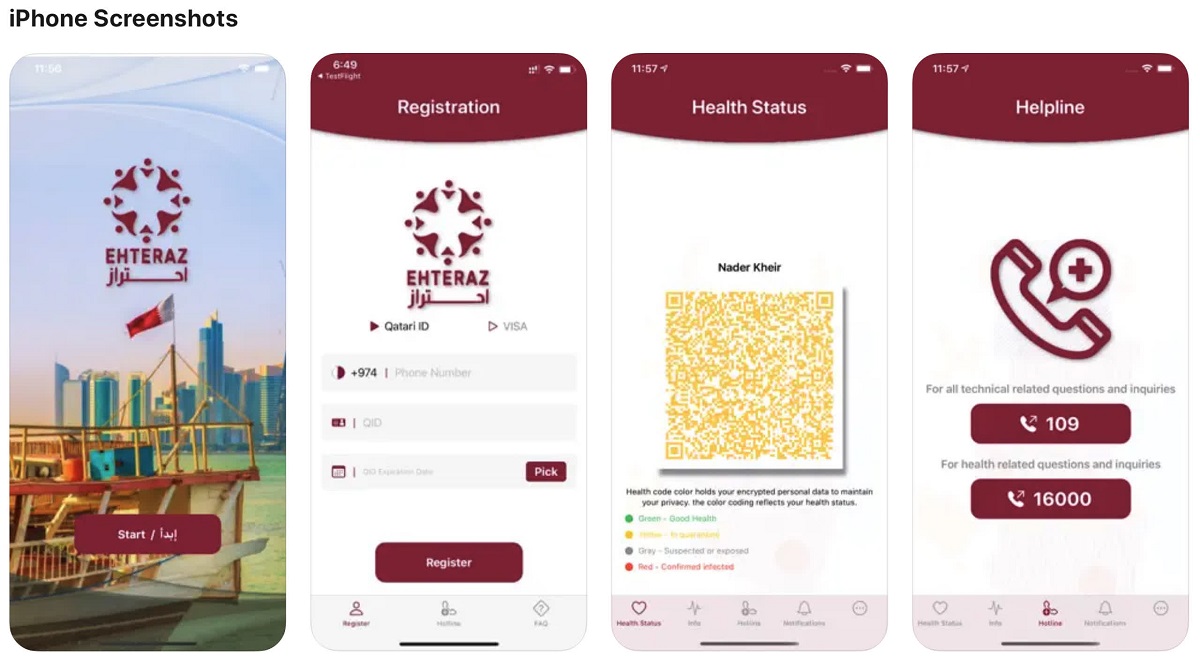 Modesty (Hayya) is another name of the suspicious software that is also placed in the Apple App Store and Google Play. At first glance, it appears to be a very good app with a user-friendly interface and will primarily be used to track matches and access Qatar's free metro system. However, due to the requests for mandatory installation of this program, all researchers in the field of security became suspicious of this program as well.
Wasasen found after inspection that Modesty software It also has strange conditions and has acted very suspiciously in the field of receiving access permissions from users. For example, this software allows sharing information from the phone without restrictions. It will also track the user's location and prevent the device from going into sleep mode, and also access the user's network connections.
Control of these programs is often in the hands of the Institute of Public Health (a part of Qatar's Ministry of Interior), which is really trying to prevent the spread of Covid in the country. But the permissions they request access to are far beyond what is needed to do this. In this context, Vasasan states that by agreeing to the requests of these programs, the users will give the authorities an opportunity to abuse the rights that have been granted to them. It's like giving the keys to your house to thieves.
Bruce Schneier also considered these programs and their licenses disturbing and ridiculous. In this context, he states that it is not clear how Qatar has the permission to implement this law and force thousands of visitors to install spying tools. Schneier said in his blog:
"I don't know how forced it really is." I know people who once visited Saudi Arabia and it required similar plans.
Finally, it should be said that the Qatari government has full control over the data stored in the device, including the ability to change or delete information. In this context, Vasasen has also announced his additional explanations: "When you download these two programs, you also accept the conditions contained in the contract, and first of all, these conditions are very generous on your part. You're essentially handing over all of your phone's data. You give the people who control the applications the ability to read and change different things. They also have the opportunity to recover data from other programs if they have the ability to do so, and we believe they will."
Read more:
What do you think about the mandatory installation of spy tools on the phones of Qatar World Cup tourists? Share your thoughts with us in the comments section Technology News With duplicate follow.