Updating the iPhone is one of the factors that increase the speed of the phone's performance, and by updating your mobile phone, you will have access to new features and facilities, which will definitely give you an interesting experience. Most devices notify users through notifications when a new version is available. As you know, you must be connected to the Internet to update, but there may be situations where you do not have access to Wifi to update your iPhone. As you know, your iPhone tends to update via Wi-Fi. In this article, two ways iPhone update with phone internet we will teach you, so stay with us in this article.
The first method of updating the iPhone with the phone's internet
The first method is that you have the possibility to update your phone using the Hotspot of another device. If the phone you intend to use the Internet on is an iPhone, and you don't know its Hotspot method, you can use the following method:
For this method, follow the steps below:
Connect to the hotspot phone via wifi
After connecting, make sure that both devices have more than 50% charge
Enter the General section in iPhone settings
Click on software update
After displaying the published update data, touch Download and install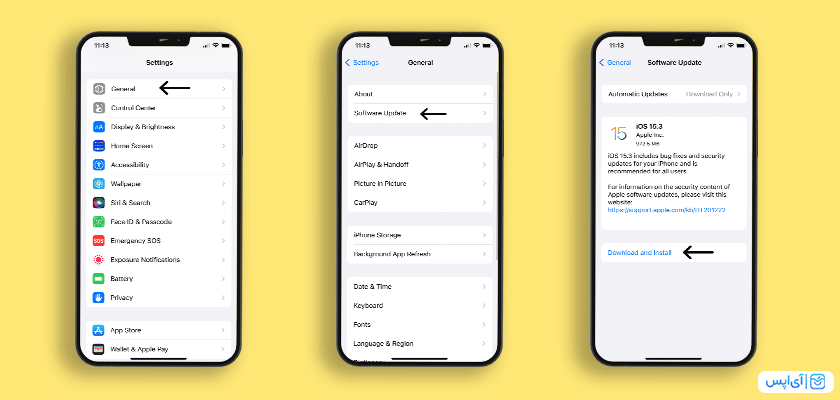 The second method of updating the iPhone with the Internet
In this method, you have to advance the date of your phone manually to 3 months. With this, you will be given the possibility to update the iPhone with Internet Data. To change the date of the phone, you can follow the steps below:
Enter the Settings section of your iPhone
Then click on General
Then enter Date & Time and apply the changes
After making the changes, you will see that it is possible to download and apply the iPhone update through the phone's Internet.
It should be noted that this method can be used for older iOS and users who have newer versions of the Apple operating system, you cannot apply time changes due to the limitation that this company has placed on your device.
last word
In this article, we have explained to you how to update iPhone with the phone's Internet and we hope that this tutorial has helped you. But if you still have a question in this field, you can share it with us in the comments section so that we can guide you.
Other suggested content: