iPhone Siri It has an attractive feature with the help of which you can perform various words like a full-fledged wizard from the Harry Potter story. You don't have to feel bad about being a muggle anymore and wish you could be those who were born with magical powers. Because with your Apple device, you can experience the excitement of performing various spells in the shortest possible time. So if you want to find your inner magician, stay with us.
How to perform charming iPhone Siri spells?
Is it possible that you are a big fan of the Harry Potter series and don't like to perform its charming spells with your own hands? In the following, we will introduce 6 words that you can use your iPhone's voice assistant to make magic and have fun.
1- Turning on the iPhone flashlight with the word "Lumos"
Lumos – Lumos is a famous word that illuminates the head of a magic wand so that the magician can see well enough in the heart of darkness. If you have been paying attention, you must have seen that the light of the stick turns into a flashlight. So if you want to turn on the iPhone's flashlight with a command, just say: "Hey Siri, Lumos." simply!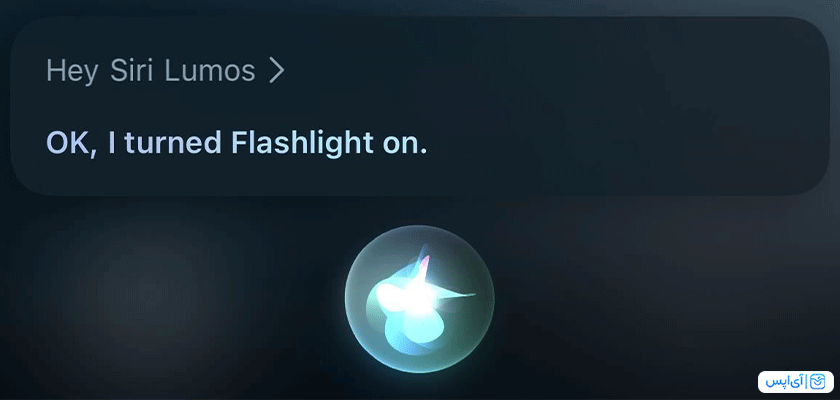 2- Turning off the iPhone flashlight with "Knox"
Nox – Nox is another attractive and famous spell that works exactly the opposite of Lumos. With this word, you can easily turn off the flashlight of your device. Just say, "Hey Siri, Knox."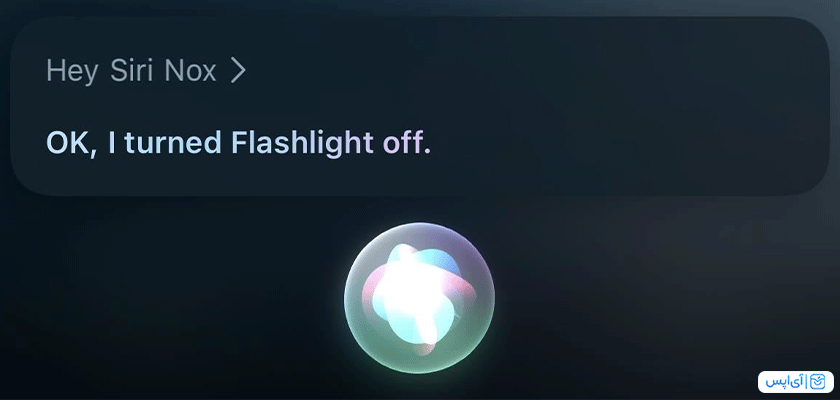 3- Running programs with "Aquio"
Accio spell is used to summon various objects. It might be interesting for you to know that with this word you can open your desired application with the help of iPhone's Siri and enjoy the speed of accessing apps. Just say, "Hey Siri, Akio [نام برنامه]». For example, say Hey Siri, Aquio Instagram, so that this app will open for you quickly.
4- Turning off notifications with "Silentio"
Silencio – Silencio is an interesting word to silence the person or object we want. Now this object can also be our device. Silentio is the Spanish equivalent of the English word "silence" which means silence. If you say "Hey Siri, Silence" to your iPhone's Siri, the voice assistant will silence all your notifications. But you can do something different with Word Silent. For example, you can set it to enable Do Not Disturb mode.
To do this, just add a new action in the Set Focus section through the Shortcuts program. Now for Do Not Disturb, set it to "On". If you find it confusing, don't worry. Because we have fully explained the method of making new spells.
5- Reduce the volume of the phone with "Mafliato"
Muffliato – Muffliato is a word that prevents other muggles, wizards and witches from hearing your conversations. If a witch tries to eavesdrop on your conversation, all she gets is a ringing sound. You can set this interesting word for iPhone Siri so that whenever you speak it, you can reduce the volume of your phone to a great extent in the shortest time and protect your privacy.
To do this, just add the "Set Volume" action in the shortcut program and adjust the volume of the phone to a small percentage (for example, 10%). This way, as soon as you say Word, your phone's volume will quickly be adjusted to 10%.
6- Raising the volume of the phone with "Sonoros"
Sonorus – Sonorus is a type of sound amplifier, and when he casts this spell on someone, his voice will be amplified and louder than before. You can also set this spell for your phone so that when you say it, the device volume will be set to 100%.
To do this, just visit the shortcut program and add the "Set Volume" action from there. Then set the volume to 100%. Now just say "Hey Siri, Sonoros" once and watch the magic of the phone's volume increase instantly.
How to make custom spells like a real wizard?
A true witch never limits herself to pre-made spells! If you want to use all the features of iPhone Siri and create your own unique words, you should proceed with the shortcut program.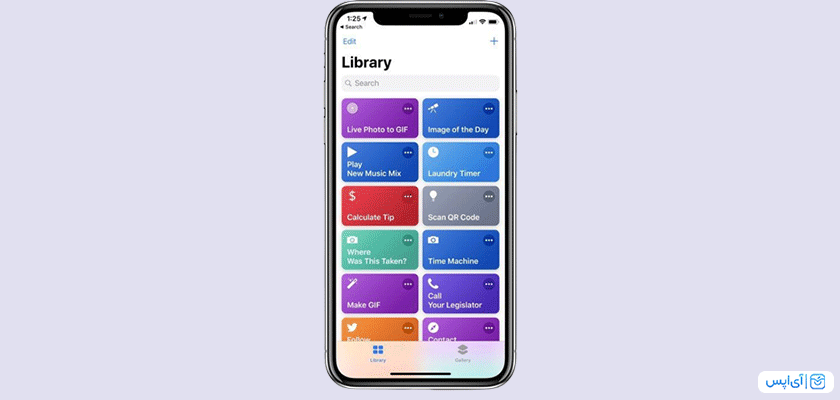 In the following, we make the spell "Lumus Maxima" together:
Launch the Shortcuts app and touch the All Shortcuts option. Now tap on the "+" sign at the top right corner of the screen. Hold your finger to select one of the folders you created.
Enter a name for your spell in the blank space. Something like Lumos Maxima! Then click Add Action.
In this section, a menu will be displayed to you, which includes various categories of operations and offers. You can choose any depending on the spell you want to make. Click Scripting to build Lumus Maxima.
Now in the new menu that comes to you, scroll down and touch Set Torch.
In the operation menu, you can determine the type of operation to be executed by saying the spell. Tap on the blue button to display a menu. Now drag the brightness slider to the end!
At the end, just tap on the Play arrow in the lower right corner of the screen and test the spell you made once. You can also click the cross button and close the shortcut screen. Now say Hey Siri, Lumus Maxima! And enjoy the result of performing your spell
final word
Know that some of the words that we introduced above may not be executed and you must create shortcuts for them. As you understand iPhone Siri Not just a simple voice assistant. With this attractive artificial intelligence, you can define new Harry Potter spells for your device and enjoy their instant performance. Have you used this interesting feature or do you know another word, if your answer is yes, be sure to share your experience with us and other IPS users in the comment section.
Other suggested content: