iPhone security It is one of the most prominent features of this smartphone. Without exaggeration, we can say that user privacy is one of the biggest concerns of Apple. If you want to have one of the most secure phones in the world, you need to follow the advice of experts and implement the interesting tricks that we will explain to you in simple language on your device. So if you want to get information about 9 practical ways to increase the security of iPhone phones, follow us to the end of this article.
1. Allow apps to track your location only once
Gone are the days when we allowed apps to permanently access our location! One of the best features that ensure iPhone security is the Only Once option.
When an app asks for permission to access your location, you can limit the app's access level to one-time access by selecting this option. In this way, the app cannot track your location at any time and endanger your privacy.
The steps to view your location's access to programs are:
Go to Settings
Tap on Privacy & Security
Go to the Location Services section
Now you can see which apps have Always, While Using, or Never access.
2. Enable location alert
Location Alerts is a unique feature on iPhones that allows you to be fully aware of whatever happens to your information. In fact, this feature secures your iPhone and when an app asks for your location, Apple will send you various alerts and show you a map of the location data that has been taken from your phone.
To activate this really useful feature it is enough:
Enter the settings program
Go to the Privacy & Security section
Select the Location Services option
Tap the Location Alerts option
Now enable the Show Map in Location Alerts button
3. Prevent tracking by enabling Tracking
Anyone who cares about their privacy, no doubt does not want to hand over their private information to advertising trackers! These trackers collect your personal data and interests and then offer you relevant products based on them. But as long as you have Limited ad tracking, you don't have to worry! To activate this feature, just follow the steps below:
Open the Settings app
Click the Privacy & Security option
Now select Tracking
At the end, activate the Allow Apps to Request to Track button
Now this functionality is applied and a list will appear where you can choose between the programs which have access to your Activity. If you see that the Tracking option is active for an application, you can easily disable it and cut off its access to your data.
4. Remove your location from photos and videos
You might be interested to know that if you haven't done the iPhone security settings, you are actually sharing your location along with your pictures and videos! If you share these photos and videos on social networks, it's like you've shared your location at the time the photos and videos were taken.
To disable the saved location of your photos or videos, just follow the steps below:
Enter the Photos app
Click on the photo you want
Then touch the "i" sign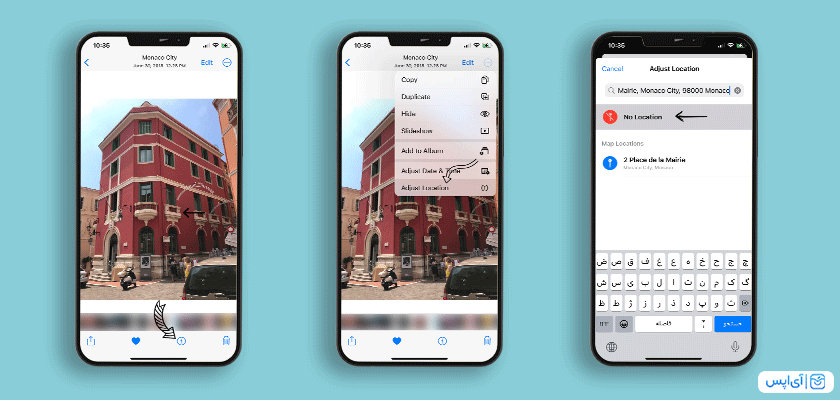 To disable the location when you want to share your images, you need to go through the following steps:
Click the Share button at the bottom left
Then select Options
Now disable the Location option
This way no one else will have access to the location of the photo you shared.
5. Use the Sign In With Apple option
If you want to keep your iPhone secure and private when using different sites and platforms, never forget the Sign In With Apple option. By choosing this option when entering sites that support this feature of Apple devices, you can be sure of the protection of your personal information.
Apple does not sell users' personal information. After all, this technology giant assigns you a unique email and keeps your original identity safe. Not to mention that it allows you to hide your email id as per your choice. To use this feature, you need to enable two-step login.
Note: Unfortunately Sign In With Apple It cannot be used by Iranians inside the country and only users who live outside the country can use this feature.
6. Keep your iPhone secure with strong passwords
One of the best things you can do to protect your privacy is to set strong alphanumeric passwords for your iPhone. With this, you will be relieved that no one but you will have access to your iPhone. Of course, Apple's Face ID undoubtedly has the most advanced and secure facial recognition technology to access the phone. However, they have always said that hard work does not hurt!
7. Disable Siri suggestions on the lock screen
Siri – Siri shows you suggestions on the lock screen, and this voice assistant actually wants to remind you of the things you've been doing with your device every day. For example, if you've been drawing with your iPhone every day, Siri will remind you around the same time.
Although this feature is useful, it can reveal what you are doing to others! In fact, it is enough for another person to look at the lock screen of your phone to know about your interests and hobbies. To turn off this feature, it is enough:
Settings – Open Settings
Tap on Siri & Search
Now disable Show Suggestions and Show Recents
8. Track your phone by enabling Find My iPhone
One of the issues that we are always worried about is the theft of our phone, especially since the price of iPhone mobile phones is very expensive, we should be more careful. If your phone is stolen, there are two steps you can take to keep your iPhone safe. One is to enable Send Last Location and the other is to enable Find Network in the Find My iPhone section.
Send Last Location option
By activating Send Last Location, the last location when your phone was connected to the Internet or when your iPhone was low on charge will be sent to the email you use for Apple ID.
Find Network option
With Find Network enabled, it will send your iPhone's location to the email you use for your Apple ID even when it's offline, on low charge, or turned off.
Activation method
To activate this feature, do the following steps:
Open the Settings app
Tap your name at the top of the Settings section
Select Find My option
Tap Find My iPhone
Enable Find My iPhone
Enable Find Network and Send Last Location options
Note: Unfortunately, the option Find My network It is unusable for Iranians inside the country. Because while activating it from you Upgrade Account Security requests that it is not possible to upgrade. Only users abroad (due to having an international and permanent mobile number) can use this feature.
9. Use secure VPNs when browsing the web
Using a VPN while browsing the web will increase the security of your iPhone a whole lot! Safe and secure VPNs prevent your data from being leaked and keep your IP hidden from others.
last word
Thank you for accompanying us to the end of this article. We hope that by following the tricks in this article, you can improve the security of your phone and protect your privacy and private information. If you have any comments, suggestions or other tricks to increase iPhone security If you have, be sure to share it with us and other IPS users in the comment section.
Other suggested content: