IPhone call answering feature – Call settings on iPhone
Read Time:
1 Minute, 31 Second
It may have happened to you that you are doing something and your phone rings and you can not answer it. With the release of iOS 11, Apple has created a feature called Auto-Answer Calls for its users so that by activating it, they can answer their calls automatically. So if you want how Automatic answer to iPhone call Learn, follow us to the end of this article.
Enable auto-answer feature for iPhone calls
To answer the iPhone call automatically, you must first enter the settings and then the Accessibility section. Then tap the Touch area and scroll down to see Call Audio Routing. Now touch it and select Auto-Answer Calls and Enable it.
Steps in summary:
Enter Settings
Tap Accessibility
Select the Touch section
Touch Call Audio Routing
Then enter Auto-Answer Calls
Now activate it and specify the time you want
After completing the above steps, you can set the waiting time (in seconds) for the auto-response to complete. You can change the timing whenever you want.
Call Audio Routing section
In the Call Audio Routing section, in addition to the Auto-Answer Calls settings, options are displayed, by selecting one of them, you specify that when someone makes a phone call to you or FaceTime Audio, the output sound will be played as Automatic, Bluetooth Headset or Speaker .
Of course, we suggest that you select the Automatic option, which you can hear at any time according to the output sound conditions.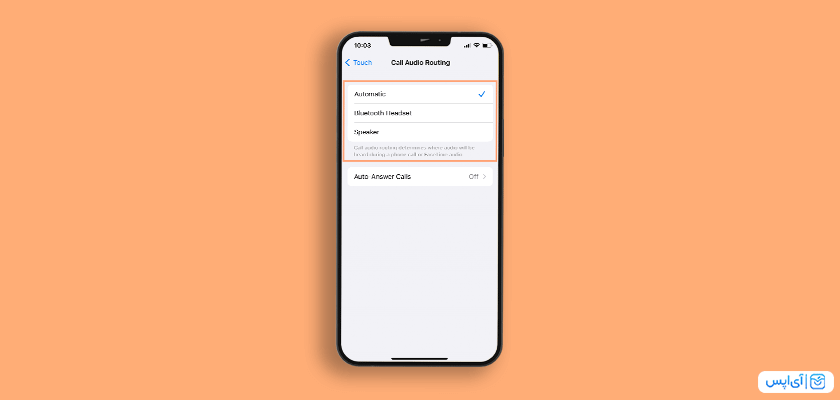 The last word
Finally, we must say that this feature is very useful and you can use this method in situations where you can not answer the call. Hope this article goes well Automatic answer to iPhone call To explain to you. If you have a question or comment about this.
Other suggested content: