If you are a user of Apple and iPhone phones, you are definitely waiting for new events and news from this company. Updating new versions of the iOS operating system is definitely one of the most important events that happens to iPhone users every year, updating the iOS version. Every time with the release of new iOS, many changes happen and make it easier for you to use.
Is iOS 16 Have you ever tried If you have installed this operating system on your iPhone, you have undoubtedly enjoyed the new and useful features of the most up-to-date OS. In this article, we are going to introduce you to 6 new features of iOS 16 so that you can get to know more about the features of this new update. So if you want to get information about this, stay with us in this article.
The most interesting features of iOS 16 at a glance
The ability to edit text messages after sending, bypass captcha, separate the subject from our favorite photos and other useful features are exactly what we expected. In the following, we will introduce 6 new features of the new operating system of Apple phones.
1- Enjoy editing the lock screen
When you pick up your phone, the lock screen is one of the first things you see. Fortunately, with iOS 16 you can easily hold your finger on the Lock Screen and edit it. In addition, you have the possibility to scroll through and choose various beautiful styles. You can also change the background color filter and text font that you could not change before with this update. Put some practical widgets on the lock screen of your device so that you can access important and useful information with just one glance.
2-Edit and delete your messages after sending them
Most of us are familiar with the awkward feeling of sending the wrong message. Fortunately, thanks to Apple's new update, we can easily edit text messages we've sent to our contacts with misspellings with just a small touch. In addition to this, if we have mistakenly sent a message to another addressee, we can simply delete it – Unsend and relax. We can also put the messages that we have read in the unread state so that we can read them later when we have the opportunity.
2- Arrange your announcements beautifully
You've probably noticed notifications that fill up the entire lock screen, leaving no room for a background display. Fortunately, Apple has solved this problem in iOS 16 and moved the notifications to the bottom of the screen. Also, when you receive a notification, you will see it as an attractive vertical carousel. This feature has a better effect than the former list-like arrangement and makes it easier to work with the phone with one hand.
3- The attractive feature of SharePlay comes to the Messages app this time
You probably know the SharePlay feature. The same attractive feature that has made it possible to watch movies and listen to music at the same time through the Facetime app. This time in iOS 16, Shareplay has taken a step forward and has also come to the Messages app. Now you can chat and enjoy with your best friend while you are watching a movie in this way.
4- Protect your privacy more than before
Apple has added the Safety Check feature to this update, which protects your privacy and increases the security of your phone. With this feature, you can manage access to your location information, passwords, messages and other apps. Plus, the security check lets you know who has access to your passwords and information.
In fact, if you have lost contact with the person or people in your life with whom you shared your phone's personal information, you can remove any access to them with the Safety Check feature.
5- Bypass captcha easily
Most likely, you have come across captcha when entering various sites. The same strange codes that you have to read and enter or the image of a bus that you have to search and find. Fortunately, Apple has solved this problem with its excellent update.
In iOS 16, a new feature called Private Access Tokens has been introduced, which introduces the user as a real person to sites that support this token. In this way, you can visit the sites you want without entering the captcha code and save your time.
To activate this feature, just enter the Settings app and select the password and security option by entering the Apple ID section. From there, you can enable the auto-verify option so that iCloud will automatically verify your device as a human and bypass the captcha.
Steps in summary:
Go to Settings
Go to the Apple ID section
Then enter the Password & Security section
Now click on the Automatic Verification option
By following the steps above, you can easily get rid of captcha!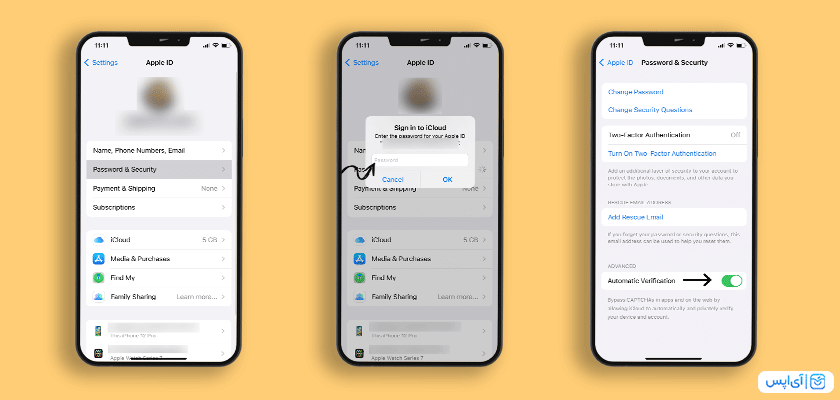 6- With just one gesture, separate the subject from your photos
You know Visual Look Up! It is the same functionality that could analyze your photos and identify subjects. To use this attractive feature in iOS 16, just put your finger on the subject you want in the photo, simply separate it from the background and send it to your friends through the Messages app and other apps. What is more interesting than this?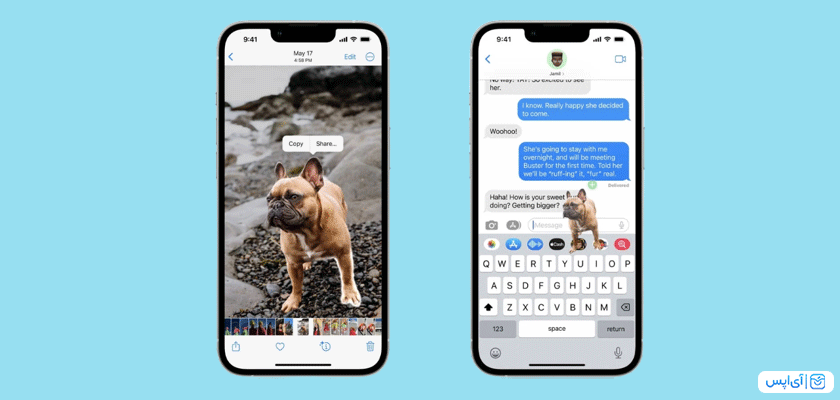 Steps to install iOS 16
If you also want to proceed with the installation of iOS 16, you should proceed as follows:
Go to Settings
Click on General
Then touch Software Update
Select the Upgrade to iOS 16 option
Tap on Download & Install
Password – Enter your passcode
Select the Agree option in the Terms and Conditions section
Now you have to wait for a while until the download of this operating system is complete so that the update of the phone starts.
The most important strengths and weaknesses of iOS 16
The new features of iOS 16 have solved many of the problems that users have been struggling with for years. But this does not mean that this functional update is free of weaknesses. In the following, we point out the most important strengths and weaknesses of this new operating system:
The most important strengths
The attractiveness of the lock screen and the possibility of editing and sorting it
Easy separation of subject from images
Improving security and protecting user privacy
The most important weaknesses
Applying lock screen effects Some From the pictures
Features like Live Text not working on older iPhones
Conclusion
The well-known Apple company surprises technology fans with its interesting updates every year. In 2022, as every year, Apple has come full of useful features iOS 16 added Which of these new features do you like the most? Share your opinion in the comments section for us and other IPS users.
Other suggested content: