Hours after the big explosion in Istanbul, Internet outage and widespread filtering of social networks in Turkey applied.
Last day, an explosion in Esteghlal Street – a crowded area in the center of Istanbul – left a number of dead and injured. According to the latest reports, 6 people were killed and more than 80 people were injured.
Esteghlal Street is located in the center of Istanbul, which is considered the most populated tourist spot of this city and many shopping centers are located there. In response to these conditions, the Turkish government immediately took action Limiting the internet and cutting off social networks did
Read more: The most important and latest news of internet filtering and restrictions! / From the absolute loss of the Internet to filtering applications!
Internet outage and widespread filtering of social networks in Turkey
Since last night, foreign social networks in Turkey have been unavailable after the explosion in Istanbul. According to NetBlocks information, after today's deadly explosion in the city of Istanbul, Social Networks Foreign For example: Twitter, Instagram, YouTube and Facebook are filtered all over Turkey.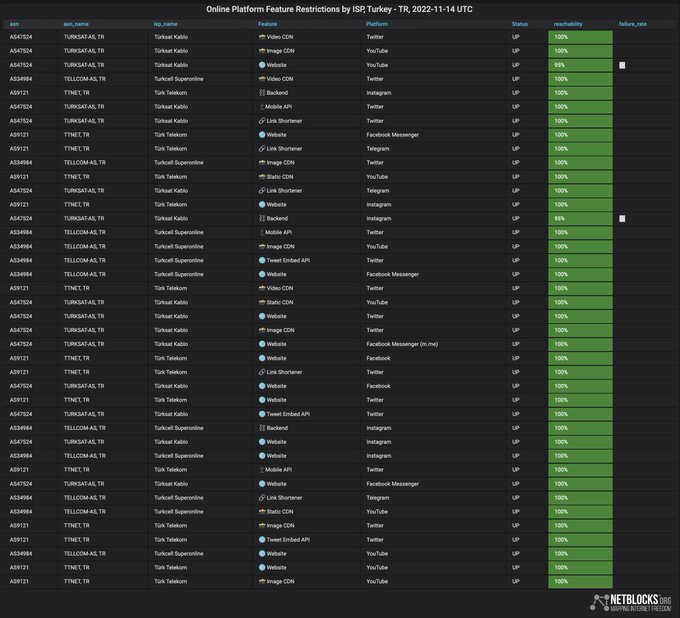 It is said that this action of the government was an attempt to prevent the flow of false news and rumors about the explosion until the investigation and arrest of the main perpetrators of this incident.
At the same time and hours ago, the Turkish authorities announced that The bomber exploded yesterday There was a woman in Taksim Square in Istanbul. "Zian Tosun" is a Turkish citizen who was born in Diyarbakir, one of the Kurdistan provinces of this country. The Minister of Interior of Turkey has blamed the "PKK" group and its branch in northern Syria, the "PYD" group, as responsible for this terrorist attack.
The Ministry of Defense of Turkey announced in a statement that it targeted the positions of the PKK (Kurdistan Workers' Party) and YPG (People's Defense Units) in northern Syria. This statement states:
The reconnaissance drones of the Turkish armed forces observed and identified two rocket systems ready to be launched and several PKK and YPG terrorists who were ready to infiltrate the operational area of ​​"Naba' al-Salam" (Spring of Peace) in northern Syria. Next, the presence of terrorists and rocket systems were targeted by the artillery of the Turkish army.
Read more:
What is your opinion about the internet outage and widespread filtering of social networks in Turkey? He shared his opinions with Tekrato in the comments section technology news Follow from Tikrato.