Xiaomi recently officially unveiled the new member of the X4 family, the Poco X4 GT. Follow us in the initial review of the Poco X4 GT and its specifications.
Poco company unveiled the new Poco X4 GT phone in an official event. Although we know all Poco phones as cheap and economical products, in the meantime, the X series have another attraction with their very low prices and at the same time acceptable quality.

The popular Poco X4 GT phone can claim the title of the most attractive Poco phone. This model has the same specifications as the flagships, and at the same time, a suitable and affordable price has been considered for it.
Read more: Initial review of Xiaomi Poco F4; Specifications and features
Xiaomi Poco X4 GT initial review
Poco X4 GT has a lot to say, but the expert review of this phone should be left until this product opens its way to the Iranian market. Currently, the important features and capabilities of this professional and popular phone have been reviewed in the following, but in a simple look at the available information. So stay with us with the initial review of the Poco X4 GT.
Initial review of the Xiaomi Poco X4 GT in terms of build quality and design
The attractive and beautiful Poco X4 GT phone will surprise everyone. A professional and high-quality product that does not lack anything in terms of beauty. The dimensions and volume of this beautiful phone are almost equal to the same version in the previous generation, and it is practically a phablet with a weight of less than 200 grams.
This professional product also has Gorilla Glass 5 protection. Other noteworthy features of this phone include side fingerprint sensor, 5G connection, Wi-Fi 5, Bluetooth 5.3 and of course NFC.
The NFC feature used in this phone is an abbreviation of the term Near Field Communication, which is called Near Field Communication or NFC in Farsi language. The use of nfc is actually a communication standard for mobile (portable) gadgets that enables two devices equipped with this capability to exchange by creating a special radio communication.
In order to create interaction between two devices through the NFC connection, the distance between the two devices must be at most a few centimeters. Therefore, NFC is a communication feature that enables mobile devices to exchange information when they are close to each other.
Mobile and portable gadgets must be equipped with an NFC chip in order to support NFC, so any device that supports NGC connection is equipped with a dedicated chip. Poco x4 gt phone is produced in black, blue and silver colors.
Read more:
Comparison of iPhone SE 2022 with Xiaomi 12 Lite; Economic flagships
Comparison of iPhone 13 Pro Max with Xiaomi 12 Pro; The brawl of the flag bearers
Xiaomi Poco X4 GT review in terms of screen
This Poco product uses a 6.6-inch LCD panel as a display, which has a resolution of 1080 x 2400 pixels. The X4 GT also crystallizes the concept of the GT extension in its name with a screen refresh rate of 144 Hz, because Poco's GT series of phones are usually known as gaming products.
Among the other features of this 6.6-inch LCD screen, it should be mentioned that it can display 1 billion colors, which also supports Dolby Vision. We said earlier that this display is protected by Gorilla Glass 5 and offers a maximum brightness of 650 nits.
It is very important to have protection and Gorilla Glass for the phone. Gorilla Glass protector is a product of Corning, or the American company (glass and ceramic manufacturer), which is used as an anti-scratch and shock protector in all types of mobile phones.
This cover is a protective layer for mobile phones produced by the Corning company, and its use in mobile phones has caused a lot of noise, so much so that now when people buy a new phone, they definitely ask for this protective cover from the seller.
Poco X4 GT phone review in terms of camera
This new and popular phone is advanced and acceptable in terms of camera. This product is equipped with a 64-megapixel camera as the main camera, which is accompanied by two 8-megapixel ultrawide and 2-megapixel macro sensors. From this point of view, the X4 GT is no different from the F4.
Next to the combination of lenses, there will be a dual-color LED flash, and the selfie camera is a 16-megapixel sensor with a hole-punch design.
Read more:
Comparison of Galaxy S21 Ultra with Xiaomi Mi 11 Ultra
Comparison of Poco X4 Pro with Samsung Galaxy A51 (POCO X4 Pro Vs. Galaxy A51)
Xiaomi Poco X4 GT review in terms of battery
As for the battery, a large 5080 mAh battery is considered for the X4 GT, which supports a charging speed of 67 watts, and as a result, it can be fully charged from 0 to 100 in just 46 minutes.
Poco x4 gt phone has a lithium polymer battery, which will undoubtedly have a very good charge. The presence of 67-watt fast charging, which also makes the charging process of the device very fast.
Therefore, you can count well on the battery of this phone. This phone with this suitable battery can definitely meet the needs of all users. It can be easily done from watching movies and series and listening to music to playing all kinds of games with the phone.
Initial review of the Xiaomi Poco X4 GT in terms of software
As you can see, the poco x4 gt is completely up-to-date in terms of software and will ship with the latest version of MIUI based on Android 12.
Android 12 can be considered one of the best versions of Google's operating system, which will be exciting for old and new users of Google's popular operating system with new visual effects. More focus on minimal and integrated design along with attention to security elements, pushes Android towards becoming a perfect operating system for mobile devices.
Since different brands use their own skins for Android devices, we should hope that the attractive features of Android 12 will make their way to this customized version of Xiaomi.
Read more:
Comparison of Galaxy M51 and Samsung Galaxy M62
Comparison of Galaxy A53 with Samsung Galaxy A73; The best series A
Initial review of the Xiaomi Poco X4 GT in terms of hardware
Poco x4 gt specification in terms of hardware will undoubtedly be excellent and interesting. This device, which has been released with a new 5nm Mediatek processor, i.e. Mediatek Dimension 8100, is more attractive than the new F series phone. This processor, built with TSMC architecture, uses four Cortex-A78 cores and the new Mali-G610 MC6 GPU.
According to experience, this chip can handle multitasking and graphics-heavy games like PUBG Mobile, Ganesh Impact, Shadowgun Legends, etc.
This phone comes with 8 GB of LPDDR5 RAM and 128 or 256 GB of UFS 3.1 internal memory. Poco claims that at the request of its fans, it has agreed to return the 3.5 mm headphone jack to the new phone, and as a result, you will not have to worry about connecting headphones.
The X4 GT also has a liquid cooling system like the X3 GT, but instead the vapor chamber is 32% larger and in addition, 7 layers of graphite have been installed.
One of MediaTek's main goals in presenting this new chip has been to increase the power of smartphones in playing games with high frame rates. This chip, which is made using 5nm architecture, can provide games with 20% more graphics processing frequency than its predecessor, Dimension 8000.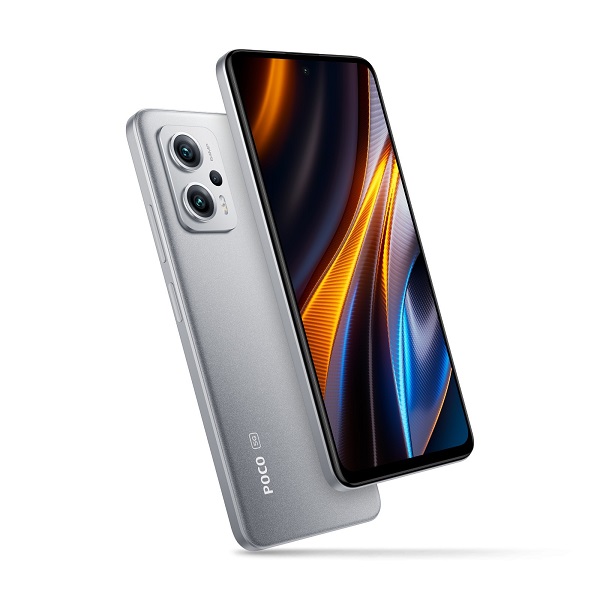 The reason for this is that it supports a 168 Hz refresh rate, which makes you not miss even the smallest movements of moving subjects. On the other hand, the CPU power efficiency in this new chipset is much higher compared to previous generations. That's why you can track moving objects well during the game and implement your commands in the game space.
MediaTek has paired the Dimension 8100 with the Mail-G610 MC6 GPU, which uses the latest ARM architecture. This graphics processor offers more processing frequency compared to the previous generation and has the ability to support videos and photos with FHD+ quality. So mobile phone manufacturers can use much more powerful displays with higher resolution.
Having the Dimension 8100 chip, in addition to supporting this model's 5G Internet, can turn it into a game-friendly phone, which is a very good feature considering the price of the Poco X4 GT phone.
Poco X4 GT phone review in terms of sound quality
A suitable and professional phone also needs a suitable speaker. Speakers are used in this phone that are very professional and strong, and you can count on their professional performance.
The sound quality is very good and the sound reproduction is excellent. You can trust these speakers to watch movies and series, listen to music and podcasts, and play games.
Read more:
Review of Poco F4 GT (Xiaomi POCO F4 GT); Scrutiny of system, performance, camera and battery
Comparison of Galaxy A11 with Samsung Galaxy M11; Two low-end efficient
In this article, we introduced and reviewed the Poco X4 GT phone. A new, high-quality and professional phone that had a lot to say.
Frequently Asked Questions
Is Xiaomi Poco X4 GT phone worth buying?
By reviewing the Poco X4 GT phone and considering the price of the Poco X4 GT and compared to the specifications that were reviewed, this model has a high purchase value and is more suitable for gamers who want a great and powerful phone and are willing to pay exorbitant fees to get it. They do not want this. This phone is very professional and you can understand this important thing by reading this article which was a review of the Poco X4 GT phone. Among the important features of this professional phone, we can mention a wonderful screen with a refresh rate of 144 Hz, a reasonable price, a gaming chip, 5G Internet support, and having Gorilla Glass 5 protection.
Read more:
.
What do you think of the Xiaomi Poco X4 GT early review? Please leave your comments in the comment section duplicate And share with other users.