As you know, one of the major concerns of iPhone fans and owners is battery life. Until now, Apple has tried to upgrade all the hardware and software parts of its phones, but it has not yet been able to improve the battery life. but do not worry! Because there are methods and ways that cause Increase iPhone battery life will be If you also want to know how to take care of your device's battery in the best way, stay with us in this article to teach you its tips.
increasing iPhone battery life; Why and how?
Undoubtedly, no one likes to run out of battery and be confused while traveling, at university or anywhere else. If you want your device's battery to work like a clock for long periods of time and keep the charge in an optimal way, you need to take care of it properly. In the following, we will teach you 8 simple ways to increase the life of the iPhone battery, so that by following them, you can increase the useful life of the battery several times:
1- Limit the access of apps to your location
It would be great if you could check your location settings to protect your privacy and security. But the interesting thing is that changing the location settings can also increase the battery life of the iPhone. To change access to these settings, just follow the steps below:
Enter the settings program
Select the Privacy & Security option
Tap on Location Services
Tap the name of each app and check the location settings for each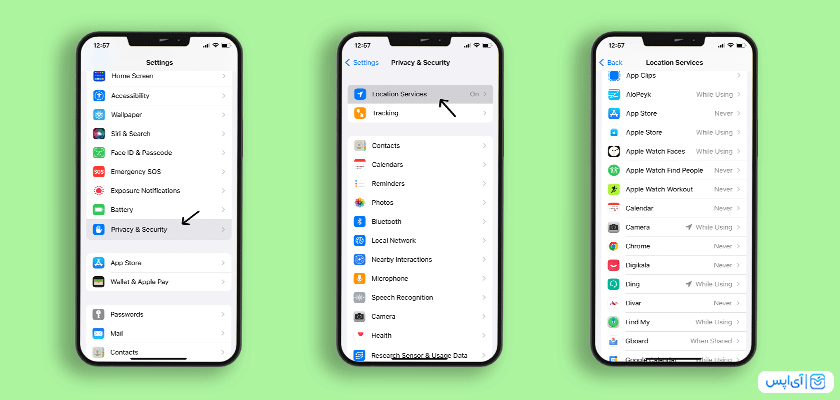 When making these settings, you have four main options: Never, Ask Next Time, While Using the App, and Always. The "Always" option consumes the most battery and the "Never" option consumes the least amount of battery.
If you find location access is not necessary for an app, it's better to set it to "Never". But if you need your location to use an app like a route finder or internet taxis, you can set it to "Ask next time".
2- Limit the use of Bluetooth programs
iOS 13 added a cool feature that lets you know when different apps are requesting Bluetooth access. To find out which apps are currently using Bluetooth, just follow these steps:
Enter the Settings program
Go to the Privacy & Security section
Tap Bluetooth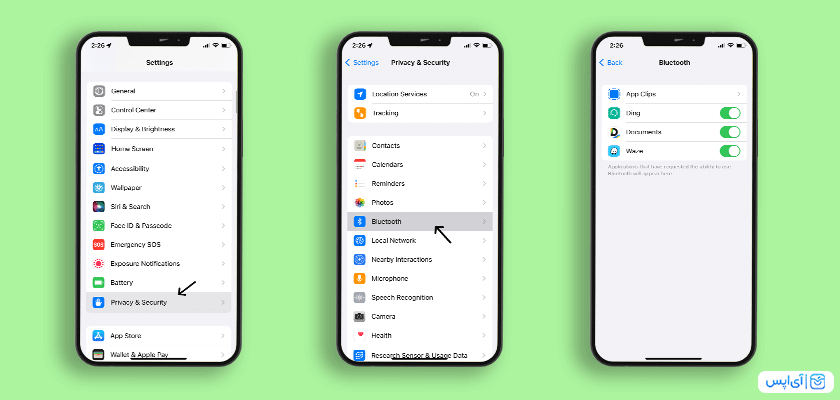 Now, just check the list of programs shown to you and block access to apps that you think don't need Bluetooth. Feel free to toggle off any apps you need. If there is a malfunction in the application, you can easily reactivate its access.
3- Use Wi-Fi instead of cellular network
If you want to use the Internet, it is better to connect to Wi-Fi instead of cellular network. The reality is that Cellular drains your device's battery too much and shortens its useful life. So, to increase the battery life of your iPhone, try to use Wi-Fi both at home and at work.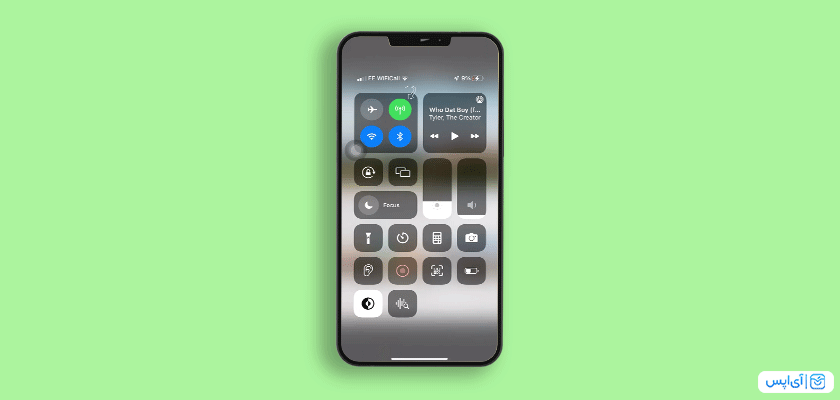 4- When your phone doesn't show antenna, turn on airplane mode
If you are in an area where you see that your phone does not have an antenna, it is better to put your mobile on airplane mode. When the iPhone can't find enough cellular coverage to make calls, it searches until it finds a strong signal. These many searches reduce battery life. Therefore, to increase the battery life of the iPhone, it is better to turn on Airplane Mode.
5- Manage high consumption programs
Fortunately, the iPhone tells you which apps are consuming the most battery. Just open the settings and go to the Battery section to be able to take a look at the battery consumption statistics of your device. In this section, you can see the amount of battery consumption in the last 24 hours or 10 days.
If you see an app taking up a lot of battery, you can uninstall it if you want. But if the existence of that program is necessary for you, you can manage the amount of its use.
6- Set a limit for notifications
If you can manage the number of notifications that come to you from different programs, you can help extend the life of your iPhone's battery to some extent. To do this, it is enough:
Open the Settings app
Tap the Notifications option
Now set for each program whether it is allowed to send notifications or not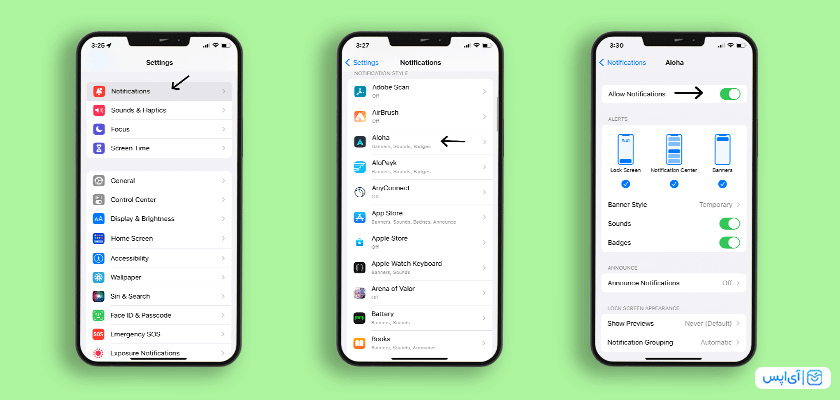 7- Activate the night mode (Dark Mode).
Since the release of iOS 13, dark mode has been added to Apple phones. This interesting feature that prepares the phone to keep the icons legible at night also helps to increase the battery life of the iPhone. To activate this feature, it is enough:
Enter the Settings app
Select the Display & Brightness option
Tap on the "Dark" option
If you turn on the "Automatic" button, the dark mode will be activated automatically at dusk and will also reduce the waste of your phone's battery.
8- Update your iPhone to the latest version
Apple adds interesting features to its smartphone operating system in every update. If you feel that your device's battery is draining quickly, give the possibility that it might be a software bug and it can be fixed by updating the device's operating system to the latest version. To do this, follow the steps below:
Go to Settings
Open the General section
Tap Software Update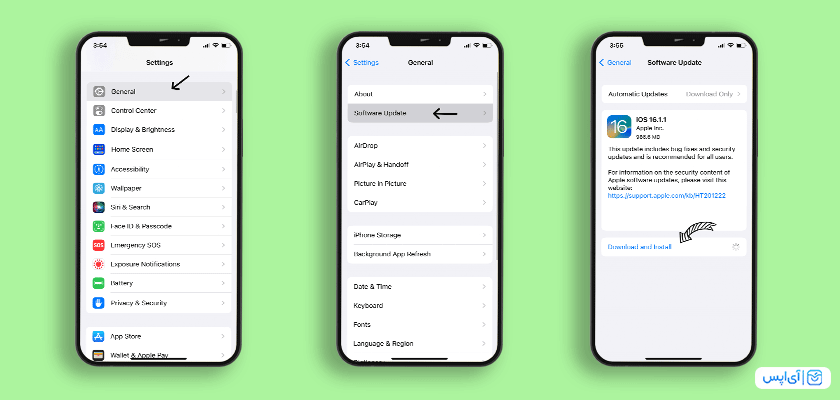 If there is a new update, you will notice it. So update your phone's software and you will definitely notice the positive effects it has on the device's battery.
When should we replace the iPhone battery?
If you haven't replaced your battery in a few years, it's probably time to replace the old one with a new one. To make sure of the health status of your phone's battery, it is enough:
Open the Settings app
Swipe down and tap Battery
Select the Battery Health option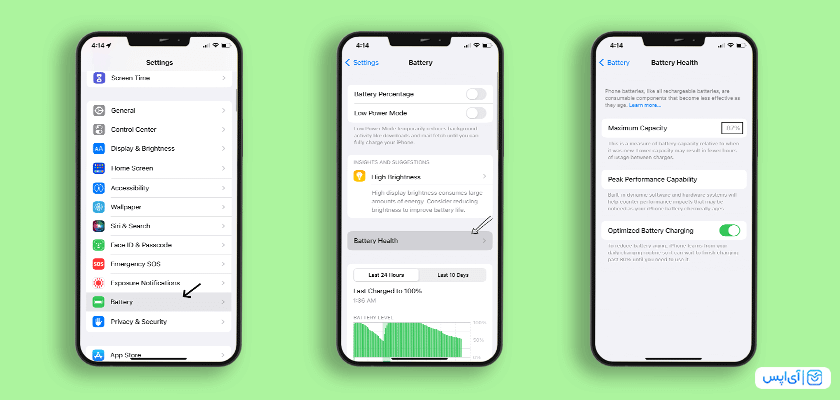 In this section, you can see the maximum capacity of the battery facing the term "Maximum Capacity". If the battery capacity is below 80%, it is better to replace it. The cost of this will be around $49 to $69, depending on which iPhone model you have. Just be aware that if you want to change the battery in Iran, it is better to go to a reliable and reliable repairer who knows that all the products and parts he has are original.
final word
In this article, the methods Increase iPhone battery life We checked together. We hope that by using these methods, you can improve the useful life of your device's battery and enjoy the optimal battery life. If you know other tips in this field, we will be happy to share your opinion with us and other IPS users in the comment section.
Other suggested content: