During last night's event of the Huawei company, this Chinese giant officially unveiled the Huawei MatePad Pro 11 2022 tablet along with some other products.
Huawei last night and during its event, while introducing the new version of its proprietary Harmony operating system, it also unveiled several new devices, one of which was the successor to the Huawei Matepad Pro 11. The new version of this attractive tablet with updates compared to the previous generation is now available to lovers of the troubled Huawei brand.

Read more: The best Huawei phones of 2022
Huawei MatePad Pro 11 2022
Huawei MatePad Pro 11 2022 is equipped with an 11-inch screen of old type with a resolution of 2560 x 1600, which has a refresh rate of 120 Hz and has a punch hole for installing a selfie camera. This new tablet comes with a smart pen called M-Pencil, which is simply connected to the right side of the device.
In the back panel of Matepad Pro 11 2022, we see the familiar design of Huawei cameras, that is, a circle with two lenses inside. This tablet is 5.6 mm thick and weighs 449 grams. In the sound department, six speakers and four microphones are used.
While the selfie camera is a 16-megapixel camera, the dual main camera module includes 13-megapixel main and 8-megapixel ultrawide sensors.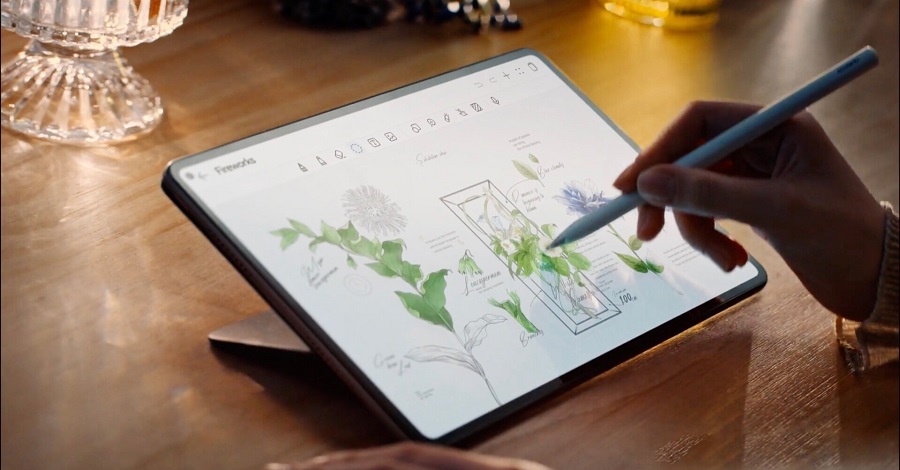 In terms of hardware, the new Huawei tablet is available in two versions with powerful Snapdragon 870 and 888 processors. This product will be available in a version with 12 GB of RAM and 512 GB of internal memory.
Another important feature of the Matepad Pro 11 2022 is the use of a VC liquid cooling system with six layers to dissipate heat. The device's battery has a capacity of 8300 mAh and supports 66W fast charging. As expected, this device comes with Harmony operating system by default.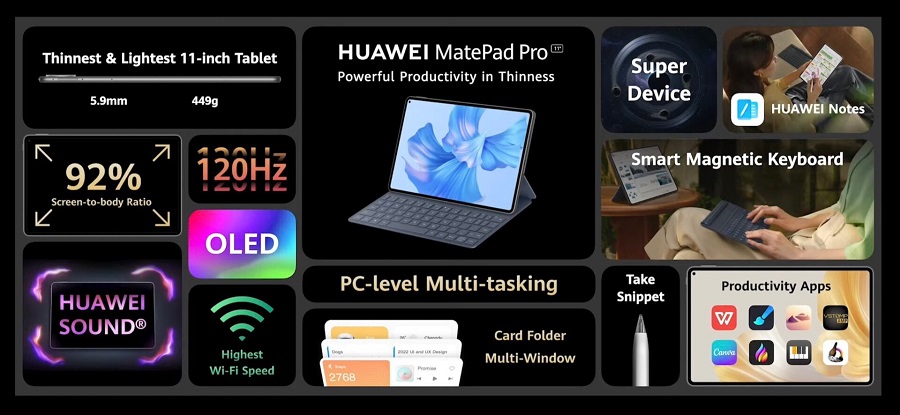 This tablet is available in white, blue and black versions. The Snapdragon 870 version starts at 3,499 yuan ($517) for 128GB of internal storage. The 256GB version of the same model costs 3999 yuan ($591). Versions with the same amount of memory with Snapdragon 888 will also be available at 3,799 yuan ($561) and 4,299 yuan ($635). The Snapdragon 888 version with 12GB of RAM and 512GB of internal storage is priced at 5,499 yuan ($813). LTE versions with 256 and 512 GB of internal memory also have a price tag of 5299 (783) and 7699 (1138).
Read more:
What is your opinion about Huawei MatePad Pro 11 2022? Share your thoughts with us in the comments section Technology News Follow from Tikrato.