How long will internet filtering last?
Read Time:
3 Minute, 15 Second
Due to the limitation and Extensive internet filtering Recently, this basic question has been raised for many users When will the internet be connected??
After a few days of widespread internet disruptions and outages due to the unrest that occurred after the death of the late Mahsa Amini, reports indicate that internet access has been disrupted for many hours of the day and night in some cities. These conditions have raised the question for every user, how long will extensive Internet filtering continue and when will the Internet be connected?
Read more: What is the price of Starlink Internet? [+هزینه اشتراک ماهانه و قیمت دیش]
Extensive internet filtering
Ahmad Vahidi, Minister of the Interior, causing disruption and Restrictions on access to Instagram and WhatsApp He considered it to be because of the "incendiary nature" of social networks and emphasized that the organization of a large part of recent riots was done using these services. Nevertheless, this important and undeniable issue, that is, the dependence of the income of many internet businesses on Instagram and WhatsApp, is becoming serious and it seems that the authorities have no plan to react to this situation. The Minister of Interior said about the destructive role of WhatsApp and Instagram:
Some of these virtual networks try to provoke and educate people by publishing some images that are sometimes not real. It is natural in such a situation that we apply restrictions to maintain security, public order, peace and civil rights of the people so that they cannot direct disturbances through virtual networks.
The Minister of the Interior emphasized that Instagram and WhatsApp filtering It continues until the end of the disturbances. He emphasized that the reason for applying such restrictions is actually the protesters themselves and their actions, and when the intelligence agencies ensure that these services are not misused, the restrictions will be lifted.
When will the internet be connected?
As we said, many internet businesses depend on Instagram and WhatsApp social networks to earn money, and the new restrictions can cause major problems in their work process. According to a report from Iran's Statistics Center, 11 million people earn money through these services, and 9 million of them work with Instagram specifically. Reza Alfat Nasib, a member of the Board of Directors of the Virtual Business Association, says:
Business development and economic activities need a safe and calm environment. Small businesses that operate in social networks will suffer greatly due to these disturbances and unrest and the slowness of the Internet, so that it is not clear what will happen in the future.
He further added:
Bigger businesses are also dependent on social networks. A number of customers find themselves in it. Big businesses are marketing on social networks and have made investments to expand their activities on these platforms, which will suffer huge losses if these disturbances continue.
As a result of recent riots, in addition to Instagram and WhatsApp, Google Play, App Store, LinkedIn, Starlink site and even Clash of Clans game were filtered. Even for a short period of time, the Google search engine and Gmail were also unavailable.
In addition, from 16:00 on the first day of Mehr month, the mobile internet of various operators has been cut off in all parts of Tehran, and only domestic websites can be accessed.
The biggest internet disruption in Iran
According to a new tweet from netblocksthe organization that oversees global Internet access, disruptions and recent restrictions, is the largest of its kind since 2019.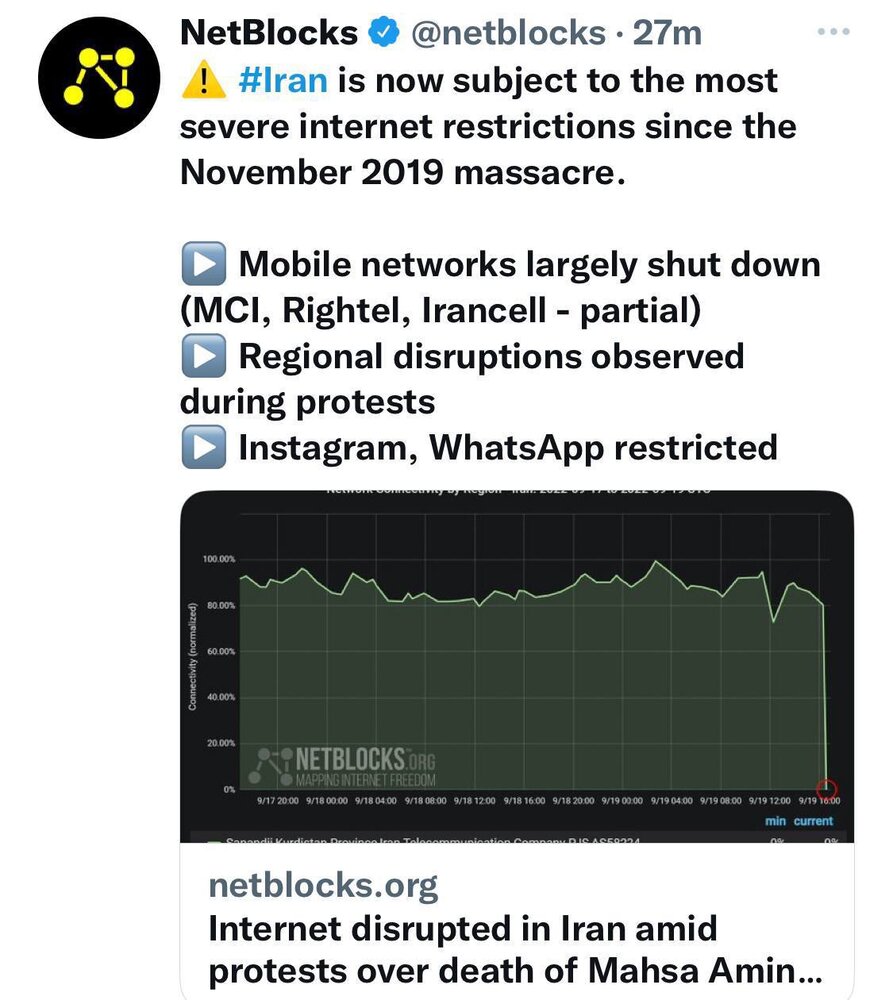 In its report, NetBlocks also announced the complete shutdown of the Internet in Sanandaj city, which is one of the most important centers of recent protests. In this city, fixed internet has also been cut off.
Read more:
What do you think about widespread internet filtering? Please leave your comments in the comment section duplicate Share and follow technology news with us.