Hide photo on iPhone – Return hidden iPhone photo
Read Time:
1 Minute, 55 Second
It has definitely happened to you that you want to hide your personal photos such as selfies, special documents, important information that has been taken, and things like that in the Photos app so that it is not accessible to others. In this article, we decided to teach you how to hide photos on iPhone so that you can hide your pictures from curious people, so we suggest that you be with us until the end of this article.
Hide photos on iPhone with Gallery
To hide a photo on iPhone, you must first select the photo you want and click on the Share icon. Then touch the Hide option to message this photo will be hidden but can be found in the hidden album. You can choose to show or hide the Hidden album in settings. Then click Hide Photo to hide the image you want.
Steps in summary:
Select the photo you want
Tap the Share icon
Press the Hide option
Then select Hide Photo

Gallery settings and restore hidden iPhone photos
Another problem with this section is that when you hide your photo, a section called Hidden is created. This means that even though you went through the steps of hiding the photo on the iPhone and you no longer see your pictures in the gallery, you can see the folder titled Hidden in the Utilities section.
Now to remove this folder, you have to enter the settings, click on Photos, and then activate the Hidden Album section to hide the Hayden folder as well.
Steps in summary:
Enter Settings
Tap Photos
Activate the Hidden Album section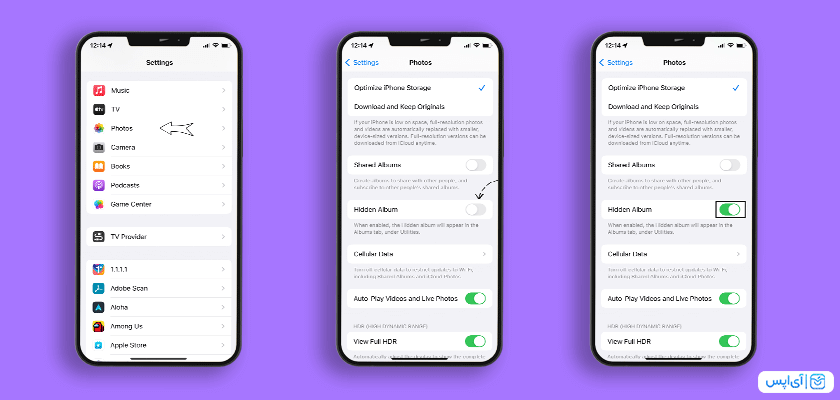 Keep in mind that you can see the Hayden folder at any time by disabling this option, and to view it, just scroll a little in the gallery app to reach the Utilities section.
Conclusion
So with the method we explained in this article, you can easily hide the photo on the iPhone and no longer worry about your personal image being seen in the gallery of your phone. We hope you find this article useful and that we have explained it well. If you have a comment, question, or suggestion about this, be sure to share it with us and other IAPS users in the comments section.
Other related content: