Galaxy Tab S8 FE spotted on Geekbench
Read Time:
2 Minute, 54 Second
Last year, Samsung decided to launch some of its tablets in the FE version. Galaxy Tab S8 FE It is one of the newest tablets of this company, which will probably be unveiled soon.
Samsung after success Galaxy S20 FE Decided that the FE version Galaxy Tab S7 tablet put it on the market. On the other hand, supply and sales Galaxy S21 FE It was not very successful; Especially considering the delay in the delivery time, which disappointed the customers. As it seems, the poor performance of this phone has caused Samsung to abandon the launch of the Galaxy S22 FE.
However, Samsung's FE tablet project continues. Samsung is said to be preparing the Galaxy Tab S8 FE. This tablet was recently seen on GBench and it is expected to be unveiled soon.
Read more:
Galaxy Tab S8 FE specs and features
The Galaxy Tab S8 FE has been spotted on Geekbench with the model number SM-X506 and uses the MT8791V/TZA SoC. This system on chip is actually Kompanio 900T which is designed and produced by MediaTek for tablets.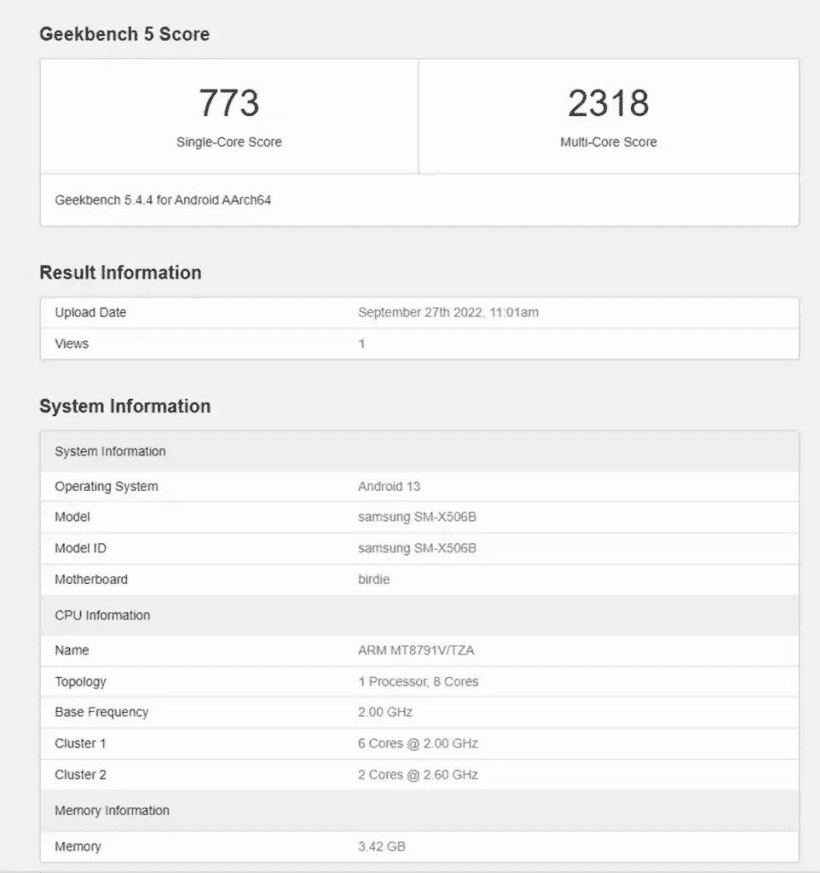 This octa-core processor is equipped with two cores with a power of 2.6 GHz and six cores with a power of 2.0 GHz. Android 13 and One UI 5.1 user interface can be mentioned among other specifications of the Galaxy Tab S8FA tablet.
The Samsung Galaxy Tab S8 FE tablet will have 4 GB of RAM; Of course, it is said that higher-end versions come with more RAM. This device with 4 GB of RAM was able to receive 773 and 2318 points in Geekbench's single-core and multi-core tests. According to GalaxyClub, the SM-X506B tablet is a 5G device. Additionally, there is also an SM-X500 model that probably only supports Wi-Fi connectivity.
What do we know since the release of the Galaxy Tab S8 FE?
Some believe that Samsung has no plans to launch the Galaxy Tab S8 FE, and for this claim, they cite the cancellation of the Galaxy S22 FE. Based on this claim, some are predicting that the Galaxy Tab S8FE will never be released. But considering that a list of its specifications has been seen on Geekbench, there is a high possibility that we will see the unveiling and release of this device in the coming months.
It's good to know that One UI 5.0 will be officially released next month. So, we can't expect the Galaxy Tab S8 FE to ship with One UI 5.0. The final version and this user interface will be available to Galaxy S22 series users in the first stage.
It is a bit strange that this tablet was seen on Geekbench; Because the original version of the Galaxy Tab S8 was removed from the Geekbench list due to Samsung's manipulations in software systems.
Kompanio 900T chip specifications
The Kompanio 900T nanometer chip is made by TSMC and uses two large Cortex-A78 cores and six small Cortex-A55 cores. The GPU of this system is Mali-G68. This system supports LPDDR5 RAM and UFS 3.1 memory. Kun Xun 900T chip is compatible with 2K display and 120Hz refresh rate and supports dynamic refresh rate, HDR10, Dolby Vision and HDR10+.
Read more:
What do you think of the Galaxy Tab S8 FE specs? Share your views in the comments section duplicate Share and Technology News Follow with us.
Source: gizchina