Having a Farsi keyboard is necessary and practical for every Iranian who has an iPhone. As you know, using the keyboard is possible in two ways, one through the phone itself and the other through its special programs. We decided in this article how to activate Farsi iPhone keyboard and keyboard programs that support this language. So if you want to get information about this, stay with us until the end of this article.
How to activate Persian keyboard on iPhone
One of the easiest ways to add a Farsi keyboard is to use your phone's settings. To activate the Farsi iPhone keyboard, you must go through the following steps:
Go to Settings
Go to the General section
Tap on Keyboard
Then enter Keyboards
Now touch Add New Keyboards
Search for the Persian language and select it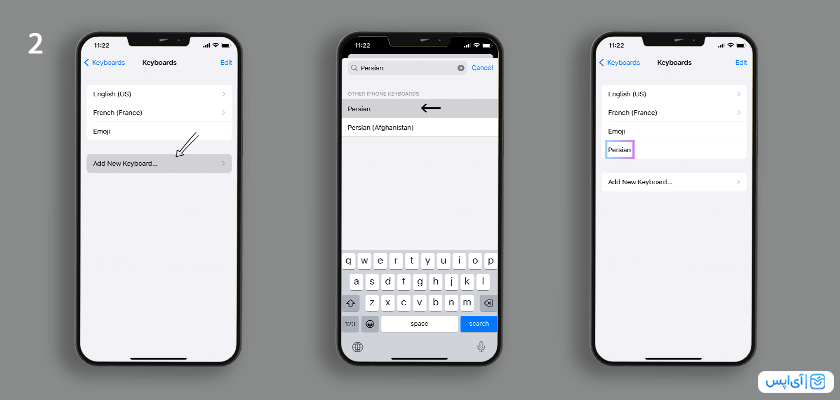 Now you can use the Farsi keyboard of your iPhone and enjoy.
Farsi iPhone keyboard programs
Maybe you are one of the users who have not updated their iOS for some reason and the Farsi iPhone keyboard is not active for you, or even you would like to have a special program for the Farsi keyboard. In this section, we introduce the applications that support the Persian iPhone keyboard. So stay with us.
G-board
One of the keyboard programs that supports all living languages ​​in the world, including Farsi, is G-board from Google. In this application, you can type quickly, use Google translator, change the keyboard background. One of the attractive features of GBoard is the prediction of the next word of this program and the existence of Autocorrect, which makes your writing faster and reduces writing errors.
Important features of this program:
Complete collection of emojis, GIFs
Existence of all symbols – Symbols
Ability to use the spacebar
The ability to choose an image for the keyboard background
Has Translate option
Low volume of the program
App link from iOS: Gboard – the Google Keyboard
Persian Transliteration Keyboard by KeyNounce
In the extremely practical and attractive Persian Transliteration Keyboard program, you have the possibility to write Finglish and while typing, this application will display it in Persian language. For example, when you write Salam, this app will show Salam. This program is very useful for users who are used to writing Finglish but want their text to be typed in Farsi. In addition, you don't have to worry about writing the exact English spelling of a Persian word because Persian Transliteration Keyboard is so smart and advanced that it takes into account the correct spelling.
Program download link from Ips: Persian Transliteration Keyboard
Persian Keyboard – Translator
Persian Keyboard – Translator is one of the best Persian keyboard apps for iPhone. Using this application, you can translate your words from Persian to English with an audio translator. With this keyboard, you can choose among its stylish and attractive themes and even use its emojis. With Persian Keyboard, you can write, translate and share the text you want quickly and instantly with friends, family or anyone else.
The link to download the program from Ips: Persian Keyboard – Translator
last word
We hope you like this article and with the applications Farsi iPhone keyboard which we introduced in this article, you can type in Farsi and enjoy. If you know and consider another application, be sure to share it with us and other IPS users.
Other suggested content: