The space of Metaverse and Web 3.0 is expanding dramatically. Web3 expansion in India will contribute $1.1 trillion to the country's economy over the next decade.
Web 3.0 domain It has grown significantly in India. Among the main causes of this explosive growth, we can point out things like the increase of talented people, high acceptance rate and product development for global markets.
Read more: The best projects and currencies of Web 3 (Web 3.0)
Web3 expansion in India
Global growth is expected Web 3 1.1 trillion dollars to the Indian economy over the next decade. Investments from more than 450 domestic startups, including CoinDCX, Polygon and CoinSwitch, will help accelerate Web3's expansion in India.
Recent studies of the National Association of Software Companies NASSCOM show that India's position as a leading player in the field of Web 3.0 is related to several factors such as the availability of job talents, increasing acceptance rates and also product development for international markets.
The US-India Strategic Partnership Forum (USISPF) estimates that Web3 has the potential to add $1.1 trillion in new economic value to India's GDP over the next 10 years.
This report shows that investing in startups Web3 with an increase of 37 times It has been together for the past two years. The presence of skilled talent in India has reduced the gap between supply and demand to its lowest level. In other countries such as the United States of America, China and the United Kingdom, we see a deep gap between supply and demand in the field of blockchain.
India is also in the field Renewal of new technologies He has given himself the first world rank. This issue is considered very important in emerging technologies such as Web 3 and Blockchain.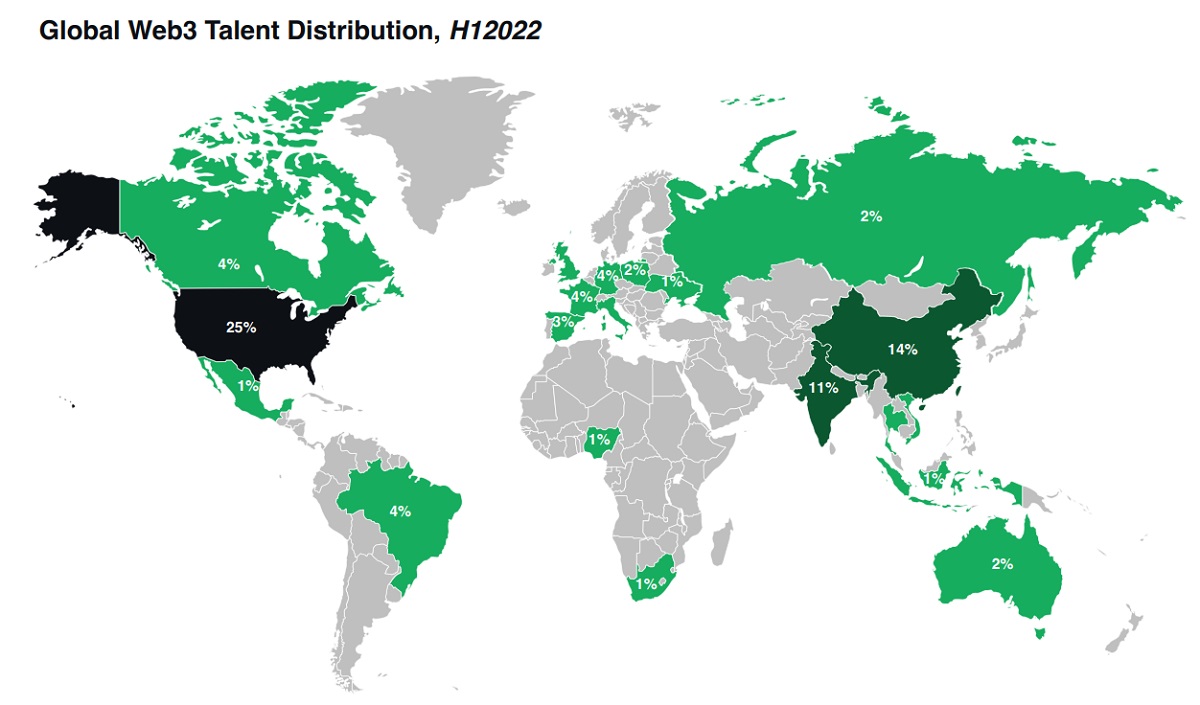 The above image shows Global Talent Distribution Web 3 Is. According to this picture, the United States and China are better placed than India. India's 3-country web talent pool is expected to experience the fastest growth rate in the next 1-2 years.
Flipverse platform launch
India's web 3 ecosystem will meet almost all real-world application needs. About 60% of local startups have expanded their operations outside of India.
Indian e-commerce giant FlipKart recently launched a platform Metaverse has launched under the name of Flipverse. Users can use this platform to buy their desired products from brands such as Puma and Nivea.
Flipverse is developed in collaboration with eDAO organization Paligan. This platform supports digital collections. Digital collections will soon be available on the FireDrops online shopping store.
Read more:
What do you think about Web3 expansion in India? Please leave your comments in the comments section duplicate share it.
Source: cointelegraph