Mediatek Dimension 9200 flagship processor Introduced with a powerful Cortex-X3 core, this chip is the brand's first millimeter wave 5G processor with beam tracking capabilities.
Mediatek promised to introduce before this Dimension 9200 flagship processor and finally unveiled its flagship chip for Android phones yesterday. The Dimension 9200 actually replaces the flagship chip that was introduced in November last year, the Dimension 9000. This chip was used in a relatively small number of flagship Android phones, and it was an outstanding performer in its own right.
One of the prominent features of this chip is to be equipped with a powerful core Cortex-X3graphic processor Immortalis With the ability to intercept the beam as well as the modem 5G It pointed to the first flagship processor with millimeter wave support Mediatek Convert with this feature.
Read more: Dimension 1080 processor was officially introduced; Support for 200 megapixel camera and 5G
Dimension 9200 flagship processor specifications
In order to check the specifications of this processor, we will first have a look at the CPU specifications of this chip. Dimension 9200 It is the first Android chip from Cortex-X3 core will use The importance of this issue is that, according to Arm's claim, this new core has up to 25% better performance than Cortex-X2, the core of the previous generation of flagship chips.
According to Mediatek, the Dimension 9200 flagship processor has 12 and 10 percent higher performance in single-core and multi-core sections, respectively. Dimension 9000 gained. Also, in terms of energy consumption, we see a 25% improvement compared to Dimension 9000.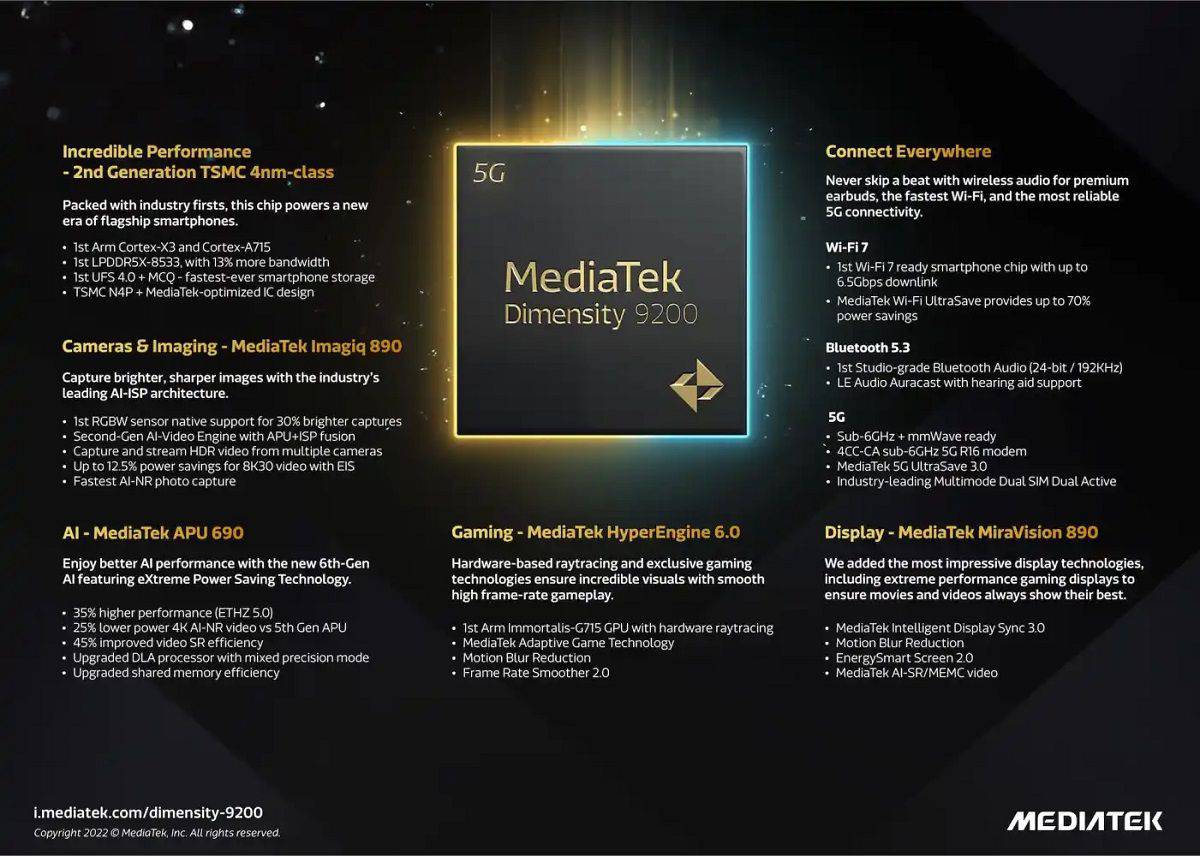 MediaTek in this chip next to a Cortex-X3 core with 3.05 GHz frequency of three Cortex-A715 cores with 2.58 GHz frequency and four Cortex-A510 cores with 1.8 GHz frequency Has used.
In the network section of this chip, Dimensity 9200 MediaTek's first flagship chip with network support 5G millimeter wave is considered. Of course, this company used this feature in the mid-range chip Dimensity 1050 in the past. This MediaTek chip also supports Wi-Fi 7, Bluetooth 5.3 and Bluetooth LE with Auracast.
it is necessary to mention Dimension 9200 With the second generation of 4nm lithography TSMC Produced from Rome LPDDR5X With a maximum speed of 8533 Mbps and fast internal memory UFS 4.0 benefits.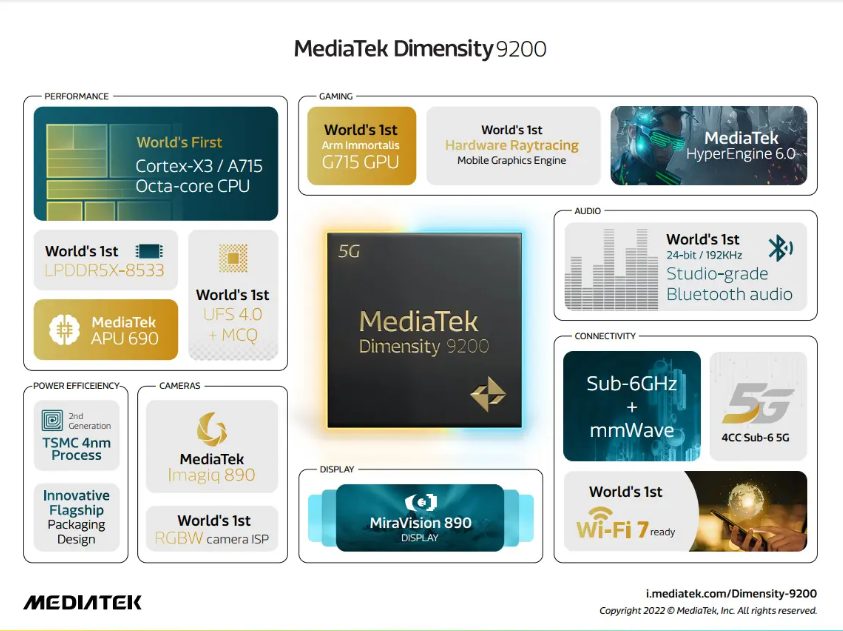 The manufacturer of this chip claims that the graphics performance of this processor has improved by 32% compared to its previous generation and also consumes 41% less energy. New chip Mediatek It supports displays with Full HD+ resolution and a refresh rate of 240 Hz, WHQD displays with a refresh rate of 144 Hz, and 5K displays with a refresh rate of 60 Hz.
One of the huge improvements of this chip compared to its previous generation is the use of New Immortalis-G715 graphics processor It has been from technology Ray tracing supports. According to previous benchmarks, this chip has the ability to compete and even defeat the most powerful chips like Apple A16 Bionic also has
Dimension 9200 flagship processor In the camera section, it supports sensors with RGBW photography capabilities, which will lead to a 30% increase in light absorption. The new Imagiq 890 Image Signal Processor (ISP) used in this chip supports AI-based technologies and simultaneous HDR video recording from multiple cameras. Also, the APU 960 unit of this chip improves the performance of artificial intelligence by 35%.
Mediatek has announced that this processor will arrive later this year. However, most flagship phones equipped with it will hit the market in 2023.
Read more:
Your opinion about Dimension 9200 flagship processor What is? Share your thoughts with us in the comments section Technology News With duplicate follow.