The comparison between Samsung Galaxy F13 and Xiaomi Redmi Note 11 follows. In this article, we see the interesting debate between these two beautiful and professional phones.
Samsung Galaxy F13 is another popular Samsung phone that has almost the same structure as Galaxy M13. This cheap phone is very professionally designed and has been able to attract the opinion of its fans.

On the other hand, Xiaomi has also managed the mid-range market well and was able to attract the attention of users by introducing Redmi Note 11; But what features does this phone have that has gained so many fans? Is Xiaomi Note 11 really better than Samsung Galaxy F13?
Stay with us by comparing Galaxy F13 with Redmi Note 11. These two phones have been fully reviewed by Tekrato and you can get complete information about them.
Read more:
Comparison of Poco X4 Pro with Samsung Galaxy A51 (POCO X4 Pro Vs. Galaxy A51)
Comparison of Samsung Galaxy F13 with Xiaomi Redmi Note 11
Samsung Galaxy F13 and Xiaomi Redmi Note 11 are the subject of discussion in this article. Comparing Galaxy F13 with Redmi note 11 below will help us to get complete information about this. Stay with us.
Comparison of Samsung Galaxy F13 with Xiaomi Redmi Note 11 in terms of build quality and design
According to Techtrends.news, the Xiaomi Redmi Note 11 phone has a very good design and when you look at the phone, you will see a display with a very small border that does not have a notch design and only a hole in the top center. you will be; This hole is where the Redmi Note 11 selfie camera is located.
The conditions in the rear part are different from the front of the device and it has the most beauty; This device comes with a rectangular module that is vertically located on the left side. When you look at this module, you will see the number of four camera sensors that are located next to an AD flash, which can attract the attention of many users.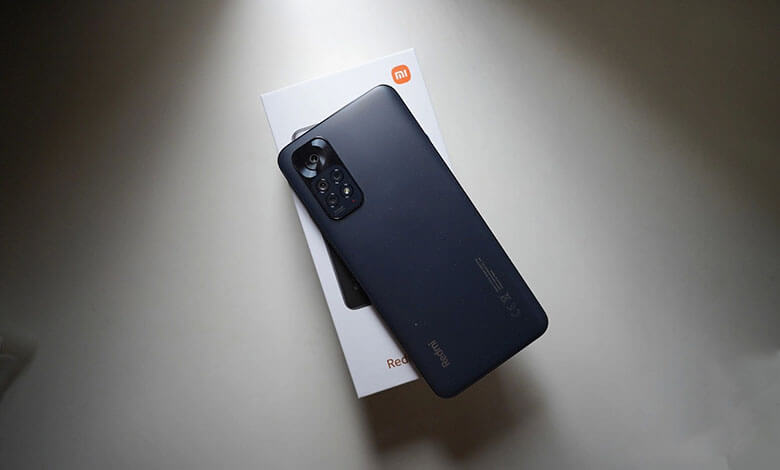 The body of this device is designed from high-quality raw materials, which is rarely seen in other brands. If you are interested in buying a cheap phone that is equipped with a shiny body, Xiaomi Redmi Note 11 will definitely be a good choice.
The presence of a 3.5 mm headphone jack will also be good news for users, especially users who are not interested in using wireless hands-free or converting Type C to headphone jack. When you look at the right side of the device, you will see the power button, which is the same as the fingerprint sensor, but at the top of it are the volume keys.
At the first look at the design of Samsung Galaxy F13, we can mention the notch design in the front part. Also, in the rear part of the device, we see a vertical camera module that houses three camera sensors on the left side.
One of the most important points of this device should be considered to be equipped with a fingerprint sensor on the side. Also, this smartphone supports a 3.5 mm headphone jack and we will see its support for microSD memory card.
Among the other features of this phone, it should be mentioned that it supports two SIM cards, which can automatically switch Internet data between two SIM cards. This is the first time such a feature has been used in a budget phone. This Samsung phone is available in various colors including green, copper and blue.
Read more:
Comparison of Galaxy M51 and Samsung Galaxy M62
Comparison of Galaxy A53 with Samsung Galaxy A73; The best series A
Comparison of Galaxy F13 with Redmi note 11 in terms of screen
The 6.43-inch full HD+ screen (resolution 1080×2400) with AMOLED DotDisplay technology, used in redmi note 11, will attract your attention at the first glance. When you look at its resolution, refresh rate and pixel density, you will fully understand its high quality.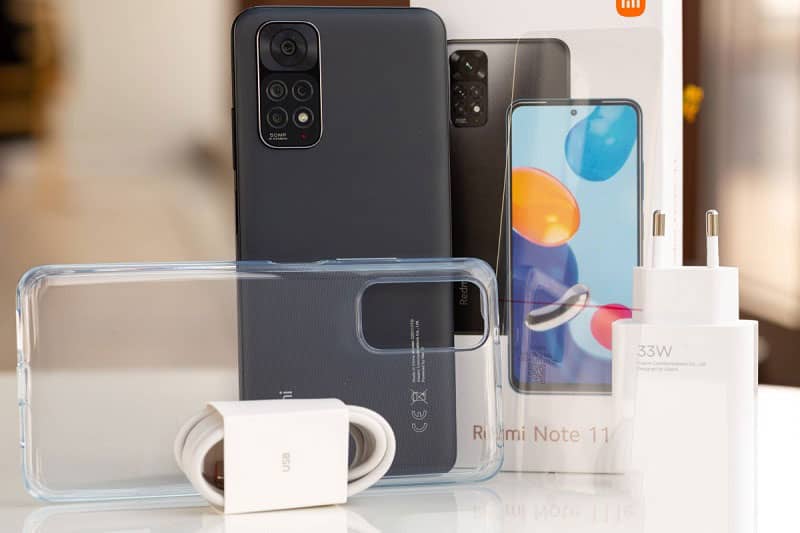 This display has a Full HD+ resolution and an extraordinary pixel density of 409 pixels per inch, which makes viewing photos and videos on it a pleasure.
Another strength of the Note 11 display is its 90 Hz refresh rate, which is very smooth in web surfing and playing games. About 84.5% of the front panel of Redmi Note 11 is dedicated to the display.
The colors are very deep and the content is displayed in the best possible way. Xiaomi engineers have again used the protective cover of Gorilla Glass 3.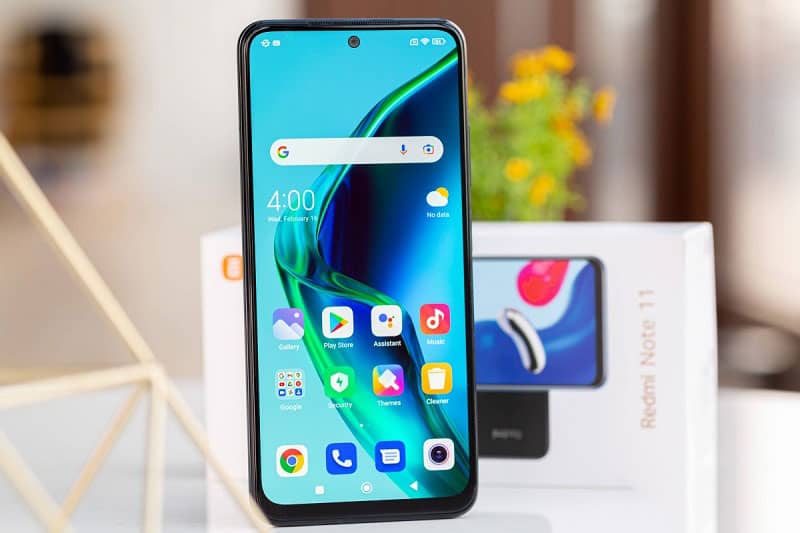 The Samsung Galaxy F13 features a 6.5-inch HD+ (720×1600 pixels) Infinity-V display with a 20:9 aspect ratio and a 90Hz refresh rate.
The front panel is an LCD type with FHD+ resolution, and an 8-megapixel selfie camera is placed in the teardrop notch in the center. This relatively large panel is protected by Gorilla Glass 5.
The refresh rate of the screen is 90 Hz, and the back panel of the device has a square camera housing, which includes a main camera and three auxiliary cameras. In this model, the fingerprint sensor is installed on the side of the phone and there is a speaker, USB-C port and 3.5 mm audio jack on the bottom edge.
Comparison of Samsung Galaxy F13 with Xiaomi Redmi Note 11 in terms of camera
Xiaomi Redmi Note 11 is equipped with a quadruple camera with a 50-megapixel main sensor and an f/1.8 aperture, and next to it there is an 8-megapixel ultra-wide sensor with an f/2.2 aperture and two 2-megapixel macro sensors and a 2-megapixel depth sensor. which can provide users with significant power in the field of imaging and filming.
Keep in mind that the ultra-wide sensor can cover a good angle. If you intend to include a large part of the environment in the frame from a short distance, the ultra-wide sensor of Redmi Note 11 has a lot to say.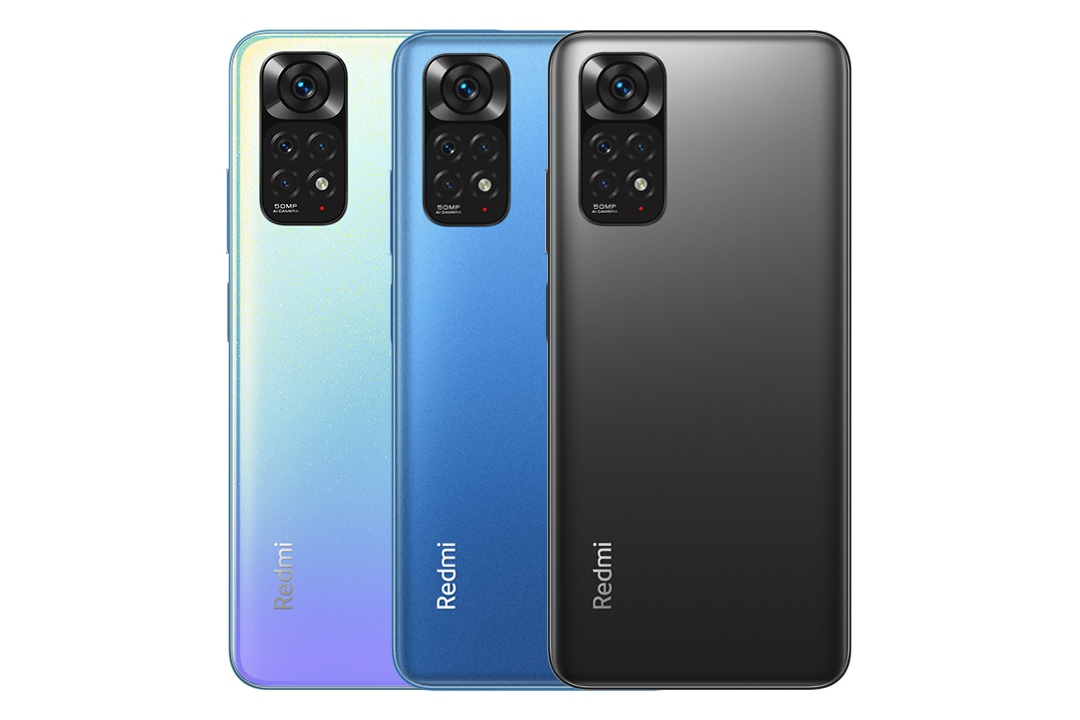 Xiaomi is very fond of 8 megapixel sensor in its cheap phones, but now we see the use of 13 megapixel sensor for Redmi Note 11, which is good news for selfie lovers.
Samsung Galaxy F13 also has quality and professional cameras. A triple camera including 50 megapixel, 5 megapixel ultrawide and 2 megapixel depth sensor is installed on the back panel of the device.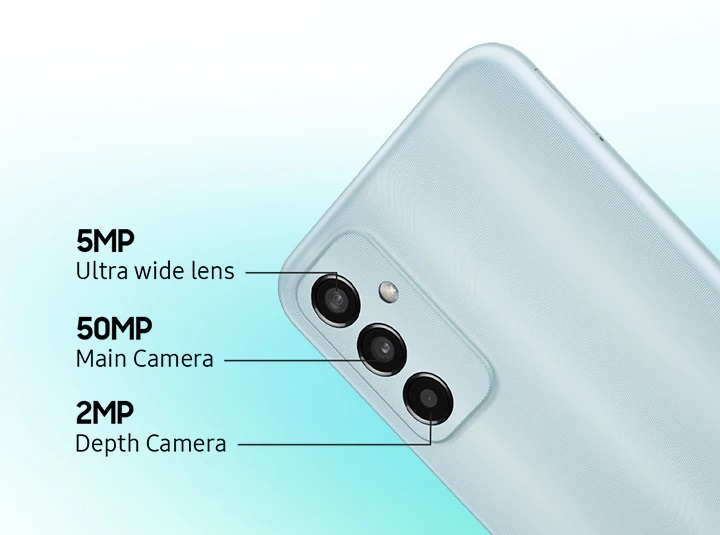 You can easily capture beautiful moments and record professional images with this phone. It should be noted that a single large LED flash is also placed in the rectangular camera island.
Read more:
Review of Poco F4 GT (Xiaomi POCO F4 GT); Scrutiny of system, performance, camera and battery
Comparison of Galaxy A11 with Samsung Galaxy M11; Two low-end efficient
Comparison of Samsung Galaxy F13 with Xiaomi Redmi Note 11 in terms of battery
Xiaomi Redmi Note 11 is equipped with a 5000 mAh battery; Something that is not different from Redmi Note 9 and even its capacity has decreased by 20 mAh. Of course, this reduction in capacity is so small that it will not have any effect on the performance of the device.
The battery of this phone supports 33W fast charging and the charger included in the original box also supports this speed. The battery performance is at best for a mid-range phone, the battery of this phone will last at least 2 full days on a single charge and normal use.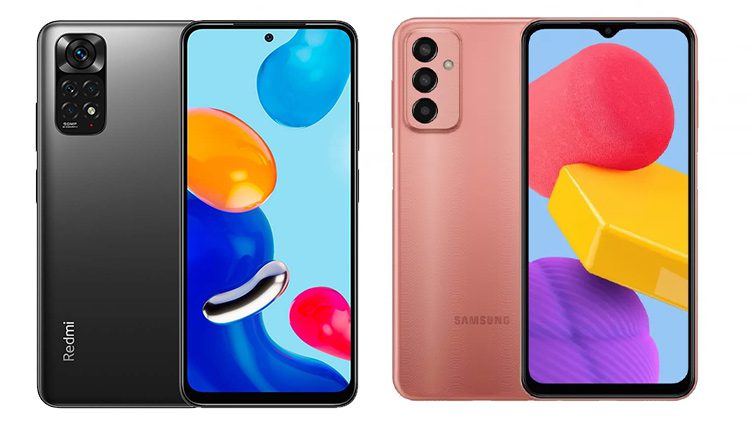 Xiaomi says that the battery will go from 0 to 100% within 60 minutes due to the support of Quick Charge 3+ technology. Redmi Note 11 also supports Power Delivery 3.0 technology; This means it can also charge laptops that are equipped with a USB Type-C port.
Undoubtedly, one of the most important attractions of the Samsung Galaxy F13 is its large 6000 mAh battery. By using this battery, which has a good capacity, you can enjoy working with it for hours.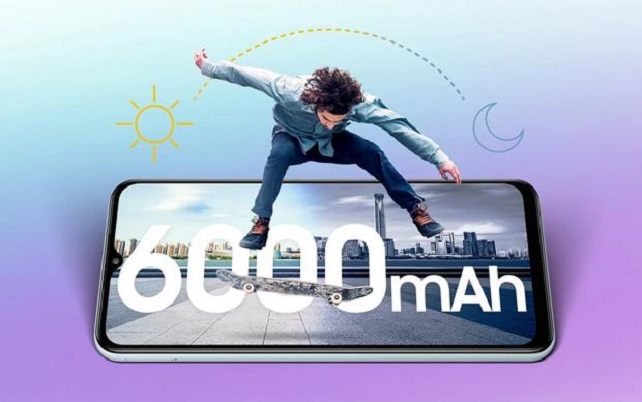 This phone supports 15W fast charging. Of course, this speed is much lower than the charging speed offered by Chinese competitors, and as a result, you have to wait a long time for it to charge.
Comparison of Samsung Galaxy F13 with Xiaomi Redmi Note 11 in terms of software
Redmi Note 11 uses the Android 11 operating system and the MIUI 13 user interface with many features and very good optimizations makes working with this smartphone really enjoyable. The animations in this phone are now much smoother than before and the battery performance is also better than before according to the manufacturers themselves.
However, you can't really see the fundamental changes in the new version of the MIUI user interface. Of course, this isn't really a bad thing, and MIUI has been one of the best user interfaces on Android phones in recent years.
One of these features is related to the function of the fingerprint sensor; where you can open a special software by tapping twice on this sensor. There is no such thing in any of the Xiaomi flagships because their fingerprint scanner is embedded under the screen. Overall, the software works well.
The operating system of the Galaxy F13 phone is Android 12, which will work alongside Samsung's One UI user interface. So, in the software section, we are dealing with One UI based on Android 12.
Another feature of this model is the Samsung Knox Security personal information protection system that uses face and fingerprint to unlock. Samsung Knox security system protects you and your personal data.
Read more:
Review of Xiaomi Redmi 10 Power (Redmi 10 Power); Scrutiny of system, performance, camera and battery
Comparison of Xiaomi Note 10 Pro with Poco x3 Pro (Xiaomi Note 10 Pro Vs. POCO X3 Pro)
Comparison of Galaxy F13 with Redmi Note 11 in terms of hardware
For the price you pay for the Redmi Note 11, you get very good hardware. The chip used in the heart of this phone is Snapdragon 680 4G. As expected, the graphics processor is Adreno 610, which is in good harmony with the chipset.
The hardware of Redmi Note 11 may not be suitable for graphic games, but don't forget that this model is made to meet daily needs and light tasks, and it performs almost flawlessly in this field. However, it has an acceptable performance in most games. Xiaomi Note 11 comes in 4 versions with 6/4GB RAM and 128/64GB internal memory.
The Exynos 850 processor, which forms the beating heart of the F13, supports a maximum clock speed of 2.0 GHz. Since the F-series phones are the rebranded version of Samsung's A-series phones, it is expected that this phone will also be the rebranded version of the Galaxy A13, as the aforementioned specifications match the specifications of the A13.
Samsung Galaxy F13 has been launched with quite cheap and ordinary hardware including Exynos 850 chipset. 4 GB of RAM is also available next to it. This model comes in two configurations with 64GB and 128GB storage space, and all its models can have up to 1TB of storage space with an external memory card slot.
Comparison of Galaxy F13 with Redmi Note 11 in terms of sound quality
Xiaomi has used two stereo speakers in the production of Redmi Note 11, and this is not something that can be seen easily in cheap phones. These two speakers have very good quality and can be counted on.
You can count on these professional speakers to listen to music, watch movies and series, talk and play games.
Regarding the Galaxy F13 speaker, it should be said that it has good quality and you can count on it. The sound quality as well as its loudness can satisfy the users.
In this article, we reviewed and compared Galaxy F13 with Redmi note 11. Two popular phones from two different companies that are very popular. Of course, it should be noted that Xiaomi has been able to attract the opinion of many users by producing its economic phones. If you are planning to buy one of these models, don't miss the comparison between Galaxy F13 and Redmi Note 11.
Frequently Asked Questions
Should we buy Galaxy F13 or Redmi Note 11?
The review and comparison of Galaxy F13 with Redmi Note 11 was done in this article. According to the design and good handling of the Redmi Note 11 phone, it can be said that the Xiaomi Note 11 can be one of the best in the market and an ideal option for you. The Galaxy F13 phone is another professional product in the market that has many fans. This model can be an ideal option for purchase due to its professional features. Now the choice is yours!
Read more:
.
What do you think about the comparison between Samsung Galaxy F13 and Xiaomi Redmi Note 11? Please share your thoughts with Tekrato and other users in the comment section.