Comparing Samsung Galaxy A73 with Poco X4 GT gives us complete information about the capabilities and features of these two phones. Stay with us to learn more about these popular models.
Galaxy A73 is Samsung's flagship of the Galaxy A series. This phone uses features such as a quality display, a 108 megapixel main camera and exceptional software support, and unlike the Galaxy A53, it has experienced significant improvements compared to its previous generation.

The Poco X4 GT phone was introduced in June 2022. Having a Dimensity 8100 chipset and a screen with a refresh rate of 144 Hz is one of the prominent features of this model, which is expected to become one of the best-selling and popular models in the market due to the price of the poco x4 gt phone.
The subject discussed below is the comparison of the Samsung Galaxy A73 with the Poco X4 GT. If you want to know more about these phones and their similarities and differences, join us by comparing Galaxy A73 with Poco X4 GT.
Read more:
Comparison of Poco X4 Pro with Samsung Galaxy A51 (POCO X4 Pro Vs. Galaxy A51)
Comparison of Samsung Galaxy A73 with Poco X4 GT
If you are planning to buy one of these phones or if you want to learn more about the features and capabilities of these two models, don't miss the comparison between Galaxy A73 and Poco X4 GT. By comparing Galaxy A73 with Poco X4 GT, you can get complete information about both phones. Stay tuned.
Comparison of Samsung Galaxy A73 with Poco X4 GT in terms of build quality and design
On the back frame of the Galaxy A73, there is a quadruple main camera module, whose edges are now integrated with the body and its protrusion is not so much. Apart from this camera module, nothing else can be seen except the Samsung logo. The plastic back frame of Galaxy A73 is flat and despite the use of a large capacity battery in this phone, its weight is only 181 grams and its thickness is 7.6 mm.
The SIM card and memory card slot in Galaxy A73 has been moved to the top of the device. This phone supports MicroSD memory card up to 1 TB. There is no 3.5 mm headphone jack in this device, and even in the device box, there is no hands-free for the user.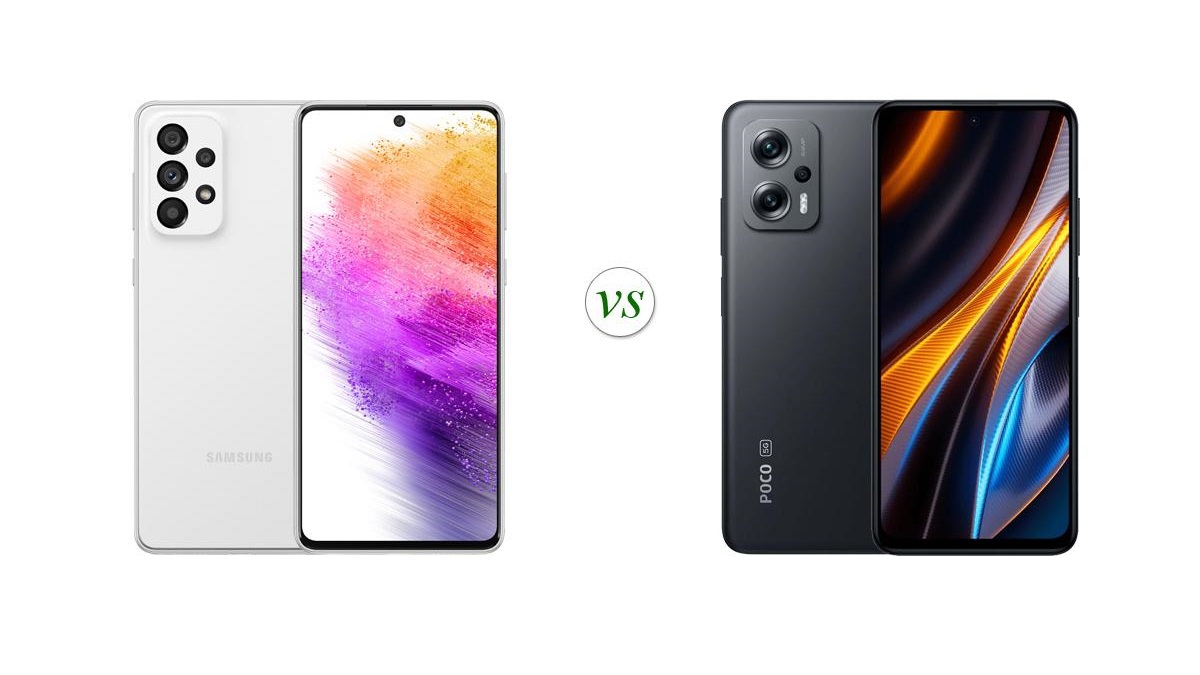 Samsung's new mid-range front panel hosts a 6.7-inch display with a hole-punch display at the top and center. The bezels around the screen have been significantly reduced and now the screen-to-body ratio reaches about 87%, which is about 2.6% more than before.
The fingerprint recognition sensor is placed under the display and the unlocking speed of the device using it is relatively good. In terms of build quality, Galaxy A73 may not be able to satisfy every user in its price range. But despite the use of plastic body in Galaxy A73, the IP67 standard has been granted to it.
Poco x4 gt has a minimal and elegant design. The dimensions of this phone are 163.6 x 74.3 x 8.9 mm and it weighs 200 grams. Maybe it is not too heavy compared to many models, while it is completely ergonomically designed and it does not cause any problem to hold it even for a long time.
On the back, the phone has a vertical camera module that houses three camera sensors. The rear camera module is slightly protruding, but still less than the Pro version of the same model. In the front design, there is a hole-punch in the display that hosts the selfie camera.
Poco uses the highest quality material available to make Poco x4 gt, the material used in the front panel is glass that is protected by Gorilla Glass 5 and has high resistance, the frame and the back panel are made of plastic.
The volume rockers and the power button, which also acts as a fingerprint scanner, are located on the right side of the phone, the stereo speaker and the USB Type-C port are also embedded in the bottom frame of the phone. Poco X4 GT has entered the market in black, silver and blue color options.
Comparison of Samsung Galaxy A73 with Poco X4 GT in terms of screen
The screens produced by Samsung are unrivaled in their kind and many popular brands use its screens. As a result, our expectations from the display of this phone are not low at all and we know that, at least on paper, this phone has a very good display.
In many phones, as the screen gets bigger, the quality of the screen decreases; But despite the 6.7-inch screen, the Samsung A73 has an extraordinary resolution of 1080 x 2400 pixels, which with a pixel density of 393 pixels per inch provides excellent clarity and clarity.
This display is of Super AMOLED Plus type, which covers about 87% of the front panel and makes this phone great for playing games and watching movies. The screen of this phone is protected by Gorilla Glass 5 technology.
The Samsung Galaxy A73 5G is equipped with a high-quality display with a refresh rate of 120 Hz and offers speed along with quality; The 120 Hz display speed is very impressive in web browsing and even some games and shows the content smoothly with the highest quality.
The Poco X4 GT uses a 6.6-inch screen with a low border with a resolution of 1080 x 2460, and the selfie camera is placed on a hole that is embedded in the upper part and inside the screen itself.
The main advantage of LCD displays is the ability to increase the screen refresh rate to something higher than 120 Hz; Like the 144 Hz screen rate in this smartphone, which can be seen in less mobile phones. This is the only improvement of the Xiaomi X4 GT compared to the display used in its previous generation, the X3 GT.
The brightness of the screen is also important in this phone, so that you can easily see the content of the screen even in open space and direct sunlight, but its performance is still far from flagship phones.
Read more:
Comparison of Galaxy A73 with Samsung Galaxy A72; Which is the most powerful series A?
Comparison of Galaxy A73 with Poco X4 GT in terms of camera
The main camera of Poco X4 GT consists of 3 lenses; The main 64 megapixel wide-angle lens with autofocus, an 8-megapixel ultra-wide lens and a 2-megapixel macro lens. In addition to this combination of lenses, LED flash can also be seen. The display is also a guest of a selfie camera with a 20-megapixel sensor that stands out with a hole-punch design.
The 64 megapixel lens takes sharp photos and shows the details well. The 2 megapixel macro lens is used for those who are interested in taking close-up photos and subjects. The quality of the ultra-wide lens compensates for the shortcomings of the macro camera. This 8 megapixel lens can record the details well. This phone records videos with 4k resolution. With the selfie camera, you can also take 1080p videos with 30 frames per second.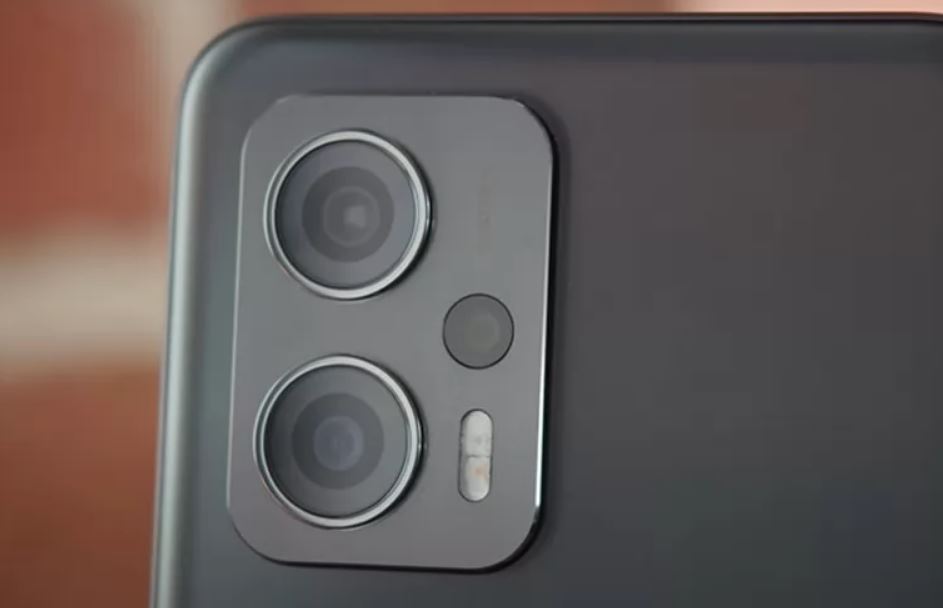 On the back panel of the Samsung A73 5G, we come across a quadruple camera module consisting of a 108 megapixel main camera, a 12 megapixel ultrawide camera and two 5 megapixel cameras that allow the user to record macro and portrait images.
There is also a 32-megapixel selfie camera on top of the screen. The main camera of the A73 uses features such as optical image stabilization (OIS) and phase detection autofocus (PDAF).
The main camera records good quality images not only in an environment with sufficient light, but also at night. A73 phone can record high quality portrait images. In fact, the camera is well able to separate the subject from the background; But sometimes a part of the subject is blurred.
Comparison of Samsung Galaxy A73 with Poco X4 GT in terms of battery
Poco X4 GT has a lithium-polymer battery with a capacity of 5080 mAh, which undoubtedly has a very good charge. This phone supports 67W fast charging and you can charge it from 0 to 100% in about 45 minutes.
Due to the power-saving Dimensity 8100 chipset and since the battery of the poco x4 gt is large, it lasts for a long time. With this phone, you can play for more than 9 hours non-stop, scroll through social networks, surf the web, or take photos and edit videos with its camera.
Galaxy A73 battery charging is good. This phone uses a 5000 mAh battery, which, combined with optimal hardware, makes it possible to use it for a long time.
To charge the device, you can use the 25-watt charger intended for it; Of course, you should note that this charger is not included in the box and you have to pay a separate fee to buy it. The charging speed of the device using a 25-watt charger is acceptable, and the process of fully charging the device takes about 1:25 hours.
Read more:
Comparison of Xiaomi Note 10 Pro with Samsung A52 (Xiaomi Note 10 Pro vs. Galaxy A52)
Comparison of Galaxy A73 with Poco X4 GT in terms of software
Samsung has equipped this model with OneUI 4.1 user interface based on Android 12. That's good news, especially when you add Samsung's promise of 5 years of support with 4 major Android updates. Therefore, it is expected that Galaxy A73 users will also receive the Android 16 update in the coming years.
The user interface of OneUI 4.1 has not experienced a very special change compared to OneUI 4.0 and many of the features of the two are similar to each other.
The MIUI 13 user interface, which was released exclusively for Poco, comes with custom icons and the notification menu is less similar to the style of the iOS control center than before. In general, there are many customizations in the software of Xiaomi Poco X4 GT.
The operating system of this model is based on the latest version of Android, i.e. Android 12, and has features such as animated wallpaper themes, game dashboard, one-handed mode, direct sharing in the menu, privacy dashboard, conversation widget, etc.
Comparison of Galaxy A73 with Poco X4 GT in terms of hardware
The Koreans equipped the Galaxy A73 with the mid-range Snapdragon 778G chip, just like the Galaxy A52s. The chip is manufactured with TSMC 6nm lithography and therefore provides more optimal performance and lower heat compared to the recent flagship chips from Samsung and Qualcomm.
The Snapdragon 778G chip uses a combination of four 2.4 GHz Cortex A78 cores and four 1.8 GHz Cortex A55 cores in the form of two high-power and low-consumption clusters as a CPU and relies on Adreno 642L for graphics processing.
Poco has gone to Mediatek to equip Poco X4 GT hardware. In this phone, we are facing an octa-core chip that can not only match the mid-range Snapdragon 870 chipset in terms of smooth performance, but also surpass it.
The internal chipset of Poco X4 GT is MediaTek Diimension 8100. This chip is made based on 5nm technology and has a maximum processor frequency of 2.85 GHz. The CPU is also paired with an ARM Mali-G610 MC6 GPU. This GPU can run graphics intensive games easily.
Regarding the gaming performance, the Poco x4 GT with an extraordinary frame rate of 144 Hz runs various game titles, including the zombie FPS Dead Trigger 2 and other famous gameplays, very smoothly, and there are no lags, hangs, and overheating even during long sessions. not a game
Read more:
Comparison of Xiaomi 11T Pro with Samsung S21 FE (Xiaomi 11T Pro vs. Samsung S21 FE)
Comparison of Samsung Galaxy A73 with Poco X4 GT in terms of sound quality
Xiaomi Poco X4 GT uses two speakers at the top and bottom and can play stereo sound. The lower speaker emits a larger volume of sound, and the speaker installed at the top of the earpiece slot is more for mid- and high-tone sounds. So, the sound has a great volume and excellent quality, and users can enjoy listening to music with this smartphone.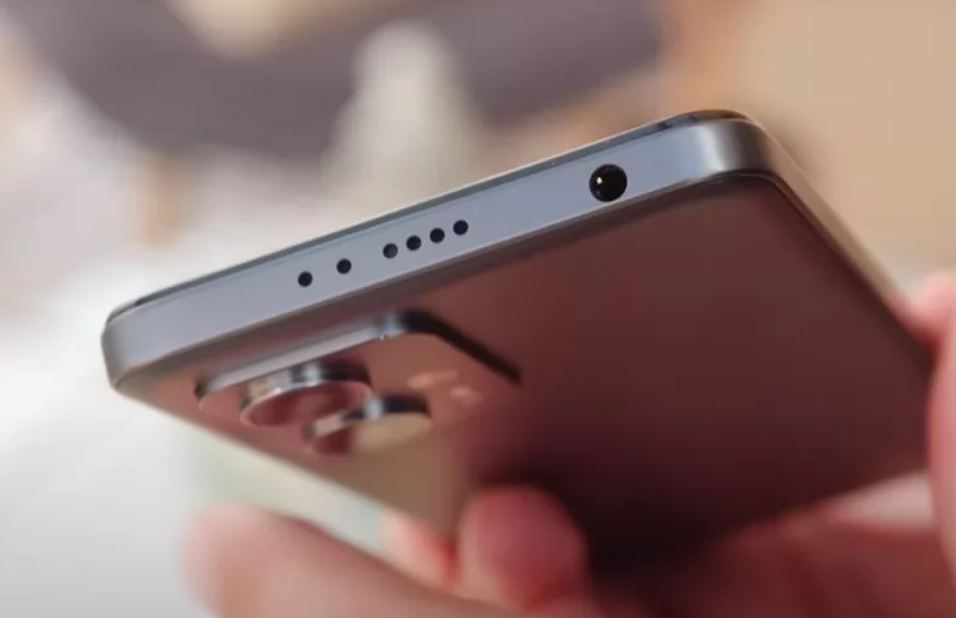 The sound quality of Samsung A73 is fantastic, it has a very high treble and the sound clarity is clear, and it plays the bass music well, you will definitely be surprised to hear the bass songs in it. The contact speaker placed on the top of the front panel acts as a second speaker, the remarkable thing about this speaker is that it has very good bass and clarity, which is no different from the main speaker.
In this article, we reviewed and compared Galaxy A73 with Poco X4 GT. Two successful and popular phones from two different brands, both of which are professional. Both Samsung products and recently Poco products are very unique and you can safely buy products from these brands.
Frequently Asked Questions
Should we buy Samsung Galaxy A73 or Poco X4 GT?
The Poco X4 GT is one of the best budget gaming smartphones you can buy in 2022. The combination of a very powerful chipset, large battery, fast refresh rate, 3.5 mm headphone jack and fast charging along with a very reasonable price tag is something that is rarely found in phones. If you are a gamer or you are looking for an affordable, beautiful and yet powerful phone to do everyday tasks, be sure to put this model on your shopping list. Every year, Samsung launches attractive mid-range phones and its high quality convinces every user to buy. The A-series itself has many fans. According to the specifications and price, it can be predicted that this phone will be very popular and successful. Comparing Samsung Galaxy A73 vs Poco X4 GT will help you make a smart choice.
Read more:
.
What do you think about comparing Samsung Galaxy A73 with Poco X4 GT? Please share your thoughts with Tekrato and other users in the comment section.