The Xiaomi phone market is very hot these days. Next, we will compare Redmi K50 and Poco F4 GT. Stay with us to know the differences and similarities.

The best and latest phone of the Redmi family is currently exclusive to the K50 family. The unique Redmi K50 replaces the Redmi K40 and is available with great specifications. It is in front of Poco F4 GT phone.

The Poco F4 GT phone has specifications almost similar to the Redmi K50, and this has made the competition between these two phones attractive. So don't miss the comparison of Redmi K50 and Poco F4 GT.
Read more:
Get to know the best Xiaomi 2022 phones
Comparison of Redmi K50 with Poco F4 GT
The Poco F4 GT phone is specially made and designed for video games that gamer users were eager to release this Poco phone. The Redmi K50 phone also has excellent and powerful features that can be counted on. Redmi k50 vs Poco F4 GT comparison will determine the superior phone.
Comparison of Redmi K50 and Poco F4 GT in terms of build quality and design
In this section of the comparison between Redmi K50 and Poco F4 GT, we will examine the build quality of these two phones.
In the back frame of Redmi K50, the first exclusive signature of this model can be seen in the camera module. A rectangular module that houses three sensors inside a circular structure. The protrusion of the camera module is not much, but if you place it on a flat surface, it will not stay level.
Thanks to the glass body of this phone, its weight is slightly out of control. Both the upper frame and the back frame are made of glass, which has a great effect on increasing the weight up to 201 grams. Therefore, do not expect a light phone from buying the Xiaomi Redmi K50.
To protect the smudgeable surface of this phone, an anti-fingerprint coating is used and its overall protection is provided through the IP53 standard. Although it has no endurance against immersion in water and it will be damaged on the spot, splashing water and proximity to moisture or dust will not pose a risk to this Redmi phone (Xiaomi Redmi K50).
The build quality of Poco F4 GT is very high in general and the aluminum frame of the phone keeps the back and front glass together very well. Poco is a fan of large physical buttons on mobile phones, and this has made engineers reluctant to use curved screens because the space on the frame is reduced.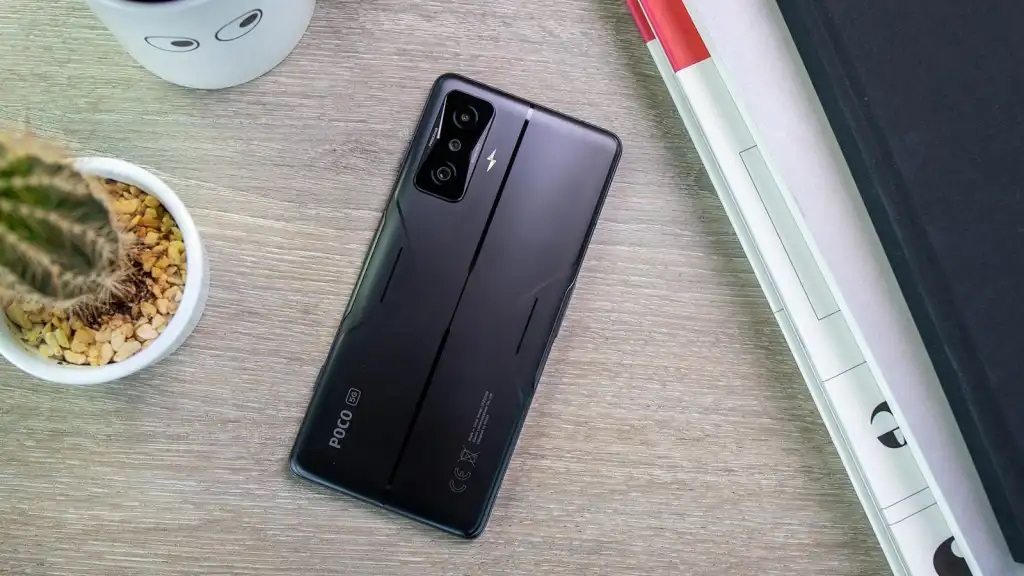 Sometimes you may touch the scanner by mistake because it is placed exactly under the thumb, and this lack of accurate placement of the finger on the scanner causes the phone to vibrate, which indicates an unsuccessful attempt to unlock the phone.
The volume control keys are located on the left side of the device and next to them you can also see the hole for one of the microphones. Maybe the location of this microphone is a bit strange for users; Apparently, POCO engineers have chosen this section because when using the phone in landscape mode, the main microphones may be placed under your hands and their performance may be disturbed.
The Poco F4 GT phone supports two SIM cards at the same time, but there is no memory card slot. A red layer is intended for the upper part of the SIM card tray, which prevents dust from penetrating the phone. The upper part hosts the IR or infrared transmitter and the USB-C port can be found in the lower part.
Read more:
Comparison of Galaxy A53 with Samsung Galaxy A73; The best series
Comparing Redmi K50 with Poco F4 GT in terms of screen
OLED panel is used for the display of Redmi K50 so that you can see the visual content on a 6.67-inch screen with a wide aspect ratio of 20:9. In terms of screen size and aspect ratio, there is no difference between the K series of Redmi phones.
Relatively natural colors and no artificial effects can be seen on the Redmi K50 screen. The resolution of this phone has also been significantly improved compared to other members of the family and has increased to 1440 x 3200 pixels.
With a thumb count, we come to the conclusion that the pixel density on this page is surprisingly high. Every inch of the screen is filled with 526 pixels, which makes you see the clarity and details in the best way. No matter how hard you try, you won't see the border between the pixels.
Poco F4 GT comes with an amazing 6.67-inch OLED display with very good pixel density and Full HD+ resolution. This screen is capable of showing 1 billion colors and its high brightness makes you see everything with full clarity even under direct sunlight and have no problem working with your phone.
Also, the excellent refresh rate of 120 Hz helps you surf the web and run games more smoothly. However, we suggest you not to use the maximum refresh rate of the screen too much and stick to the standard rate of 60 Hz in order to reduce the strain on the battery.
For the safety of the Poco's screen, Xiaomi has covered it with Gorilla Glass Victs and has given it an IP53 waterproof certificate.
Comparison of Redmi K50 and Poco F4 GT in terms of camera
Redmi K50 is equipped with a triple camera of 48, 8 and 2 megapixels. The main lens with a resolution of 48 megapixels is a wide lens without an aperture. Its photos are recorded with 0.8 micrometer pixels and with the help of OIS stabilization, it has reduced the possibility of noise in the photos.
When you set the main camera to ultra-wide or ultra-wide mode, the 8-megapixel sensor kicks in and takes photos with a 119-degree angle. If you set the main subject to the edges of the ultra-wide photo, the final result will not be pleasing.
In the collection of Redmi K50 camera sensors, there is no depth detection and the last sensor with a resolution of 2 megapixels is for macro photography. The selfie camera is a 20MP camera with 1080p video recording. Both cameras perform well in sufficient light.
The Xiaomi Poco F4 GT phone comes with a triple camera combination, which includes a 64-megapixel main lens, an 8-megapixel ultrawide lens, and a 2-megapixel macro lens.
As expected, the main sensor records sharp and low-noise photos, and the good processing of the Snapdragon chip will definitely make you satisfied with the output images of this camera. 4K quality video recording is also considered for this lens.
The Poco F4 Gt's ultrawide camera performs well for taking ultra-wide photos, and the macro sensor is also useful for recording the details of very close subjects. The selfie camera is also 20 megapixels and with HDR support, it captures detailed photos.
Read more:
Comparison of Galaxy M51 and Samsung Galaxy M62
Comparison of Redmi K50 and Poco F4 GT in terms of battery
Redmi K50 is equipped with a 5500 mAh battery and supports 67W fast charging. Contrary to the flood of criticism that came to the fast charging technology of smart phones, Xiaomi declared with certainty that this technology has no harm to the health of the battery and the phone.
As a result, with the 67W charger of this phone, you can fill 80% of the 5500 mAh battery capacity within 30 minutes. In addition, support for Power Delivery 3.0 and Quick Charge 3+ can be seen in this phone.
Poco F4 GT uses a battery with a capacity of 4700 mAh to provide the energy it needs. One of the reasons for the not so long charging time of the Poco F4 GT is the use of the Snapdragon 8 generation 1 chip.
But if you don't use the device very heavily, you can carry it for a day. According to PCMark's battery test results, Poco F4 GT stays on for nearly 11 hours, which can be considered acceptable.
Comparison of Redmi K50 and Poco F4 GT in terms of software
The Redmi K50 software platform comes with the Android 12 operating system, which invites you to the MIUI 13 user interface environment. What has been improved in this skin and caught our attention the most is the increase in privacy security, beautifying wallpapers, facilitating widgets, themes and fonts, as well as improving the phone's performance in managing smart devices with Smart Hub.
Of course, the story does not end there, because Xiaomi has added an attractive function called "virtual RAM" in this user interface so that increasing the RAM capacity is no longer impossible! This technology allocates part of the internal memory to RAM to improve the speed of command processing in some situations.
Poco F4 GT is equipped with the MIUI 13 user interface and fortunately, unlike some new Xiaomi products, the default Android 12 is used on this phone. Probably, Android 14 will be the last major update of the new Poco phone.
MIUI 13 For Poco user interface works well on Poco F4 GT; Of course, there is still no news of app opening and closing animations and high optimization, but if you have installed the new Poco Launcher update, these problems have been solved.
Comparison of Redmi K50 and Poco F4 GT in terms of hardware
In the continuation of the comparison of Redmi K50 and Poco F4 GT, we will examine the hardware. In Redmi K50, the Dimensity 8100 processor, like all flagship chips, uses TSMC's 5nm lithography, which is one of the most powerful chips available today. One of the key features of this chip is support for LDDR5 RAM and UFS 3.1 standard.
If you emphasize on processing power and you are hesitating between two processors Snapdragon 888 from Qualcomm and Dimensity 8100 from Mediatek, Dimensity 8100 is our recommendation. Despite its reasonable price, this processor has good processing power and in the past, it has caused a lot of noise in Xiaomi Poco F3 or Xiaomi Poco X3 Pro phones.
Poco F4 GT uses the Snapdragon 8 generation 1 flagship chip. This 4 nm chip is equipped with a powerful Cortex-X2 core with a maximum frequency of 3 GHz, along with other new cores such as Cortex-A710 and Cortex-A510.
Due to the thermal problems and high consumption of Snapdragon 8 generation 1, Poco has installed two copper coolers with a total area of ​​4860 square millimeters in Poco F4 GT. As we said, this phone is sold in two models of 128.8 and 12.256 GB.
Read more:
Comparison of Xiaomi Note 10 Pro with Samsung A52 (Xiaomi Note 10 Pro vs. Galaxy A52)
Comparing Redmi K50 with Poco F4 GT in terms of sound quality
Another interesting point of Poco F4 GT is its stereo speakers. The number of these speakers reaches 4. The location of Poco F4 GT speakers is quite suitable. The quality and loudness of the sound played by the Poco F4 GT stereo speaker is high and you can open a special account on it.
The Redmi K50 phone also has a stereo speaker. High quality speakers that you can count on. The very good sound of these speakers makes them very attractive. You can count on them for conversations, games, listening to music, etc.
In this article, we reviewed and compared Redmi K50 with Poco F4 GT. Two practical and professional phones, both of which are very popular. These two phones are both excellent in terms of hardware, software, screen, battery, etc. and you can count on them.
Frequently Asked Questions
Should we buy Redmi K50 or Poco F4 GT?
The Poco F4 GT phone is equipped with a new version of the Snapdragon processor, a high-speed and high-quality display, a decent camera with a powerful battery pack, and special mechanical game triggers that have made this phone popular. Poco F4 GT can be introduced as the cheapest phone with a special game trigger. The Poco F4 GT phone with a special design, display, processor, battery with high charging speed and finally special game triggers with the least amount of delay is recommended to those who are interested in mobile games. have. The Redmi K50 phone also has a beautiful design; In terms of the screen, hardware and software components, battery, etc., it also has something to say. But if you intend to buy a gaming phone, Poco F4 GT is a better choice because it is made for gamers.
Read more:
.
What do you think about the comparison between Redmi K50 and Poco F4 GT? Please share your thoughts with Tekrato and other users in the comment section.