Bitcoin is at risk of a sharp correction. On-chain data shows that Bitcoin's recent growth is due to high leverage.
The price of Bitcoin has grown by 26% since July 12. On-chain data shows that leverage among traders has increased as selling pressure has increased.

Read more: The best Iranian digital currency
The reason for the recent growth of Bitcoin
Bitcoin is doomed to stay above the support level of $20,500 to avoid falling to the $16,000 level. The largest cryptocurrency in the market has experienced a significant price increase over the past few days. According to the evidence, this move was made by leveraged traders and there is still no improvement in the network situation. These data increase the possibility of a sharp correction in the medium term.
Bitcoin has enjoyed an upward momentum over the past 9 days. Chain of Custody data suggests that the recent upswing will not be sustainable. The best cryptocurrency of the market reached the level of $24,280 with a growth of 26% from the floor of $19,230. Bitcoin appears to have more room to climb, but there are reasons to believe that BTC's bullish price behavior will be short-lived.
The number of open long-term BTC positions on all major cryptocurrency exchanges is steadily increasing. Traders have opened roughly 1.44 billion leveraged crypto positions since July 12. These transactions contributed to the short-term growth of Bitcoin. Such behavior in the market shows that the market is increasingly attracting traders' liquidity; But on-chain data shows that there is not much demand on the Bitcoin network.
The number of addresses holding at least 1,000 bitcoins has decreased in recent months. Bitcoin managed to gain 5050 points in terms of market capitalization since July 12. Many market whales have sold some of their holdings. According to chain data, 30 wallet addresses with more than $23 million worth of bitcoins each have likely left the network.
Miners seem to have taken full advantage of Bitcoin's recent growth. The amount of Bitcoin held by the wallets of affiliate miners has decreased by about 1% since July 12. About 13,850 bitcoins worth more than $318 million were sold by miners in the last 9 days.
Since July 12, we have seen an increase in Bitcoin inventory on trading platforms. Data from Glassnode shows that there are currently over 27,030 bitcoins worth $621 million in cryptocurrency exchange wallets. The increase of exchange bitcoins increases the possibility of sales pressure growth.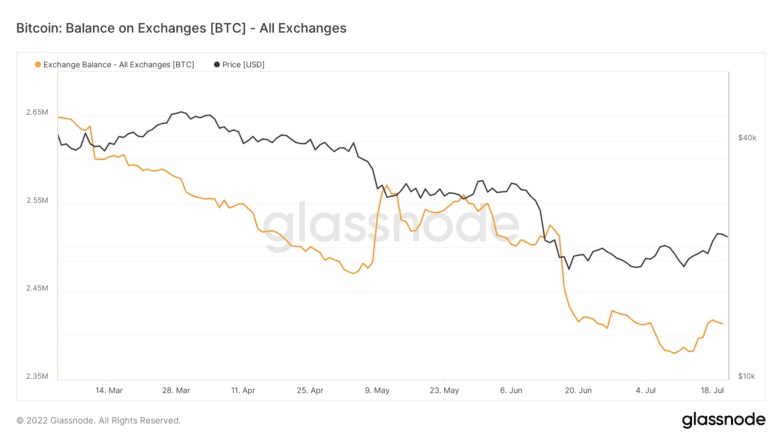 According to the evidence, whales and Bitcoin miners are selling their assets. The number of daily new addresses on the network has decreased. This data shows that at current price levels, investors are not interested in buying Bitcoin. Network growth is often considered one of the best tools for predicting the price of a cryptocurrency. A continued decline in network growth will usually lead to a sharp correction in asset prices over time.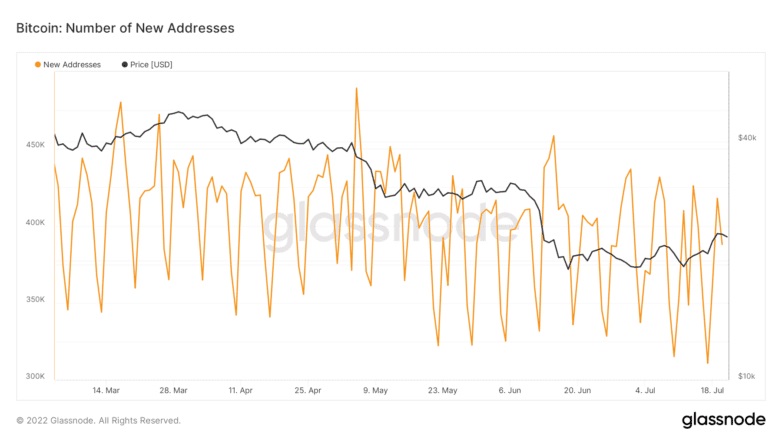 The transaction history shows that Bitcoin is currently in a support zone. In the short term, this will prevent the price from falling even more. According to data from Into The Block, about 640,000 wallet addresses have purchased 524,000 Bitcoins in the past at a price range of $20,220 to $20,900. In order to avoid heavy market losses, Bitcoin must maintain the current demand range.

If Bitcoin fails to maintain this level, we will most likely see Bitcoin hit $16,000. BTC needs to close above $23,660 on the daily time frame to start an uptrend. Breaking this critical resistance barrier will help Bitcoin reach $25,000 or even $27,000. As long as whales and miners continue to sell, there is a possibility that the price of Bitcoin will fall sharply.
Read more:
What do you think about the risks of Bitcoin's recent growth? Will the market's largest cryptocurrency experience further declines? Please leave your comments in the comments section duplicate share it.
Source: cryptobriefing