Apple Watch Ultra It is the most advanced smart watch that Apple has introduced to the world! The special and unique features of this advanced watch such as water depth measurement, dedicated watch face, fall detection sensor and excellent resistance in different environmental conditions are exactly what make this functional device a great choice for athletes. Be with us by introducing 10 unique features of this smart watch.
Beautiful design of Apple Watch Ultra
Apple Watch Ultra has the largest size among all Apple Watches. This beautiful watch measures 49 x 44 x 14.4 mm and weighs 61.3 grams, and the body is made of titanium, which, in addition to being light, also has waterproof properties. The back body of this watch is also made of ceramic and sapphire crystal like Series 8, and this Apple Watch is only available in silver titanium shade.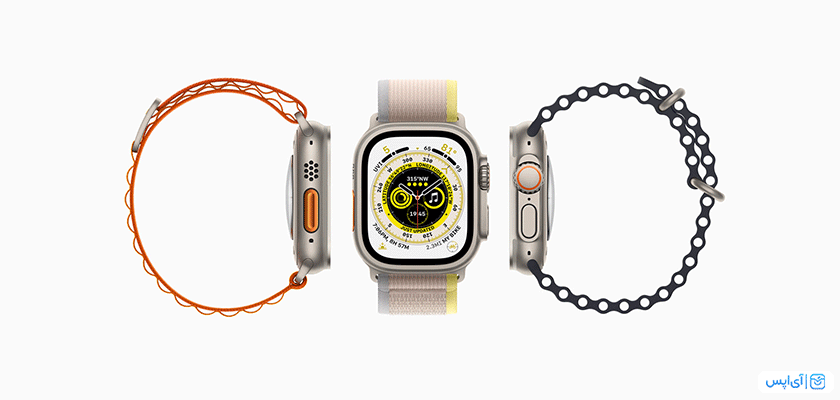 Amazingly customizable action button
The action button is the same oval button, which with its orange color fits between the siren and the dual speakers. If you press and hold this button, it activates an internal 86 dB siren that can be heard up to a radius of 180 meters to call for emergency help.
The most important feature of this magic button is its customization. In the settings section, you can define a specific action such as starting a stopwatch for pressing this button one or more times so that you can access the most essential functions you need in the shortest time.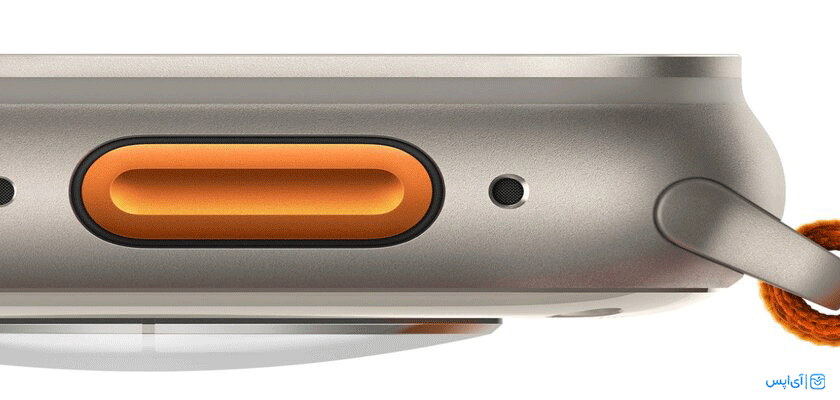 Large and exclusive watch face
The watch face of this smart watch named "Wayfinder" is specially designed, which can be converted from a watch to a compass and can accommodate up to 8 functional features on one screen. The watch face rings a red alarm at night. Just rotate the digital crown of the watch once to activate the night mode.
Waterproof with excellent heat and cold resistance
Apple Watch Ultra 2022 is considered waterproof and is specially designed for water sports such as surfing and recreational diving up to a depth of 40 meters. This smart watch remains safe up to a depth of 100 meters of water and this feature distinguishes it from other Apple smart watches. In addition to being waterproof, this amazing device can withstand the cold of minus 20 degrees to the heat of 55 degrees Celsius!
Equipped with the new always-on screen feature
The screen of this smart device has made significant progress compared to its previous models. The resolution of 410 x 502 and the brightness of 2000 nits, which is almost twice the brightness of the previous models, make the Apple Watch Ultra a suitable choice for those who like problems.
This device never turns off with its always-on screen. When you put your hand down, the screen dims to save battery. As soon as you raise your hand or touch the screen, the brightness will return to the original state.
Saving human lives by measuring blood oxygen levels
The blood oxygen level of a healthy person is between 95 and 100%, and its sharp drop can endanger human health. Apple Watch 2022 accurately measures the blood oxygen level and records it in the Blood Oxygen app. This smart watch shows your blood oxygen level on the screen when you are asleep or your wrist is still. This feature is very useful for saving the lives of cardiac and respiratory patients who need monitoring and care.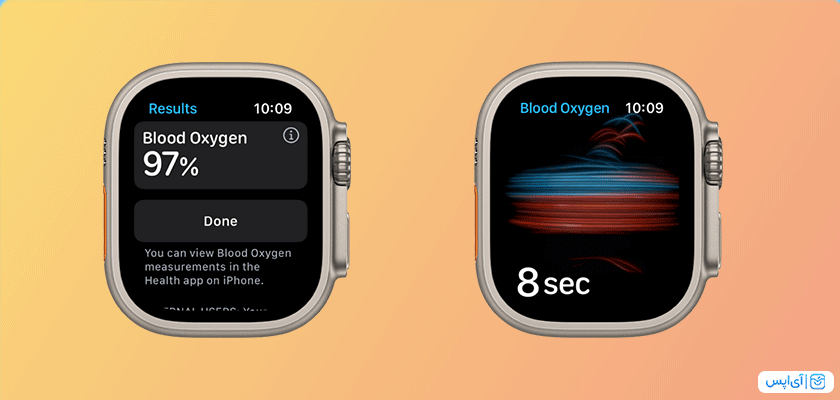 Equipped with a sensor to detect falling on the ground and car accident
Apple Watch Ultra can detect that its owner has fallen. This smart watch will show you a message and if you leave it unanswered, it will notify the emergency centers. This functionality is automatically activated for the elderly. Of course, all users of any age can activate it from the settings section.
In addition to Fall Detection, this watch also has Crash Detection. When you have an accident while driving, this smart watch detects the situation and connects to the emergency centers and informs them of this situation.
Accurate measurement of water depth, especially for divers
Apple has designed the Depth App for this smart watch. Divers can use this app to know the current time, how long they have been under water, current water depth, water temperature and other important information.
Equipped with a dedicated compass
In watchOS 9, Apple has redesigned the Compass app specifically for the Apple Watch Ultra. This is an analog compass app that displays a digital view of your position and direction. Just turn the crown of the watch to see your position, direction, inclination, altitude, longitude and latitude in the shortest possible time.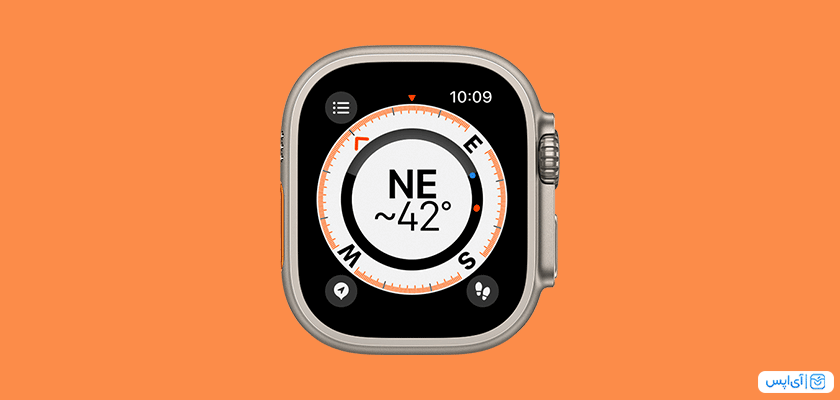 Optimum charge durability
The 542 mAh battery of this smart watch is 76% larger than the 8 series and can keep this watch on for up to 36 hours. Of course, by activating Low Power Mode and other options that reduce battery consumption, you can keep the battery charged for up to 60 hours to enjoy your adventures in nature.
The price of Apple Watch Ultra 2022
Apple's most advanced smart watch has attracted the attention of many fans with its practical and useful features for athletes. This smart watch has been launched at a price of 799 dollars, which seems reasonable considering the more features it has. We have to wait and see if this Apple Watch succeeds in meeting the needs of athletes or not?
The most prominent strengths and weaknesses of the Apple Watch Ultra
This smart watch with its unique features is known as the flagship of Apple Watches 2022. In the following, we review the most important strengths and weaknesses of this stunning technology:
The most important strengths
Large and beautiful 49 mm screen
Big battery and better battery life compared to other Apple watches
Equipped with upgraded GPS sensors
Equipped with more and more useful features compared to other Apple watches
Equipped with a customizable action button
Equipped with a speaker with a more expressive sound than the 8 series
Optimal performance of touch buttons even when wearing gloves
Equipped with the Depth program for divers
Improving the waterproof property of the watch
Light and durable body
Excellent call quality
The possibility of accessing the Internet with a cellular network
The most important weaknesses
This smart watch is too big for some people's wrists
High price
Irritation of the skin in contact with the digital crown
Relatively short battery life
Not equipped with routing capability
Not everyone likes the style of this watch
Conclusion
Apple Watch Ultra With its unique capabilities, it surprised the fans of the well-known Apple company products once again. Are you also interested in wearing this beautiful watch on your wrist and using its features? We are happy to write your opinion in the comment section for us and other IPS users.
Other suggested content:
Specifications and features of Apple Watch Series 8
Checking the features of Apple Watch Series 7
Introducing the application of Apple Watch applications