Apple Watch SE 2022 Affordable, it is the most economical smart watch of Apple company, which creates a pleasant experience for users with its unique features. This beautiful watch contains most of the practical features of the 8 series and is a great option for people who want to use the latest technologies and are looking for a product with a more reasonable price. If you also want to get to know the features of this smart watch, accompany us in this article.
The latest features of Apple Watch SE 2022
Elegant and beautiful design, crash detection sensor, sufficient storage space and reasonable price are the features that the lovers of new products of this well-known company have been waiting for. In the following, we discuss the 7 important features of this Apple Watch.
Elegance in the design and attractiveness of the screen
The overall design of the Apple Watch 2022 is similar to the previous SE, with the same 40 mm and 44 mm thin screen that is designed to fit all types of wrists. The thickness of this smart watch is 10.7 mm and carries the same famous square design. 40 mm models weigh 26.4 grams and 44 mm models weigh 32.9 grams. In fact, this watch is the lightest watch that Apple has released in 2022.
The body material of all Apple Watch SEs is made of 100% recyclable aluminum, which, in addition to its light weight and reasonable price, is considered an excellent option for everyday use. This beautiful watch is sold in starlight, silver and midnight colors.
The screen of this device supports most of the functions of Apple Watch Series 8. Of course, this device is not equipped with Always on Display and its screen is 20% smaller than the 8 series. In addition, the brightness of the display of the Apple Watch SE 2022 reaches 1000 nits. The screen of the 40 mm model is 324 x 394 pixels and the 44 mm model is 368 x 448 pixels.
Excellent resistance to moisture and water
Apple Watch SE 2022 is completely waterproof and remains safe up to a depth of 50 meters. So you can easily wear it on your wrist and swim in the pool or ocean. It is interesting to know that the speaker of this smart watch is designed in such a way that when it is exposed to moisture, it can remove the water by producing sound vibrations!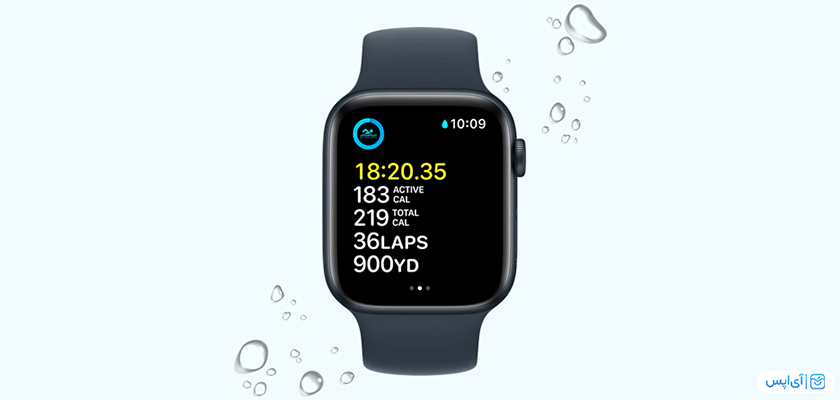 Equipped with Apple S8 chip
One of the most interesting points about the Apple Watch SE 2022 is that this smart watch is equipped with a dual-core Apple S8 chip. It means the same chip used in Apple Watch 8. This advanced chip is 20% faster than the S5 chip used in the previous generation of Apple Watches SE.
Equipped with an intelligent accident detection sensor
With the help of its advanced sensors and algorithm, Apple Watch can detect driving accidents and inform emergency centers to save people's lives. This device will give you a message after detecting an accident. If 10 seconds pass and the message remains unanswered, your watch will call the centers as well as the numbers you have defined as emergency numbers. It should be noted that unfortunately this feature is not available in Iran.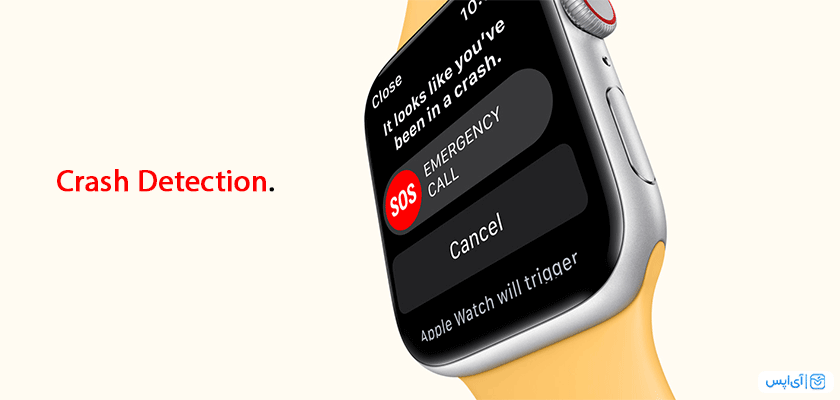 Ability to track sleeping hours with incredible accuracy
At night, when you are in a restful sleep, your Apple Watch is awake and monitoring your sleep. If you want to know how many hours of useful sleep you have every night and how you can increase your useful hours of sleep, you can count on this attractive feature.
Optimum durability of battery charge
If you check your watch 90 times in a day, receive 90 notifications, work with apps for 45 minutes and exercise with music playing for 60 seconds, you can count on battery life for 18 hours. If you activate the Low Power Mode feature introduced in WatchOS 9, you can enjoy the battery life up to 36 hours.
Sufficient storage space
All Apple Watch SE 2022 models come with 32GB of storage, exactly the same as the Series 8 and Ultra!
The most prominent strengths and weaknesses of Apple Watch SE 2022
This Apple Watch, with all its strengths and weaknesses, is considered a suitable choice for many lovers of Apple smart devices. If you want to choose this beautiful watch with full knowledge, we suggest you read its most important strengths and weaknesses below:
The most important strengths
More reasonable price than the previous model
Professional design and light weight
The lower case is the same color
Equipped with the new S8 chip like the 8 series
Equipped with Low Power Mode
The most important weaknesses
Very thick
Not equipped with an always-on screen feature
Not being equipped with some sensors related to health measurement
The price of Apple Watch SE 2022 is cheaper than the previous model!
It is interesting to know that this Apple Watch, despite its new features, was released at a lower price than the previous model. Below you can see the prices of this smart device:
| | |
| --- | --- |
| Apple Watch SE 2 model | Price |
| 40 mm, equipped with GPS | From $249 |
| 40 mm, equipped with GPS and cellular | From $299 |
| 44 mm, equipped with GPS | From $299 |
| 44 mm, equipped with GPS and cellular | From $329 |
Apple Watch SE 2022 or 2020 is better?
This smart watch is equipped with the latest chip and works with the most up-to-date Apple operating system, i.e. WatchOS 9. This device has all the features of the original Apple Watch SE, and in addition, it is also equipped with an accident detection system, and interestingly, it has a better price! Therefore, if you are hesitating between these two models, we must say that SE 2 will definitely be a better choice for you.
Thank you for staying with us until the end of this article. Indeed, which of the features Apple Watch SE 2022 Did you like it more? We are happy to share your opinion with us and other IPS users in the comments section.
Other suggested content: