Airpod Pro 2 review – Airpod Pro 2022 – Airpod Pro 2 specifications
Read Time:
4 Minute, 7 Second
AirPods Pro 2 It is one of the products of the Apple company, which with its significant improvements, gives you the unique experience of listening to the clearest music. Improved active noise cancellation, high-quality sound, easy control, and excellent battery life are exactly the features that attract every Apple fan. Be with us by introducing the latest Apple AirPods Pro features.
Beautiful and attractive design of AirPods Pro 2
This year, Airpod Pro has come to the market with a beautiful white color and the same color case as usual. This product is the same as the previous generation Airpod Pro in terms of weight and size. But by comparing the two products, you will notice that more subtleties have been used in the design of this device, which has made it very easy to use. Airpod Pro 2 is equipped with the H2 chip, which allows you to experience clearer, more realistic and natural sound.
The design of this year's new AirPods is more sensitive to touch and has better performance. In fact, by simply touching its stem, you can increase or decrease the volume of the music, stop or play it, and switch between the Active Noise Cancellation and Adaptive Transparency functions.
The pleasure of relaxation when listening to music with Active Noise Cancellation
We all like to listen to our favorite music without the added noise. With Active Noise Cancellation, Apple enables us to enjoy our favorite music without hearing the disturbing sounds of the environment. It is interesting to know that the active noise canceling function in Airpod Pro 2 continues to work even when you are not listening to music! That means you can easily put your AirPods in your ears and focus on your work without the noise of the world and in complete silence. What's better than this?
Minimize annoying noise with Adaptive Transparency
This company has added a feature called Adaptive Transparency, and it means that your AirPods are measuring the sounds around you 48,000 times per second, and as soon as it detects sounds that are harmful and annoying to your hearing, it activates the Noise Cancellation feature. For example, if you are passing by a place where someone is using an excavator, your AirPods will detect this annoying sound and reduce its volume to a minimum.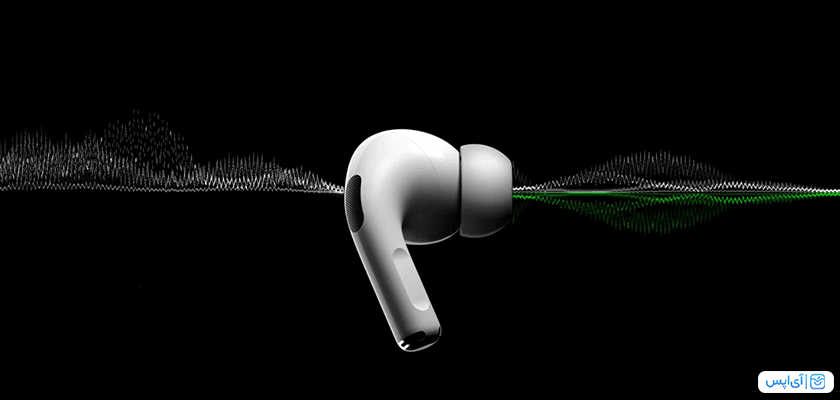 Experience listening to 3D music with Spatial Audio
Another attractive feature of AirPods Pro is Spatial Audio, with which you can easily imagine yourself in the space of a movie, game or music and enjoy the experience of listening to music and real sound effects. In addition, by activating the feature, you can feel the rotation of the 3D sound in your ears by turning your head and give yourself the best experience of watching 3D movies.
Find case and AirPods Pro 2 individually with Find My
This smart case is equipped with a speaker that works well with the Find My app. In this way, whenever you forget where you put your AirPods, you can easily find them with an alarm from the charging case.
The thrill of listening to hours of music with excellent battery life
It is interesting to know that even by activating the Active Noise Cancellation, Spatial Audio and Dynamic Head Tracking functions, you can listen to high-quality music for up to 5.5 hours. If you disable these features or only use one phone for your calls, you will significantly increase the battery life.
If you have the AirPods wireless charger case with you, you can enjoy listening to 30 hours of music or 24 hours of phone calls! The Magsafe wireless charger case has dimensions of 1.78 x 2.39 x 0.85 and weighs 1.79 ounces.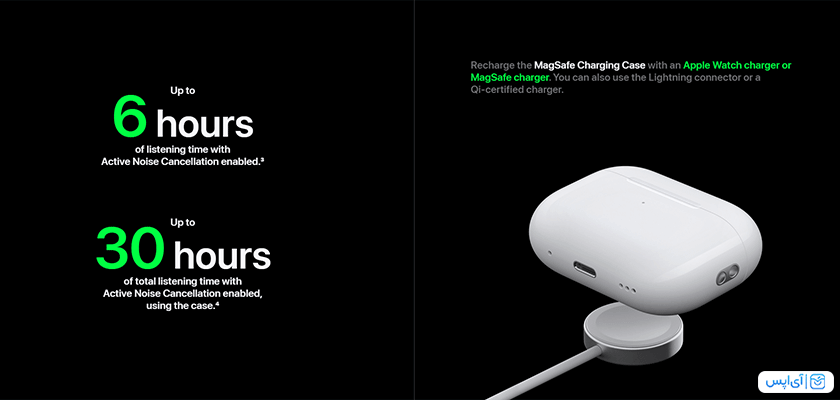 The most important strengths and weaknesses at a glance
The second generation Airpod Pro is available at a price of $249 and has attracted the attention of many Apple technology enthusiasts with its excellent music playback quality, increased user comfort during use, and long-lasting charging. In the following, we review the most important strengths and weaknesses of AirPods Pro 2:
The most important strengths
Excellent noise cancellation
Very good sound quality
The case is equipped with a speaker and is compatible with the Find My program
Excellent compatibility with Apple devices
Waterproof
The most important weaknesses
Not being able to adjust the music equalizer
Occasional problems when activating Apple's voice assistant (Siri)
The same design as the previous generation
Lightning port
No support for resolution codecs
Conclusion
If you are a user of Apple products and are interested in hearing your music with the best clarity and quality, create a unique experience watching movies and series for yourself and answer your calls quickly, you can visit AirPods Pro 2 Consider it Apple's most advanced AirPods. If you have an opinion, criticism or suggestion, you can share it with us and other IPS users.
Other suggested content: